After 80 years, the hump is gone.
The 8-foot bulge near the north end of Offutt Air Force Base's single runway was one of the airfield's quirks, one that will now disappear during an 18-month, $198 million reconstruction project that is the most extensive in its long history.
The hump, and a corresponding 8-foot valley toward the south end, were gentle enough that they never posed a threat to pilots, said Lt. Col. Derrick Michaud, director of the 55th Wing Runway Project Management Office.
"This just makes it a straighter runway," he said. "Our pilots got used to it, but now it will be more of a straight shot."
For the past five months, a fleet of construction equipment has been swarming over Offutt's 2-mile runway, chewing it to bits and depositing it into giant piles of rubble.
Much of that concrete will eventually be recycled, mixed with other fill, and compacted to form a base for the new runway, said Rob Hufford, chief of construction management for the project.
The new runway must not only absorb a pounding from Offutt's fleet of RC-135 reconnaissance jets (with a maximum takeoff weight of almost 149 tons) but also its E-4Bs, which are among the Air Force's heaviest jets (400 tons).
"An E-4 sitting on top of that is heavy," Hufford said.
A layer of concrete 19 inches thick will eventually overlay the portions of the runway that bear the heaviest loads, at each end and where it is crossed by taxiways.
Other parts of the runway (the center and shoulders) will be paved with asphalt up to 8 inches thick, on top of 15 inches of red rock, selected for its strength and drainage qualities and hauled in by rail from a quarry in South Dakota.
Offutt's runway may look like a flat expanse, but it actually sits on a hill. The northwest end (1,049 feet above sea level) is 77 feet higher than the southeast end.
The slope of less than 1 degree is no problem for pilots, Michaud said. But the low end of the runway also sits in the floodplain of the Missouri River, just over a mile away.
Two levees protect the base, but the March 2019 flood exposed the limits of that protection when about one-third of the runway (and 137 structures, including 44 buildings where people worked) were inundated, causing about $800 million worth of damage.
It was the worst flooding in Offutt's history, dating back to its early days as an Army post called Fort Crook, established in the 1890s.
An airstrip was dedicated in 1924 and named for Jarvis Offutt, a pilot from Omaha who died in World War I. The paved runway still in use was put down in 1941 to accommodate the Glenn L. Martin Bomber Plant, which produced more than 2,000 military aircraft during World War II.
The runway was extended to its current length in the mid-1950s, and a cross runway turned into the current taxiways called Mike North and Mike South. Over the years, the original concrete was patched and repaired but never completely replaced.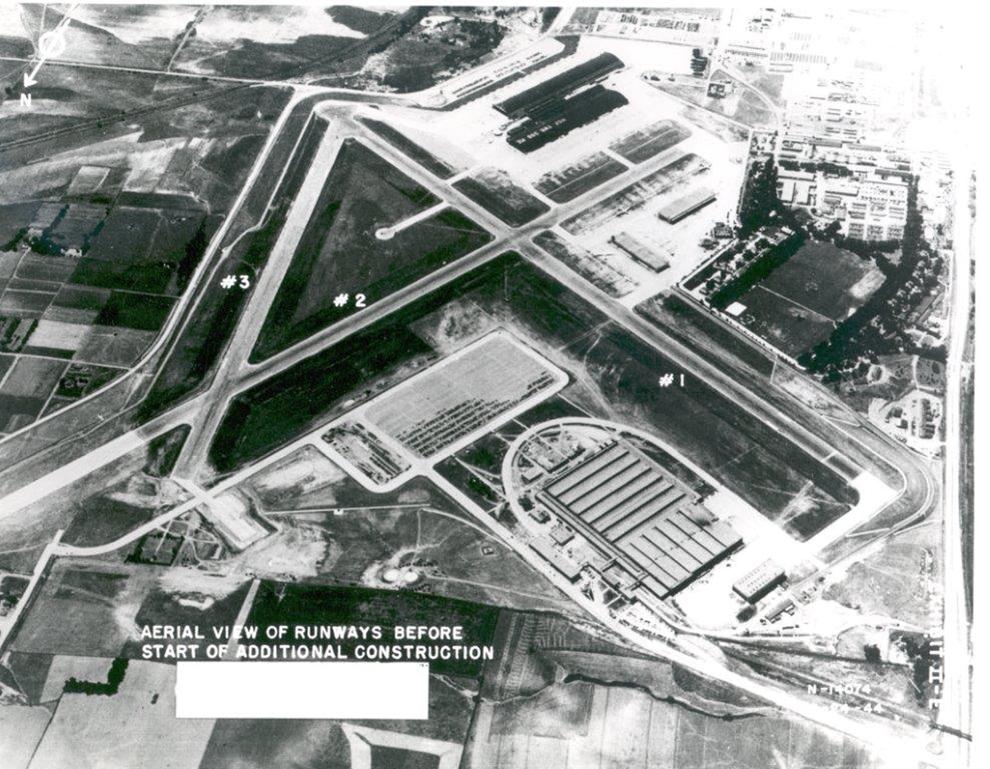 By 2015, the runway had deteriorated so badly that it was ranked as the worst of any at the 17 bases operated by the Air Force's Air Combat Command.
Stories in The World-Herald prompted fears that the 55th Wing — with more than 5,000 military and civilian employees — might be moved to a base with better facilities.
At this stage of construction, workers are relocating the massive web of electrical cables, communication lines, wastewater and drainage pipes that run beneath the runway. All are being buried deeper than they were before.
The Missouri River levees have been repaired since the 2019 flood, but drainage is a major issue during construction because of the high water table.
"When the Missouri is high, the groundwater is high," Hufford said.
Wells built by California-based contractor Gilbane Federal are pumping 2 million gallons of water per day into Offutt's Base Lake, just east of the runway.
Drainage should improve in the future, too, as a 6-foot steel drainage culvert is being replaced with a concrete one that is larger and lower.
"The new one is bigger and stronger, and it definitely will not break," Hufford said.
The project is about one-third complete and is still expected to wrap up on schedule in fall 2022, Michaud said. Then the 55th Wing will return to a runway built to last another 50 years.