Doing his part to save the planet has long been a priority for Dan Sitzman.
Even as a kid in the 1970s, he used to help his parents haul their old World-Heralds to a newsprint recycling drop-off site.
Over the last two decades, the longtime Omaha science teacher and his family have stuffed as many plastic bottles, tin cans, used papers, cardboard boxes and other recyclables as they could into those little green bins that have been the staple of the city's curbside recycling program.
So Sitzman is thrilled that the City of Omaha is ready to roll out its new 96-gallon recycling carts. So thrilled, he admits, he even took a selfie with his cart to share with his family when it was delivered to their Dundee home.
He's not the only one excited about the reboot to the city's curbside recycling program that begins with weekly trash collections this week. The change figures to bring a welcome new energy to a recycling program that had long ago become outdated, neglected and stagnant.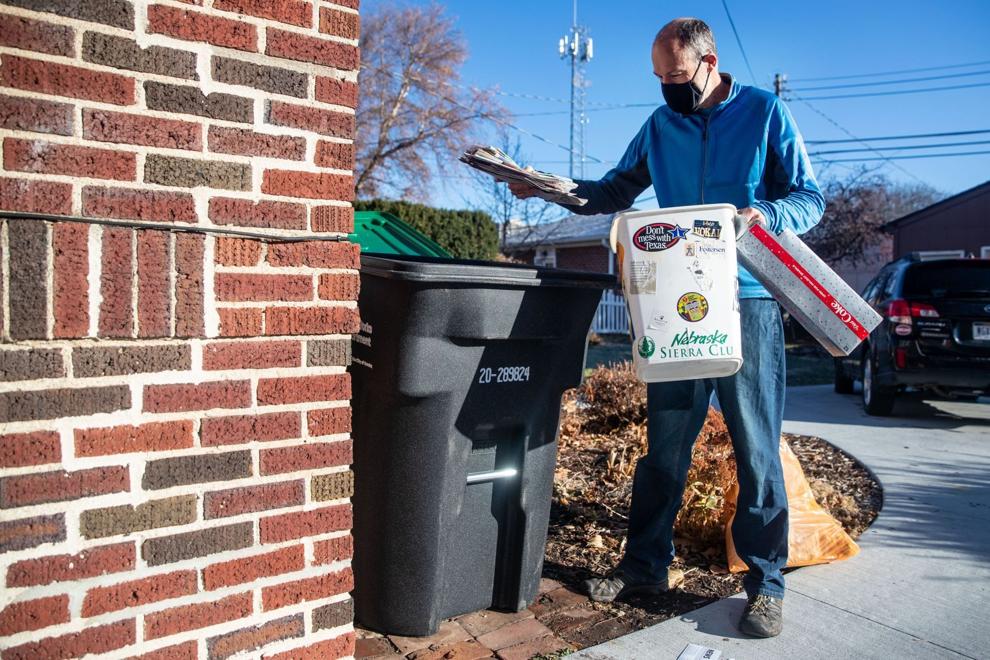 City officials and recycling advocates believe the switch to carts will provide a sizable boost to annual recycling volumes, increasing the number of households participating in the program as well as getting both fervent and "sometimes recyclers" to do more to divert waste from the county landfill.
The Recycling Partnership, a nonprofit that promotes recycling nationally, saw so much potential for growth it awarded Omaha the largest grant it has ever handed out to a city to help pay for the new carts. The Virginia-based group says if Omaha's experience is like that of other cities over the last decade that have switched to carts, Omaha's recycling volume could well jump more than 50%.
"We are so jazzed about Omaha," said Jill Martin, director for community programs for the Recycling Partnership. "It's going to be more convenient for residents and allow more material to be collected."
While Omaha since the 1990s has offered curbside recycling, the program has long been lacking in commitment, promotion or focus. While the service is free to all homeowners in the city, it's believed that in recent years only about half of those households have been participating.
The amount of recyclables collected in the city has been flat for more than a decade. When adjusted for Omaha's growing population, recycling volumes are actually down from their peak by almost 40%.
The low recycling volumes in the state's largest city contribute to overall lackluster recycling in Nebraska. The state doesn't just lag behind those tree-huggers on the coasts. Only six states toss more waste in landfills per capita than Nebraska. Iowans throw away about half as much.
Much of the problem with recycling in Omaha can be traced to its continued use of those 18-gallon green bins long after many cities shifted to 96-gallon lidded carts.
In a series of stories in 2015, The World-Herald pointed out how outdated and spotty Omaha's recycling efforts have been.
Omaha Mayor Jean Stothert and other city officials at the time said they were intrigued about tossing out the bins in favor of carts. But they said any such switch would have to wait until 2020, when the city's contract with waste hauler Deffenbaugh was set to expire.
Well, the Deffenbaugh contract has finally run its course. All Omaha households have recently been delivered a pair of new 96-gallon carts, one for garbage and a green-lidded one for recycling. And under new waste hauler FCC Environmental Services, Omaha curbside recycling 2.0 is set to launch. Stothert said the city is counting on more people to recycle.
"We want people to recycle," she said. "We believe in recycling."
Omaha resident Colin Irwin has some reservations about some of the changes. Now that Omahans are generally limited to one 96-gallon container for regular waste, he's concerned about whether there's enough room for all the yard waste generated in his wooded neighborhood near 120th and Pacific Streets.
He also wonders whether the trucks with automated arms that lift the carts will have trouble getting access to them in neighborhoods where lots of vehicles are parked on the street.
But he's all-in on the recycling carts and ready to cast off the four green bins he's used to put out his recyclables. He has long educated his three children about the importance of recycling and its benefits for the environment.
"I'm hoping to make the world better for them," Irwin said.
Omaha at one time was far ahead of the curve when it comes to recycling, doing so before it became fashionable. The city in 1973 became home to the nation's first curbside pickup program for old newspapers.
In 1996, the city launched its free curbside green bin program for other recyclables. Then a decade later, Omaha was among the first in the region to adopt single-stream recycling, allowing residents the ease of putting all recyclable paper and containers into a single bin without having to presort or separate them. That's done at the processing plant.
But over time, Omaha's curbside program grew stagnant.
As homes were sold and turned over, new homeowners often arrived to find no bin. If they wanted to recycle, they had to take the initiative to pick one up from the city. Many never did. The city also did little to promote recycling, with mayors over the years cutting the annual budget for education.
By 2015, the city estimated that in any given week, only about 40% of households put out bins. Some put them out sporadically. Others not at all. And as fewer households on the street recycled, residents felt less peer pressure to put out a bin.
The biggest problem with the bins was that they're just too small. If a typical household is recycling all the waste that can be recycled, an 18-gallon bin, even if collected weekly, doesn't come close to being large enough.
City officials have said that once the bin was full, many homeowners tended to put the rest of their recyclables in with their regular trash. Even when Omahans obtained a second or third bin and crammed everything in, the bins could still be filled to overflowing.
The lack of a lid also allowed recyclables in bins to blow away or get soaked with rain on garbage day, littering neighborhoods and making the recyclables more difficult to process.
Many cities, including some in Omaha's suburbs, years ago dumped the 1990s-styled bins in favor of the easy-hauling carts. In Iowa, Des Moines began using carts in 2008.
Omaha's recycling program hasn't been terrible, Brown said. She noted that almost half of U.S. households, particularly in smaller towns and rural areas, still have no access to regular curbside service.
"But with Omaha being so large, it's unique that they still have a bin system," she said. "It's time to have universal access to carts and to make sure people know how to participate."
She said she thinks Omahans will find the carts much more convenient for stowing recyclables away and then hauling them to the curb for collection every other week.
To help Omaha get started, the Recycling Partnership awarded Omaha an $825,000 grant to help pay for the carts and for the educational and promotional material needed to make the new program work.
That educational piece is important, Brown said. Officials say it's important that people know what should — and just as importantly, what should not — be put into the carts.
Because the carts have lids and dumping is automated, workers don't get to see what's inside when the carts are emptied into the truck. That makes it more likely stuff that's not supposed to be recycled can make it into the processing plants where recyclables are sorted for resale and reuse. And such contamination makes the recyclables less marketable.
The recycling market has undergone dramatic change in recent years.
Omaha once saved millions of dollars through recycling. Not only did the city avoid paying landfill "tipping fees" on the materials that were diverted, the city's recycling processor actually paid the city for the material, which it processed and then resold on the open market.
But the demand for recycled materials dropped dramatically when China — in part due to contamination concerns — began importing much less recycled U.S. waste. The market price paid for recycled cardboard, for example, has plummeted by almost two-thirds.
Now, cities like Omaha pay recycling processors to take and process the materials, and the fee actually exceeds the amount the city would pay to just dump the waste in the landfill. It's not a huge amount of money in Omaha — roughly $2 per household per month.
Given growing concern and interest in sustainability, national surveys have shown recycling is something that most people want to preserve, Brown said, and they're willing to pay for it. Many people just aren't willing to throw away waste they know can be recycled.
"Recycling has been deemed an essential service," Brown said. "We know residents want it."
The waste stream is also changing all the time. There are always new types of recyclable plastic packaging being introduced.
And think about how many more cardboard boxes from Amazon and other retailers are landing on people's doorsteps now that they're making more purchases online, particularly during the pandemic. That creates more opportunity for recycling, too.
So how much more recycling could Omaha see under its new program?
City officials have said they expect an increase of about 20%. The Recycling Partnership said the experiences of other cities suggest that's on the conservative side.
Raleigh, North Carolina, saw its recycling volume jump by 56% after it phased in carts over four years beginning in 2010. That city and Omaha are roughly the same size and previously had similar recycling levels, but Raleigh last year collected 64% more recycling tonnage.
In a more recent example, Sarasota, Florida, saw a 70% spike in collections when it launched its cart program last year.
The Recycling Partnership typically measures recycling in annual pounds per household. The organization is projecting Omaha will see its collections jump from less than 200 pounds per household to more than 300 pounds. That would equate to an addition of almost 10,000 tons of recyclables diverted from the landfill.
Even with the new recycling carts, it's known that some Omaha residents will never use them. There's a certain percentage of the population — estimated at roughly 15% nationally — that won't bother to recycle no matter how easy it is.
Sitzman certainly isn't part of that demographic.
Even with the green bins, his family has always recycled way more waste than ended up in the garbage can. On recycling collection day, he typically made several trips to the curb carrying a pair of bins and additional bags of paper. It's all part of "being a good steward of the Earth," he said.
He also attended public meetings the city held in recent years as it was hashing out what Omahans wanted to see in their new waste contract, talking to Stothert at one of the gatherings. Sitzman wanted to make sure city officials understood the importance of recycling.
While Sitzman said he won't miss the green bins, he's also keeping them to store and haul glass to city drop-off sites. The new curbside program still doesn't accept glass, but Sitzman isn't willing to just send his glass to the landfill.
Sitzman more than a week ago started tossing recyclables into his cart in preparation for pickup in his neighborhood on Wednesday. He's even looking forward to the first time he wheels both his new trash and recycling carts to the curb.
"It's nice to know that Omaha is catching up," he said.
World-Herald staff writer Reece Ristau contributed to this report.
---
Our best staff images from November 2020