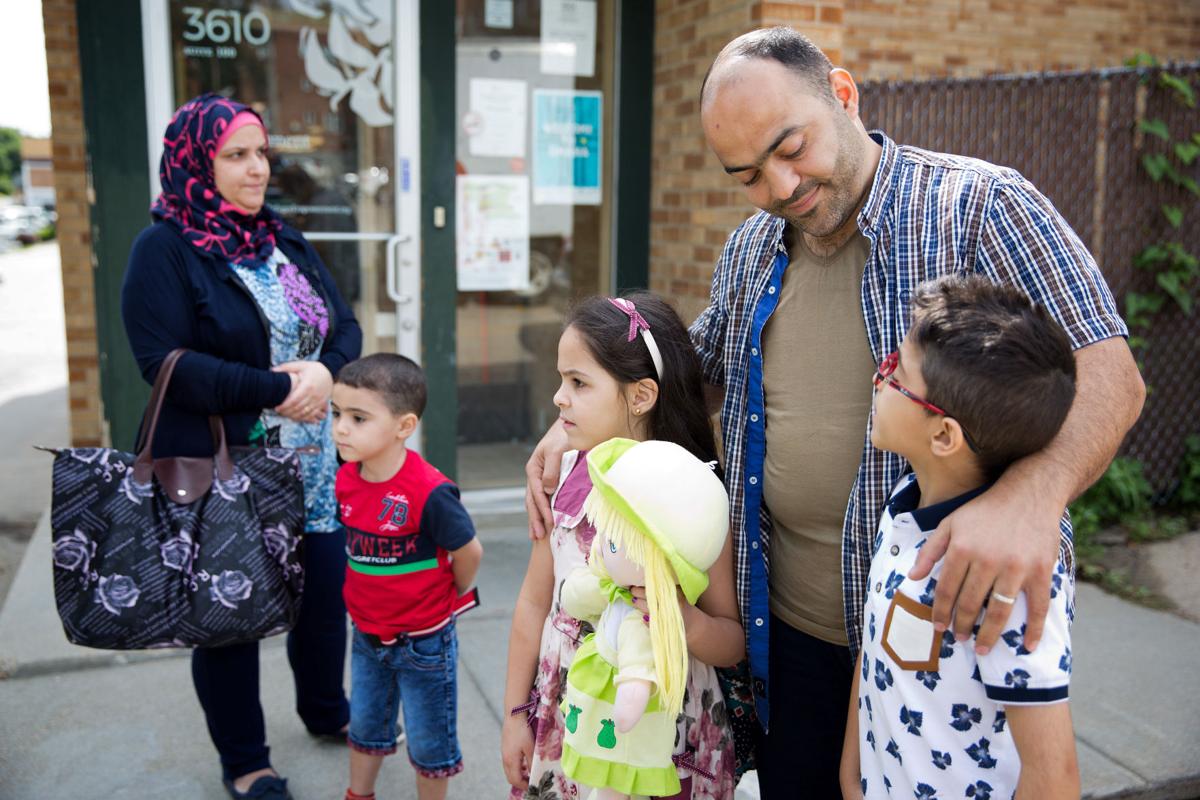 LINCOLN — Nebraska led the nation in resettling the most refugees per capita during the last year, according to newly released federal government data.
The state welcomed 1,441 refugees, or 76 per 100,000 Nebraskans, between October 2015 and September 2016, according to a Pew Research Center analysis of data from the U.S. State Department's Refugee Processing Center and the U.S. Census Bureau.
Nebraska is a strong draw for refugees because of its strong economy with accessibility to jobs in hospitality and meatpacking, said Todd Reckling, a vice president of Lutheran Family Services, the state's largest of three placement agencies. About 90 percent of refugees come to the state to reunite with family already living in Nebraska, he said.
"I'd say Nebraska has a reputation for being a welcoming state," he said, "a place to provide safety and hope for the families that are coming together."
Iowa took in 995 refugees over the one-year period. Pew ranked only the top 10 states who settled the most refugees per capita, and Iowa was not among them.

While Nebraska was first in the Pew ranking, North Dakota came in second with 71 refugees per 100,000 residents, and Idaho was third with 69 refugees per 100,000.
California, Texas and New York took in the most refugees overall. The three states resettled a combined 21,000 refugees, about a quarter of the U.S. total of 85,000.
Among the refugees arriving in Nebraska were 118 Syrian refugees. The figure is higher than any of Nebraska's neighboring states, aside from Colorado and Missouri.
The arrival of refugees from Syria to the U.S. has raised the concerns of the state's top elected official.
In the wake of terrorist attacks last fall in Paris in which the Islamic State, also known as ISIS, claimed responsibility, Gov. Pete Ricketts joined other governors in calling on President Barack Obama to suspend all Syrian refugee resettlements, citing security concerns.
More than 30 governors last fall opposed efforts to allow Syrian refugees into their states, saying terrorists might use the refugees as cover to sneak across borders.
Meanwhile, supporters of refugee resettlement say the screening process for all refugees coming to the U.S. requires thorough background checks and that those from Syria are subject to additional security screenings.
Ricketts said Wednesday that Nebraska has always been a welcoming place for those facing persecution in their countries, and his administration is committed to that tradition.
However, he noted: "The safety of Nebraskans is my top priority, and any refugee resettlement efforts should only occur when the federal government can conduct thorough security screenings."
State Sen. Bill Kintner of Papillion said he believes the new refugees from the Middle East appear to be "pretty low-risk" because they've "been in the pipeline" for a year or two, before concerns about ISIS arose.
During the last legislative session, Kintner proposed a bill to hold refugee resettlement agencies liable for refugees from "high-risk" countries who commit crimes. The areas were mostly majority Muslim and included Syria, Afghanistan, Iran and Iraq.
While that bill didn't get out of committee, Kintner is considering introducing legislation in January that would put in place more reporting requirements about refugees in the state and the services they're receiving. The proposal is not meant to deter refugees from entering the state, he said.
"This might not be ideal, but at least the ones we probably have now are not coming here to do nefarious things," he said. "In the future, as some of these people worm their way in, we might start to have problems."
That's where President-elect Donald Trump will come in, Kintner said.
On the campaign trail, Trump said the U.S. would stop accepting Syrian refugees. He also said he would ban Muslims from entering the U.S. and would register Muslims living here.
"I think Donald Trump can solve all of our problems on this issue," Kintner said. "This is one issue where we are looking to the federal government to protect us because we don't have the ability to do it ourselves."
Ricketts said he believes there are still unresolved concerns about the federal government's screening of refugees who come from regions such as Syria and that it's "very difficult" for the U.S. to collect accurate data and conduct thorough background checks on potential resettlement cases in these areas.
"I urge President-elect Trump to take steps to strengthen the security screening process, so that the American people can have faith in the federal government's refugee resettlement program," he said.
Officials with Lutheran Family Services expressed confidence Wednesday in the level of screening Syrian refugees are receiving.
The agency, which has offices in Omaha and Lincoln, resettled more than 1,000 refugees from 12 countries between October 2015 and September 2016. More than half of the refugees resettled by the agency were from Burma and Bhutan.
They also included 66 Syrians from 10 families, a small percentage of the people served by the agency, Reckling said.
All were parents with children who were living in Jordan or Turkey, some at refugee camps in those countries, said Fa'iz Rab, Lutheran Family Services' public relations director.
The agency hasn't talked with the governor since the presidential election, but intends to keep the lines of communication open, Reckling said.
"Safety for Nebraska is a big piece for all of us, and doing this work right and providing a good atmosphere and community for people coming here is, I think, important to all of us," he said.