When tragedy strikes, schools often face a tough dilemma: how to honor students who are mourned and missed without glorifying death or extending the grieving process.
After four teenagers died last week in a one-car crash, the Gretna Public Schools district is trying to find that delicate balance.
Student-made memorials have cropped up in the parking lot at Gretna High School, where the four girls had just finished their sophomore year. They were Abby Barth, 16, Alex Minardi, 15, Kloe Odermatt, 16, and Addisyn Pfeifer, 16. A fifth girl, Roan Brandon, 15, survived the crash with serious burns.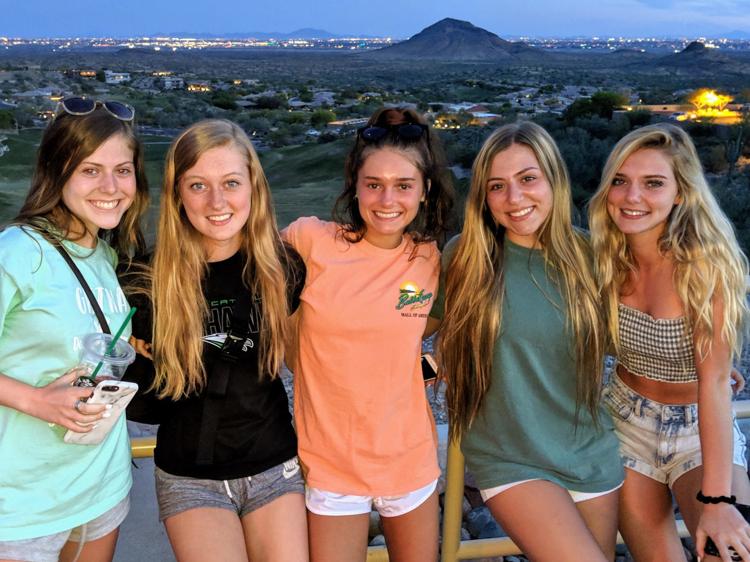 Alex Minardi's car is still parked at the school, the windshield covered in drooping bouquets of carnations and roses and a beaded friendship bracelet. Next to her car, a group of about 20 students spent hours in the hot sun painting the asphalt in shades of green, blue, pink, orange and yellow, with the names and nicknames of their four friends drawn in flowing black script.
A fifth part of the display is dedicated to Roan Brandon, the lone survivor. It references a Bible verse, Revelation 21:4.
Morgan Ehlert, who will be a junior, practiced and practiced to get the lettering just right. She and other Gretna High students spent about a week creating the tributes to their five classmates and friends, swapping stories and memories the whole time. The parking lot holds special meaning: the girls and their friends spent countless hours hanging out there, throwing volleyballs or just goofing around.
"Bringing everyone together and doing something to remember them helps us grieve and memorialize them," Morgan said.
The group planned for permanence, settling on brightly colored patio paint, with a sealant placed on top.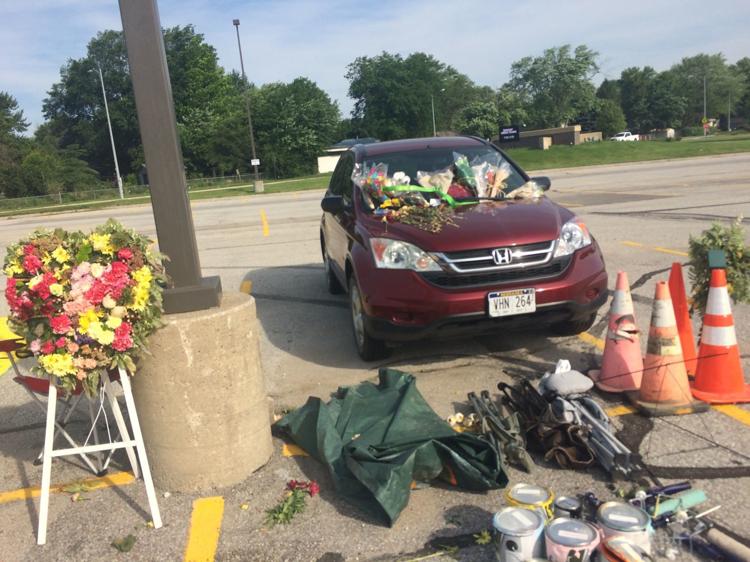 "We've done a million layers," said Chloe Serfass, another friend and incoming junior who worked on the memorials. "We've gotten in the cracks of the concrete and everything. We want it to stay."
The two said they hope the memorials can stay long enough so Roan Brandon can visit once she leaves the hospital.
Gretna school officials have cautioned that at some point the memorials will have be removed.
The reasons are both practical and philosophical: Portions of the high school parking lot are typically repaved and restriped each summer. And school policy and child mental health experts frown on highly public memorials dedicated to students or staff who have died.
"At one point we have to move out of the grieving process," Gretna Superintendent Kevin Riley said. "That's what's healthiest for our kids."
Schools have long struggled to strike the right tone between paying tribute to students who have died and drawing too much attention to tragedy. In districts like Millard, Lincoln and Waverly, controversies have risen over memorial T-shirts, empty chairs at graduation ceremonies and yearbook tributes.
Gretna's own board policy said memorial plaques, busts or photos naming and commemorating a student, staffer or community member will not be allowed on school buildings or grounds. Riley said the district is already talking to students and the girls' families about finding other ways to honor the four girls, which could involve scholarships, planting trees or installing a memorial bench.
Connie J. Schnoes, a pediatric psychologist at Boys Town Center for Behavioral Health, said public memorials are not the only — or the healthiest — way to mourn.
"Today, kids are very public, social media, Facebook, everything goes to the world," she said. "Everything doesn't need to be public."
She said the message is that only if you're important enough and have many friends are you going to have one of these. "It also makes me get concerned from a different standpoint, that if I don't feel important now and I die, maybe then I'll feel important."
For children and teens, she recommends that they attend funeral or celebration-of-life ceremonies for closure and keep scrapbooks to remember the friend, relative or parent they lost.
Four Gretna girls killed in car crash
Complete coverage of the tragic accident that took the lives of Alex Minardi, Addisyn Pfeifer, Kloe Odermatt and Abigail Barth.
Dr. David J. Schonfeld is a developmental-behavioral pediatrician and director of the National Center for School Crisis and Bereavement, which offers advice at grievingstudents.org. He's trained staff at the 9/11 Memorial and worked with schools who have lost students to school shootings.
He usually discourages spontaneous memorials. Schools should take time to collaborate with students, staff and families, he said. "It's the planning that's therapeutic, it's not what you do."
Tonja Minardi, the mother of Alex Minardi, is touched by the parking lot memorials. She dropped off pizza and cookies while the kids were working on it. Part of her wishes the memorials could stay at least until 2021, when the four girls would have graduated.
But she said she trusts Riley and the school board to make the right decision.
She hasn't given much thought to a more permanent memorial but likes the idea of something — maybe a tree in a median near the parking lot where her daughter spent so many hours after school.
"We'll figure out something, and I hope it's something the kids like," Minardi said. "Her friends were such a huge part of her life. I don't want to take that away from them, either."
Photos: Fatal Sarpy County crash; memorials set up at Gretna High School
Get local news delivered to your inbox!
Subscribe to our Daily Headlines newsletter.