As the sun set on another record-breaking day for COVID-19 cases in Douglas County, a group of about 35 people gathered in a parking lot, maskless and determined to protest what many of them consider an "infringement of freedoms."
Allie French of Omaha stood with the group in the Millard West High School parking lot just before 5 p.m. She held her baby daughter as her 3-year-old son played nearby.
French said the protest had originally been planned as a "small (maskless) group shopping trip" at the Hy-Vee near 180th and Q Streets. Shortly after the plan was made, two billboards that drew attention to Omaha's anti-mask groups were erected in the Millard area.
One of the billboards, which was erected Monday, featured a crash-test dummy wearing a mask inscribed "comply." Next to it, in large type, was: "It's not about a virus! It's about control!"
Soon after, word of the Hy-Vee "shopping event" spread.
On Thursday, the grocery chain said it would work with the Omaha Police Department to block the protest from taking place at the store.
"We will not allow the event to take place," the company said in a statement.
Omaha police said they would have officers at the store and would issue citations if people tried to violate the city's mask ordinance.
French instead planned for a group of protesters to march from the Millard West parking lot to the sidewalk in front of the busy grocery store with signs, flags and no masks.
"We weren't trying to cause Hy-Vee problems, but we also aren't just going to let ourselves be bullied and not be able to go to the grocery store, so today we are out here to stand up for that right," French said. "We're not bad people. We just want to be left alone."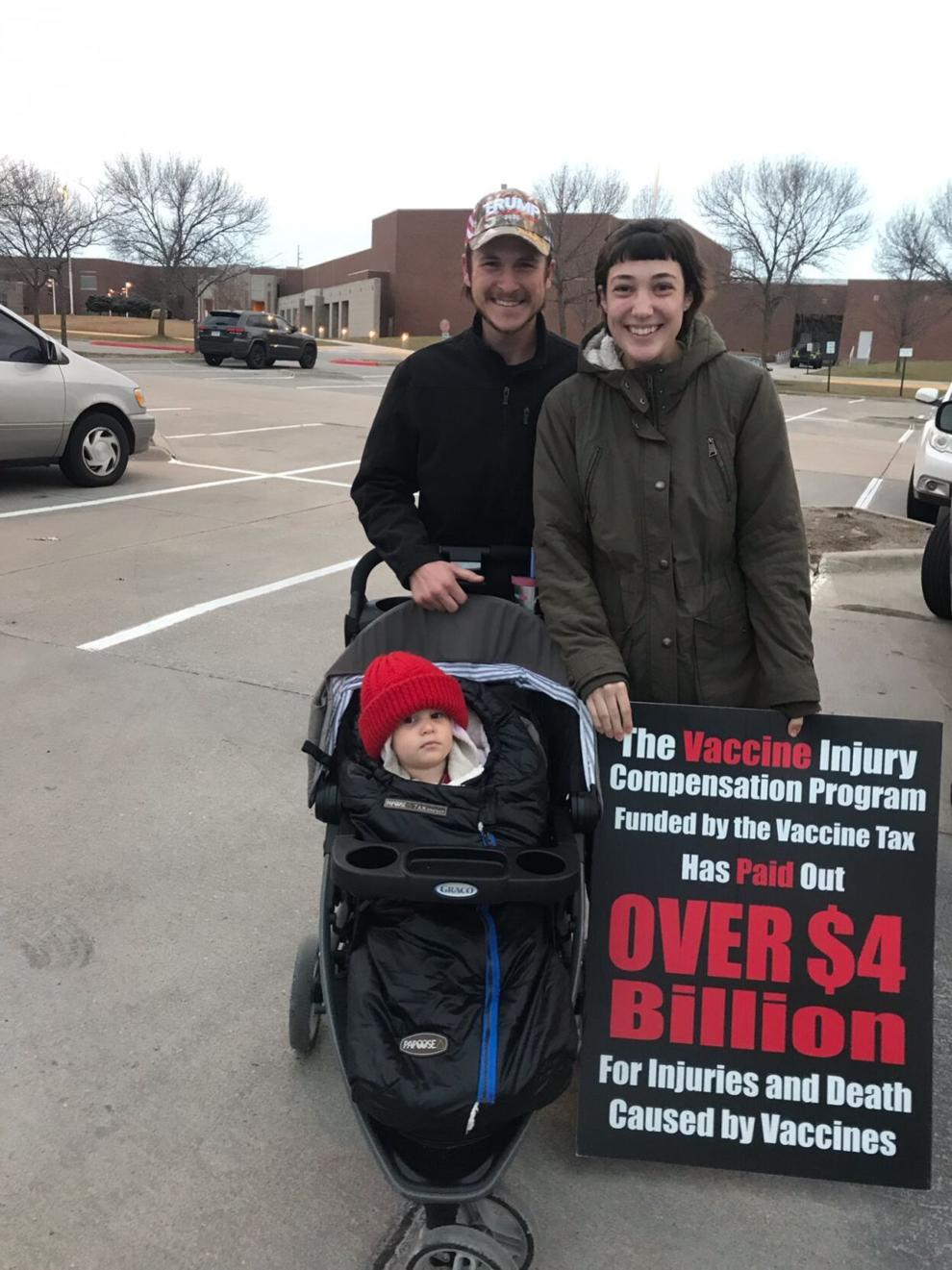 Two police cars were parked among the group in the parking lot, and multiple officers stood at the entrance of the Hy-Vee along with several employees.
Many of the protesters came with family, including Jude and Grace Willett.
The couple were getting ready to march with their 2-year-old daughter.
"It's about standing up for our medical freedom to choose whether or not we wear a mask," Grace Willett said. "I'm fine with other people wearing a mask if they want to, but I think that we should all have the choice."
Jude Willett noted that the government "can make rules and laws, but it has to end at a certain point."
"Everyone has a choice and the government shouldn't be stepping on anyone's freedom," he said.
The group was mostly a combination of members of the groups Nebraskans Against Government Overreach, No Mask Omaha and Nebraska Patriots.
On Saturday, the Douglas County Health Department reported a record 785 new COVID-19 cases, three more deaths and 384 hospitalizations, with 114 people in intensive care units.
The county has recorded 270 coronavirus deaths since the pandemic began.
---
Our best staff images from November 2020