Update: Omaha Mayor Jean Stothert officially approved the electronic scooters Tuesday afternoon and were spotted in Omaha on Wednesday morning.
The City of Omaha and the companies Lime and Spin are launching a six-month pilot program allowing dockless, shared electric scooters on the streets of Omaha.
Omaha Mayor Jean Stothert signed a City Council resolution today allowing electronic scooters in the city. But she still has concerns, chiefly about keeping them out of prohibited areas. Story soon.

— Christopher Burbach (@CHRISBURBACH) May 14, 2019
Lime is prepared to deploy the scooters immediately.
You download the app for Lime or Spin. You use your feet, eyes and/or the app to find a scooter. You use the app to find out if it's working, enter your credit card info and read and sign the agreement and consent form. Then you step on and zip off.
It costs $1 to unlock a scooter, and 29 cents a minute to ride it. So a 10-minute ride would cost $3.90.
Where will the scooters be?
In downtown, midtown and Benson where people would be expected to ride them.
You can ride them only on city streets with speed limits under 35 mph, using bike lanes when available, in areas where allowed.
Can you ride them on sidewalks?
Between 5 a.m. and 10:30 p.m. daily.
Do you have to wear a helmet?
You absolutely should. You have to agree to wear a helmet in order to rent a scooter. Although many people in other cities don't actually wear helmets, everyone from city officials to scooter vendors to your friendly local trauma doctor says you should actually wear one, because you could really crack your coconut if you take a spill.
Sign up for The World-Herald's afternoon updates
Receive a summary of the day's popular and trending stories from Omaha.com.
Are there any forbidden areas?
Yes. You are not supposed to take scooters into several areas of Omaha, including the downtown riverfront, Bob Kerrey Pedestrian Bridge, TD Ameritrade Park, much of the Old Market, Memorial Park and through the campuses of UNO, Creighton and UNMC. However, UNO will have designated scooter drop-off zones on the campus perimeter (maps can be found here) so that people can travel to and from campus and between campuses. UNO says scooters must be left at the established drop-off locations prior to entering campus.
Why are those areas forbidden? It seems like they would be popular places to go on a scooter.
Because of safety concerns of the city, MECA and the universities. In many cases, you'll be able to ride a scooter close to those destinations and park it across the street or somewhere near the no-go zone.
How are the no-go zones enforced?
That's complicated, and a little fuzzy. Contrary to what city officials initially thought, the scooters actually will continue to function in the forbidden areas. But there's a big but: You cannot end your riding session in a prohibited area. The company keeps charging your credit card by the minute until you end the session, but it won't let you end it in a prohibited area. So if you leave the scooter in a no-go zone and walk away, the meter keeps running and you keep getting charged until the scooter is taken out of the prohibited area.
How do I know where I'm not supposed to go?
There's a map on the scooter apps. Also: When a scooter enters a no-go zone, the vehicle alerts the scooter company, which keeps sending notifications to your phone until the scooter leaves the forbidden area.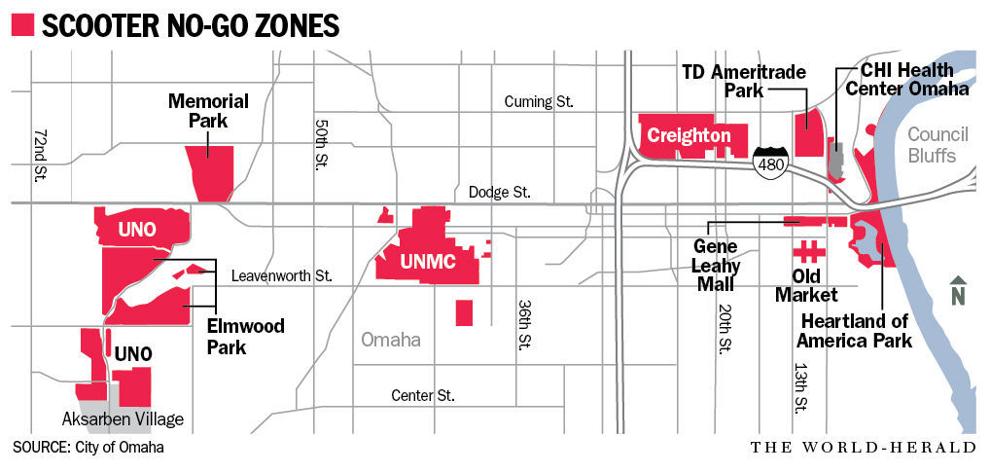 How and where can you park a scooter, and what rules will keep them from cluttering up the sidewalks?
Basically, they must be parked upright on sidewalks or other hard surfaces (but not the street) where they won't block people's path. There are lots of rules spelled out in the city's agreement with the scooter companies. Here are some highlights: No parking in the street unless the city designates scooter parking corrals; don't block sidewalks, disabled ramps, disabled parking zones, benches, fire hydrants, utility boxes, parking garage driveways, access to buildings, commercial display windows, bus stops or news racks; do park (upright and not obtrusively) beside bike share stations or bus stops.
How will parking rules be enforced?
Scooter company employees will patrol and clean up the vehicles. People can report poorly parked scooters to Lime and Spin via phone numbers and email addresses on the scooters. The companies have to come out and move them. If city staffers have to remove scooters from prohibited areas, they can charge the scooter companies up to $100 per scooter. Also: Riders must take a picture of their parked scooters as part of ending the ride. This gives them an incentive to park them well.
How old do you have to be to ride?
Technically, 18. That's what riders' agreements with the scooter companies require.
Do you have to have a driver's license?
Do you have to follow traffic laws?
Will they be put out in winter?
Most likely not. The pilot program goes only until Nov. 15. But if the city extends the agreements, winter in Omaha would not have good conditions for electric scooter riding.
Our best photos of April 2019