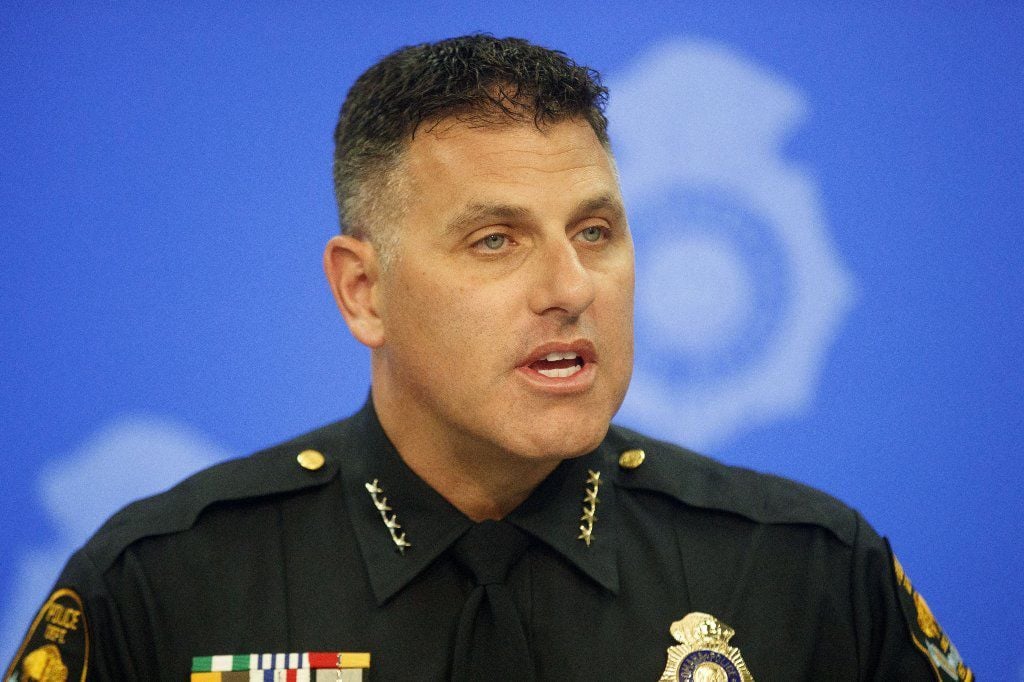 Omaha's mayor and police chief both issued statements Monday supporting Douglas County Attorney Don Kleine, even though neither shares the longtime prosecutor's party affiliation.
The Nebraska Democratic Party passed a resolution two days ago during an online meeting saying the prosecutor had "perpetuated white supremacy." Kleine is a Democrat, though he said Sunday that he would consider changing his party affiliation.
Mayor Jean Stothert, a Republican, and Police Chief Todd Schmaderer, a registered nonpartisan, both applauded Kleine's expertise and record as county attorney, the position he was first elected to in 2007. Stothert and Schmaderer were two of a chorus of local leaders and elected officials to publicly defend Kleine.
"Don Kleine is a man of character and integrity and is well-respected by both parties. His record as the Douglas County attorney demonstrates knowledge and fair application of the laws of our state," Stothert said in a statement. "Mr. Kleine has earned the public trust and deserves better from his own party."
Schmaderer said in his statement that Kleine is one of the "most skilled county attorneys in the country."
"He is also a man I have great respect for," he said. "I have personally witnessed him be a champion for crime victims while seeking justice for victims of all races and genders. I ask that everyone revisit the vast body of work of County Attorney Kleine, and you will see a dedicated and ethical public servant."
The Omaha Police Officers Association, the union for officers at the captain's rank or lower, also showed support for Kleine on social media, saying news of the resolution was "sad and disappointing."
The resolution, adopted Saturday during a state central committee meeting, came in response to Kleine's comments last week about James Scurlock, who was fatally shot by white bar owner Jake Gardner during a Black Lives Matter protest on May 30 in the Old Market. Kleine declined to file charges against Gardner, saying he acted in self-defense.
A grand jury, led by former federal prosecutor Fred Franklin, later charged Gardner with manslaughter, terroristic threats, attempted first-degree assault and weapon use. Gardner died by suicide Sept. 20 in Hillsboro, Oregon, the day his attorney said he was expected to turn himself in.
Kleine said last week that in asserting self-defense, Gardner's attorneys would have tried to establish Scurlock's propensity for violence. Kleine said he didn't consider Scurlock a victim and questioned whether the special prosecutor presented evidence that Scurlock had been "terrorizing" others that night. Scurlock was seen on videotape vandalizing an office.
Precious McKesson, the state Democrats' Black Caucus chair and a central committee member, introduced the resolution for party activist Ja Keen Fox. This summer, Stothert removed Fox from the city's LGBTQ+ advisory board because of online comments he made in support of the man who killed five Dallas police officers in 2016.
"The Nebraska Democratic Party's attack on Don Kleine gives credibility to Ja Keen Fox and his hateful opinions and actions," Stothert said in her statement Monday. "Mr. Fox's views are not acceptable in our city. The Nebraska Democratic Party resolution promotes hate and division and supports Mr. Fox's personal agenda."
Jane Kleeb, chair of the Nebraska Democratic Party, said Sunday that the resolution "expresses some concern from the community" about Kleine's comments but does not condemn him or ask him to resign.
Kleine said Sunday that he has spent his "whole career helping the underprivileged" and that many of the crimes he has prosecuted involve minority victims.
U.S. Rep. Don Bacon, a Republican, tweeted Monday that it was wrong for the Nebraska Democratic Party to attack Kleine with the resolution without allowing him to defend himself. "Don is widely respected and has been a public servant for many years," he wrote.
Douglas County Sheriff Tim Dunning, a Republican, issued a statement Tuesday in support of Kleine, calling the Nebraska Democratic Party's resolution "an outrageous attack on the character of a dedicated public servant that I've known for nearly 50 years. While we may not always agree, Don is a man of unquestioned integrity, humility and compassion. He is a champion for all victims regardless of race or gender and his record of seeking justice speaks for itself. The citizens of Douglas County have been well served under his leadership. He deserves our support."
LaVon Stennis Williams, director of ReConnect Inc., also defended Kleine in a written statement to The World-Herald. ReConnect Inc. is a nonprofit that provides prevention and intervention support and services to youths and adults involved in the criminal justice system.
"When I came home after serving a prison sentence, some in the community attempted to interfere with my efforts to work with system involved youth," wrote Stennis Williams, who is Black. "Don Kleine came to my defense. ... I know first hand the efforts of his office to divert Black youth from the system. He is not a racist for those who have experience in working with him."
Correction: An earlier version of this story mischaracterized Precious McKesson's positions with the Nebraska Democratic Party.
{strong style="font-size: 1.17em;"}Photos: Our best staff images of September 2020{/strong}