How did the group of 15- and 16-year-old girls involved in a fatal crash last month obtain the alcohol that authorities said they were drinking before their car careened off the road?
Sarpy County law enforcement investigating the crash said they are hitting a critical roadblock when it comes to answering that question: Students, parents and other potential witnesses have been reluctant to talk to investigators and share what they know.
On Wednesday, the Sarpy County Sheriff's Office again urged the public to come forward with information about who provided the alcohol to the Gretna teens, four of whom were killed last month in the crash. Officials dangled a $7,500 reward for tips that may lead to an arrest for providing alcohol to minors.
"So far, we have not been getting any great leads from the community," said Chief Deputy Sarpy County Sheriff Greg London. "We're getting a lot of rumors and a lot of hearsay, but someone out there knows what's going on and where that alcohol came from, and we need them to step forward."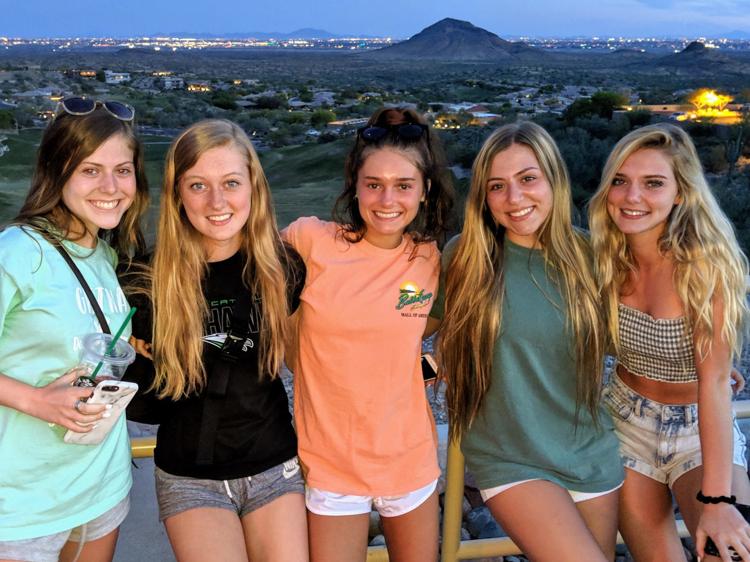 Their friend and classmate Roan Brandon, 15, suffered burns and a broken collarbone in the crash. She has been released from the hospital.
Accident investigators determined that Barth had a blood alcohol reading of .09. All but one girl, Pfeifer, had alcohol in their system, according to the Sarpy County Sheriff's Office. None of the girls was wearing a seat belt, officials said, and the car, which crashed on Platteview Road just west of 180th Street, reached speeds of 90 mph.
An accident report released Wednesday detailed the trajectory of the eastbound 2017 Ford Fusion, which crested a hill on Platteview, hit a guardrail and rolled several times before crossing the creek, coming to rest against a tree and bursting into flames. No alcohol was found at the scene.
Contrary to rumors in Gretna, officials said the girls were not at a party prior to the crash. Officials have determined that the girls hung out in the parking lot at Gretna High School, left for a drive and intended to head to one of their houses for a sleepover. Video footage from Gretna High doesn't show whether the group was drinking there.
The Sheriff's Office wants to know how the girls obtained the alcohol — where it came from, who supplied it and whether it was bought at a particular store. Officials said they don't have any evidence indicating that the girls took the alcohol from their homes or a parent's liquor supply, but they haven't ruled out that possibility.
Capt. Kevin Griger, the Sarpy County sheriff's investigations commander, said investigators have identified two people of interest, both underage at the time of the crash, who may have provided the alcohol or know more about who did. Both have attorneys and have not yet talked to the Sheriff's Office.
Brandon, the survivor, hasn't made a statement to investigators, and her family also has retained an attorney, Griger said.
"We did hear a comment saying, 'Why can't we just let it be?' " London said. "We can't let it be because we don't want to be back here in six months, a year, on another fatality crash involving students. This was a terrible situation. We just don't want it to happen again."
Sign up for World-Herald news alerts
Be the first to know when news happens. Get the latest breaking headlines sent straight to your inbox.
In April, a 30-year-old Kwik Shop clerk was convicted of providing alcohol to a 17-year-old Elkhorn High School student who drove drunk and died in October 2018. Two teenage boys accused of the same thing also were charged in juvenile court.
When it comes to underage drinking, London said, Sarpy County law enforcement is aggressive about tracing where the alcohol came from.
Sarpy County Crime Stoppers is offering a $7,500 reward for any information that leads to an arrest. Bob Batt, the former head of the Nebraska Liquor Control Commission and a retired Nebraska Furniture Mart executive, has donated $5,000 of the $7,500 to spur people to come forward. People can call Crime Stoppers at 402-592-7867 or leave an anonymous tip at apps.sarpy.com/sheriff/crimestoppers/default.html.
While investigators have interviewed two to three dozen people, some students and parents have been hesitant or unwilling to speak, even as the Gretna community has rallied to support the five families and declare themselves #GretnaStrong.
"Sharing a Facebook post, talking to a neighbor, isn't enough," said Chief Deputy Sarpy County Attorney Bonnie Moore. "We need actual leads, we need actual information."
Griger said authorities are solely interested in how the girls came to possess the alcohol — not who else was drinking that night, or who stayed out past curfew.
"Put yourself in the place of those four parents that lost their daughters that night," he said. "Would you want somebody to come forward to help the investigation?"
Photos: Fatal Sarpy County crash; memorials set up at Gretna High School
Get local news delivered to your inbox!
Subscribe to our Daily Headlines newsletter.