April is National Child Abuse Prevention Month, and CASA for Douglas County is raising awareness of the need for more community volunteers.
CASA volunteers, or Court Appointed Special Advocates, are everyday people from all walks of life who are recruited and specially trained to advocate for children in foster care and provide a consistent, reliable adult presence for them during a difficult time in their life.
"Our volunteers' first priority is to ensure children's voices are heard and they are placed in a safe, permanent home as quickly as possible," said Kimberly Thomas, executive director.
"Foster care is the last resort for our children and a temporary solution to the problems at hand. Children need long-term support networks that make reunification a possibility and help break the cycle for the next generation."
CASA volunteers are assigned to one child or sibling group to advocate for their best interest in court, in school and in other settings. They get to know the child and everyone involved in their life, such as their parents and other family members, foster parents, therapists, caseworkers and teachers, in order to develop a realistic picture of the child's unique situation.
Locally, CASA for Douglas County served 520 children in the foster care system in the Douglas County in 2020, which means there are still 1,080 children who need someone to advocate for them.
"There is always a need for more CASA volunteers," Thomas said. "By becoming a volunteer, you can literally make a difference in a child's life and support children and families in crisis right here in our community."
For more information on CASA, visit casaomaha.org or call 402-932-5683. Prospective volunteers can reach out to Recruitment Coordinator Jordan Fletcher at jfletcher@casaomaha.org or 402-932-5683, ext. 117.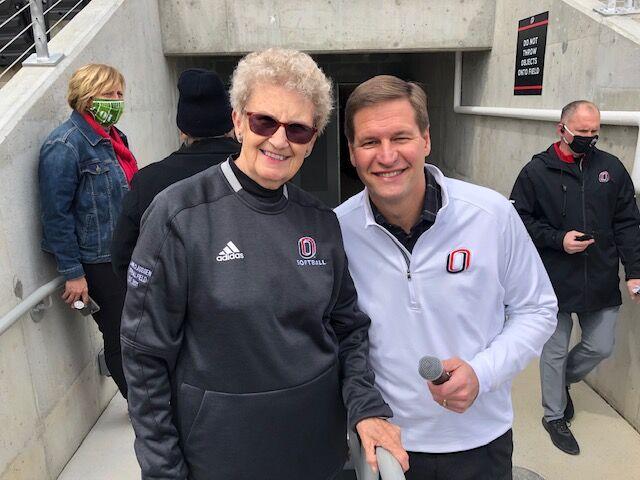 Claussen honored
Connie Claussen, who single-handedly started women's athletics at UNO, was honored at an April 17 dedication ceremony for the field bearing her name. Connie Claussen Field is part of the softball/baseball complex that opened earlier this spring just west of Baxter Arena.
Trev Alberts, UNO vice chancellor for athletics, introduced Claussen on the pitcher's mound during intermission of the Western Illinois-UNO doubleheader. A brief video was shown before she addressed the current and former players.
"This was a long time coming," she said, noting that the entire $25 million for construction costs came from private donations. She also thanked the Nebraska Foundation for organizing the dedication ceremony.
Claussen then tossed the ceremonial first pitch before the second game of the doubleheader.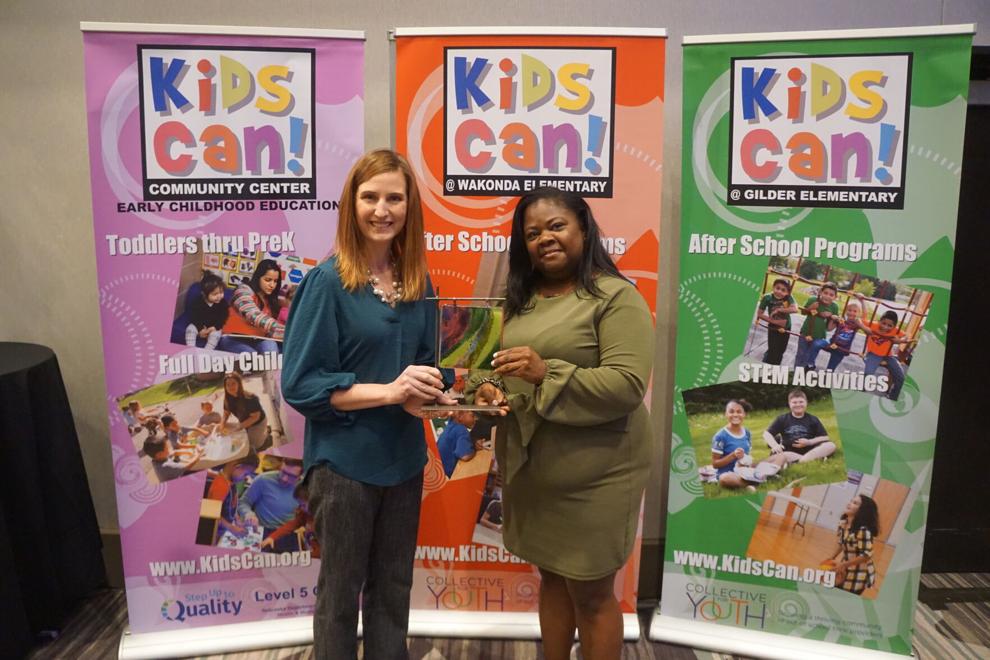 Kids Can Awards


Dr. Idalene Williams and the National Coalition of 100 Black Women's Greater Omaha Chapter were awarded the Future Award at the Can Do Community Center awards celebration last week.
"The National Coalition of 100 Black Women represents the spirit of the award because of its resilience, courage and creativity in its quest to create opportunities for a better future for black girls and women in Omaha," said Cristina Castro-Matukewicz of Wells Fargo, which sponsored the award.
Six awards were announced during the event.
"There is a bright future on the horizon with individuals like these in Omaha showcasing their can do spirit for our community," CEO Robert Patterson said.
Oxbow Animal Health sponsored the Can Do educator award presented to Monica Wells, Nelson Mandela Elementary School family liaison and school counselor. Wells provides academic, career, college access/affordability/admission, and social-emotional competencies to all students through a school counseling program.
"Mrs. Wells has a heart of gold. She goes above and beyond the call of duty for the Mandela family," said Shilene Meeks, Kids Can's Nelson Mandela program manager.
Gallup presented the Can Do hope award to Kate Nicholson, a social worker at Wakonda Elementary School. She has served on several school committees including planning and coordinating family nights, fundraisers, group mentoring programs, holiday donation giveaways and the monthly food pantry.
"Wakonda is a place I love to come to work at every day. I strive to make meaningful connections with our students, families and community partners," she said. "My goal and constant commitment is to make Wakonda a place where our students and their families feel welcome and believed in."
Sixth-grader Ashton Evans received the Can Do junior award sponsored by Bellevue University. He has been attending Kids Can after-school programs since he was in kindergarten. Ashton is very active in school through sports, the spelling bee and has received awards for attendance and sportsmanship. This award also includes a 25% scholarship for three semesters at Bellevue.
The Can Do mentor award sponsored by Union Pacific went to Amy Coacher, and the Can Do provider award sponsored by Nebraska Early Childhood Collaborative was presented to Dawn Dreher.
Kids Can Community Center's mission is to educate, engage and inspire children through early childhood care and out of school programs in North and South Omaha.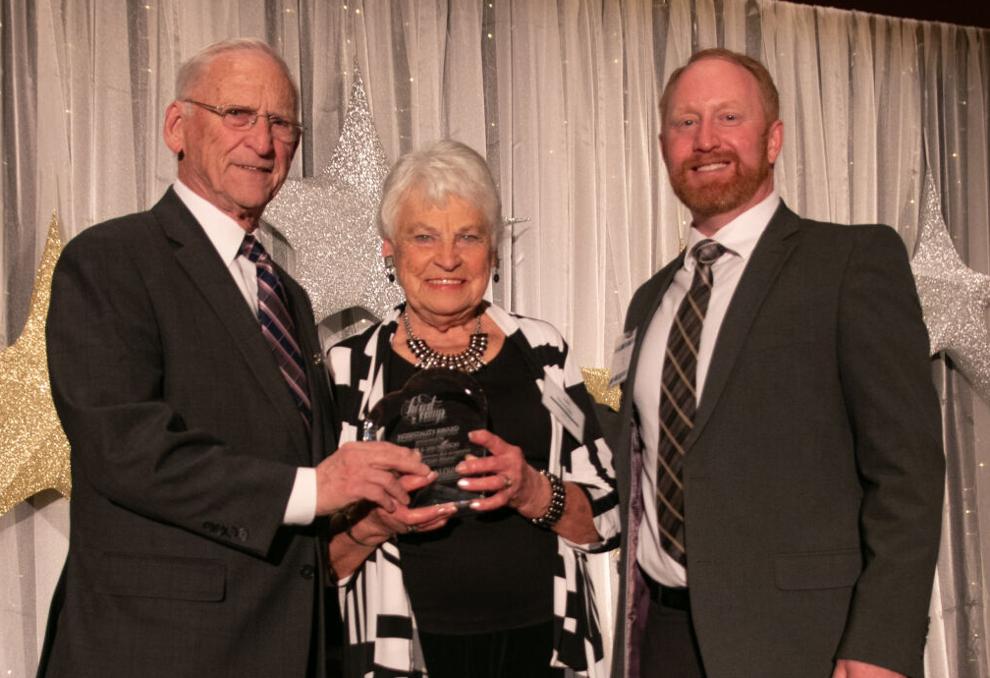 Novickis at 'Heart of Camp'
Nebraska Lutheran Outdoor Ministries has honored Larry and Jan Novicki for their inclusiveness and acceptance of all people.
Jason Gerdes, NLOM executive director, presented the Novickis with the 2021 Hospitality Award at the eighth annual Heart of Camp Gala.
"Camping is special for everybody. It doesn't matter what your abilities are," Larry Novicki told those in attendance. "Camping brings out something special in a person. A natural communion with nature is good for your well-being."
The Novickis lost their son Jay at age 37. He loved camping, and the Novickis felt called to give a memorial in Jay's honor in 2001.
Their faithful stewardship allowed Carol Joy Holling Camp near Ashland to begin offering programs for people with special needs — now known as the Jay Novicki Program. Each year, about 200 people have the chance to experience camp through the monthly, half-day programs.
"It's kept his name in front of us for 20 years, and that kind of helps the heartache of losing him," Jan Novicki said.
Although Jay didn't get the chance to be a Carol Joy Holling camper, many of the Novickis' grandchildren and great-grandchildren have attended over the past 20 years.