Along Dodge Street in downtown Omaha, a new orange and black ORBT bus started its westward leg as motorized scooters stood aligned on a nearby street corner awaiting riders.
A few feet away, a Heartland B-cycle station sat loaded with bikes to share.
On the edge of downtown, a construction crew worked to install Omaha's first protected, on-street bike lane.
A change is showing up in how people get around Omaha.
Now a proposal from the Greater Omaha Chamber of Commerce and its ConnectGO initiative is urging metropolitan Omaha to kick those changes into gear.
In an exclusive interview with The World-Herald, the chamber outlined its new 11-part regional strategy aimed at building a modern, multi-modal, big-city transportation system for Omaha and the metro area.
The ConnectGO strategy calls for:
A downtown to midtown streetcar system as part of a new focus on Omaha's urban core.
Two new rapid bus transit routes to expand the upstart ORBT line, including running the next line north to south.
100 miles of new bike lanes and 50 additional miles of trails.
The proposal also urges improvements to Omaha's regular bus system, new ways of looking at parking in Omaha's urban core, more walkable neighborhoods and commercial districts, and expansion of the transit system into Sarpy County and Council Bluffs.
The plan doesn't ignore streets and cars. It supports continuation of Omaha's new street maintenance program started by Mayor Jean Stothert and even suggests expanding the idea to the suburbs.
But overall, the plan challenges Omaha and the metro area to look beyond the automobile in its transportation system.
Stephen Osberg, the chamber's director of transportation and urban development and the leader of its ConnectGO initiative, said the issues wrapped up in the strategy are tough ones without easy solutions. After a series of conversations and surveys in the community since 2019 about transportation issues, Osberg said the responses show that people want options for getting around the city and suggest that "maybe we need to rebalance those priorities a little."
Among those involved in the ConnectGO initiative is Lance Fritz, CEO of Union Pacific Railroad and a past chairman of the chamber board. In a statement, he cited a need for "innovative solutions that offer people a variety of options to explore our city, commute and live their best life."
"Omaha is a critical transportation hub in our nation," he said, "yet we have work to do at the local level when it comes to modernizing transportation options."
The plan is not an announcement that the projects will happen. But the chamber's work promises to elevate the local discussion, boost some existing efforts on bikes and buses, and lay some groundwork for other ideas.
The streetcar's inclusion acknowledges the high-level planning underway in the Omaha business community.
The chamber's involvement emphasizes the economic importance of the issues — closing gaps in connecting people to jobs, creating a more vibrant community, and making Omaha a place people want to live.
Wayne Brown, interim president and CEO of the Urban League of Nebraska, said he's excited by the chamber's plans.
Brown said he can't tell how many times he's run across someone who might fit in an available job, education or training program. But transportation is a problem.
"I literally can't get them there," he said.
The chamber's initiative, Brown said, is a once-in-a-generation opportunity to close the distance in Omaha.
"It's a breath of life and a breath of fresh air," he said.
Already, the chamber's push is helping move transportation issues ahead.
The Metro transit agency is in the middle of strategic planning discussions aimed at upgrading its bus system.
This week, Metro will announce its next steps in studying local transit — with an eye toward potentially expanding the ORBT system, which started last fall.
Following the chamber's lead, Metro can jump off from those discussions and develop more specifics about improving local transit service, said Lauren Cencic, Metro's chief executive officer.
"I think it just really sets us up for success," she said.
Omaha has taken a decade to move from concept to reality on its first on-street, protected bike lane — a frustratingly slow pace for local bike advocates. And the Market to Midtown Bikeway — a protected, two-way bike lane on Harney Street between downtown and Midtown Crossing — will be a pilot project, not a permanent installation.
Now ConnectGO is calling for a major expansion of the concept: 100 miles of bike lanes around the region. The City of Omaha will undertake a study of bicycle and pedestrian projects to come up with specific plans for the city.
Said Osberg, "Pilot projects are meant to be expanded upon if they're successful."
Standing off the bikeway that's still under construction, Julie Harris saw a cyclist ride by on the already painted bike lanes. Harris, executive director of Bike Walk Nebraska, said bicyclists are thrilled to finally get a protected bike lane like the Market to Midtown Bikeway — in part because the design has become a standard around the country.
As people hear about the project, Harris said they uniformly respond: "This is really exciting for Omaha."
Harris said the chamber's goal is not only possible, but it's been done in other communities.
"That's what the chamber brings to the table," she said, even as bicyclists have been shouting about the idea for years.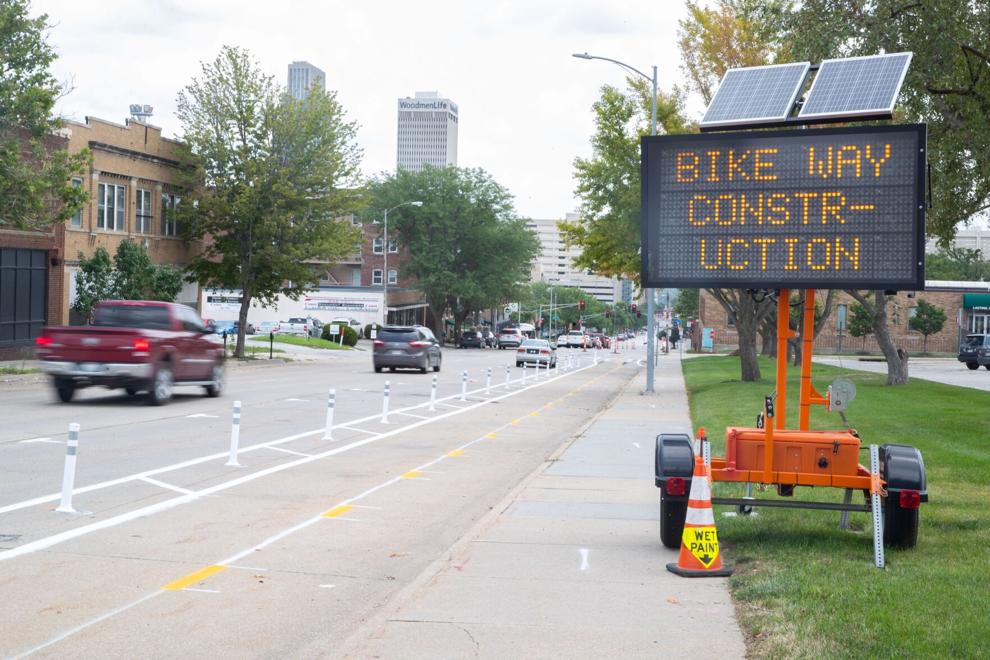 Kevin Andersen, Stothert's deputy chief of staff for economic development and development services, said the Mayor's Office is supportive of the strategies.
Andersen, who has been an adviser to the ConnectGO effort, said it's important that the transportation strategies are regional in their approach, so a partnership of agencies and local governments can tackle the goals.
But he acknowledged that "the devil is in the details" on implementation and funding of projects.
"We're doing everything we can to play our part," he said.
Cost will be a major challenge to moving ahead.
Out of the list of projects, the chamber itself is eyeing several specific priorities: expanding ORBT and making other bus improvements, establishing a "mobility system" for Omaha's urban core that includes a streetcar, working with employers on their workers' commuting behaviors and carrying out more street maintenance work.
No detailed costs or funding plans have been spelled out for the projects. But with the streetcar included, the price tag would stretch into the hundreds of millions of dollars.
Osberg acknowledged that the projects would require additional funding. But he said the metro area can go a long way by being more opportunistic and creative as funding possibilities arise.
Metro's new ORBT line cost $37 million to equip and install, funded in large part by a $14.9 million federal transportation grant. The agency then started the line in the middle of the pandemic, offering free fares to draw riders.
Jason Rose, a spokesman for Metro, said ridership overall for Metro's system has dropped some 40% in the pandemic. But the ORBT line has essentially taken ridership back to pre-pandemic levels compared with the Dodge Street line it replaced, he said.
Now's the time to entertain further expansions, Rose said, because any study and implementation will take time.
"Let's keep going," he said. "We want to keep moving forward and keep progressing."
Greg Youell, executive director of the Metropolitan Area Planning Agency, said that when other cities have made big transportation improvements, it always involved a collaboration between elected leaders and the private sector.
Youell said the local discussions are exciting. But he said it's time to spread the conversation about the proposals and costs to the general public.
"That's a conversation we need to have," he said.
---