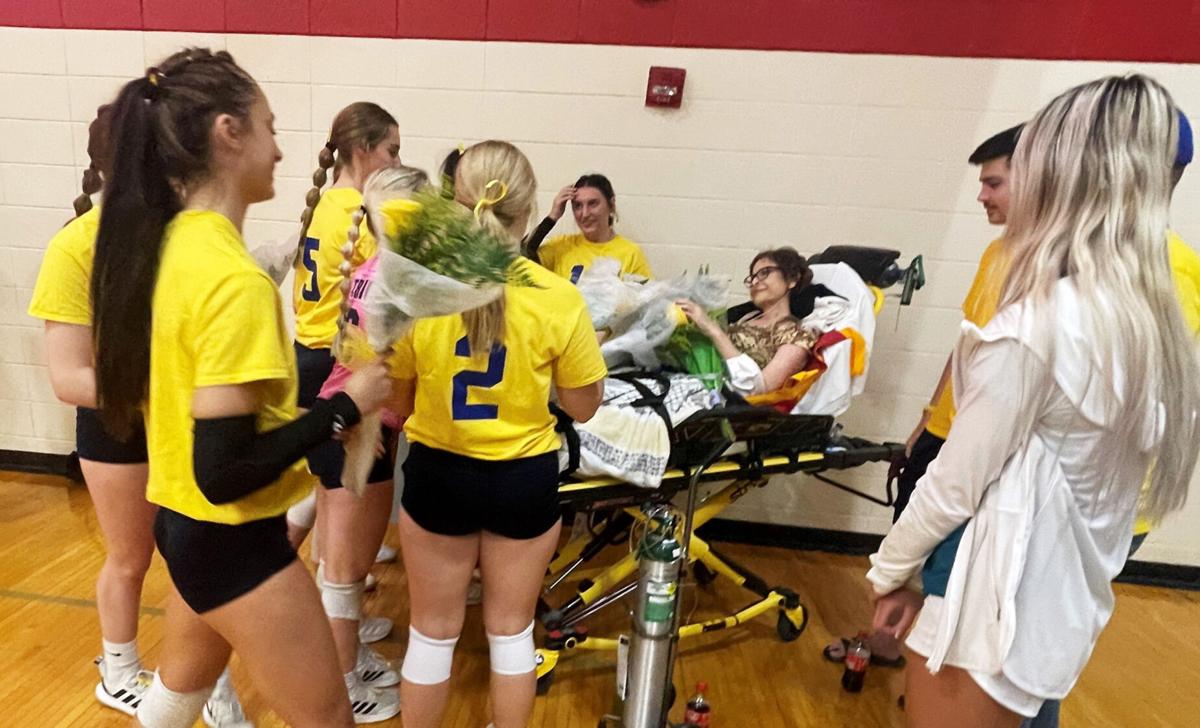 When Omaha firemen rolled volleyball mom Terri Hagedorn into the Millard South High School gym Thursday night, fans in yellow on both sides rose and gave her a standing ovation.
Everyone cried as they clapped, Patriots coach Jaisa Poppleton said. Terri's daughter Emily Hagedorn, a senior outside hitter for Millard South, said the moment left her speechless.
Terri, in hospice care after being diagnosed with a rare form of sarcoma in April 2020, was making her first appearance at one of her daughter's matches in two years. COVID-19 and her illness, a soft tissue cancer, had kept her away.
At Stage 4, her diagnosis is terminal.
"I just felt all the love and support from everyone," Emily said. "I just felt like having all those people there for me and my family and my mom — I know I'm not alone through this.''
As part of its Last Wish Program, St. Croix Hospice arranged for a team of makeup artists and hairstylists to get Terri ready for the match and for transportation from the Omaha Fire Department, in case she needed medical assistance.
"I asked them how I was going to get her home, and the captain gave me his cellphone number and said we'll be there in five minutes or call 911," said Terri's husband, Roger Hagedorn. "It was fabulous."
He said it was just one of countless acts of kindness since Terri, 47, was diagnosed.
As part of the Team Hagedorn Cancer Night on Thursday, raffle and basket tickets were sold to raise money for the family. Another online effort continues to bring in money.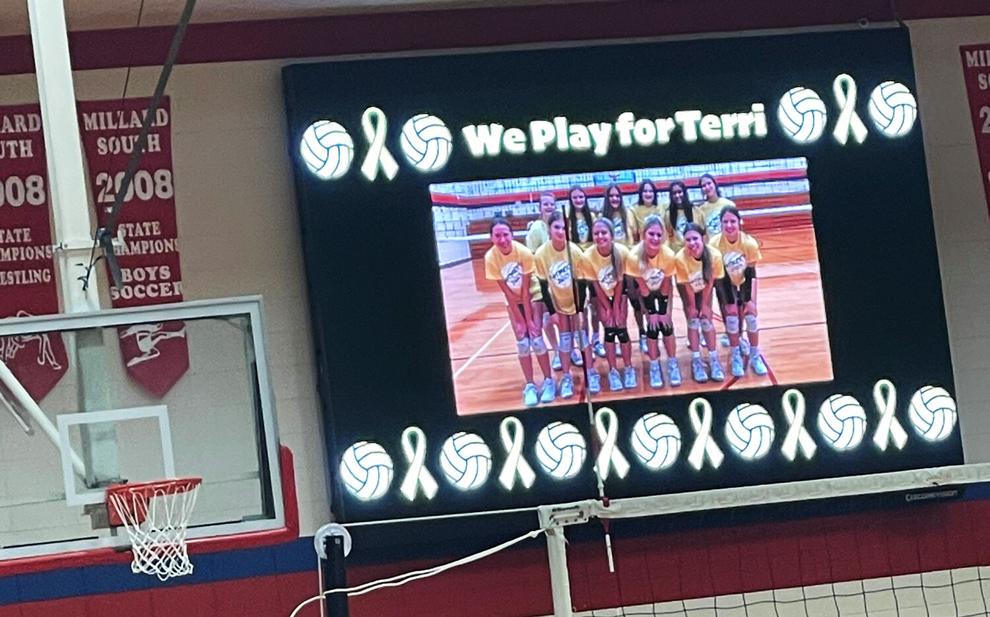 Roger, a driver for UPS, hasn't been able to work since July and said his family leave time is about to run out.
"It if wasn't for the good people of this town ... our friends and family — I'm getting Venmo donations from people I don't even know before last night — I would have no other way to pay the bills," he said.
"It's just incredible. It's hard to see yourself as blessed when you are going through something like this, but we truly are, for sure."
Poppleton said she changed her usual Cancer Night Out event from October to Thursday. Emily has played club volleyball for years, and most of the parents and girls from both teams know one another well.
Poppleton didn't want it to be a sad night for Emily, so they talked a lot about making it a joyous occasion instead.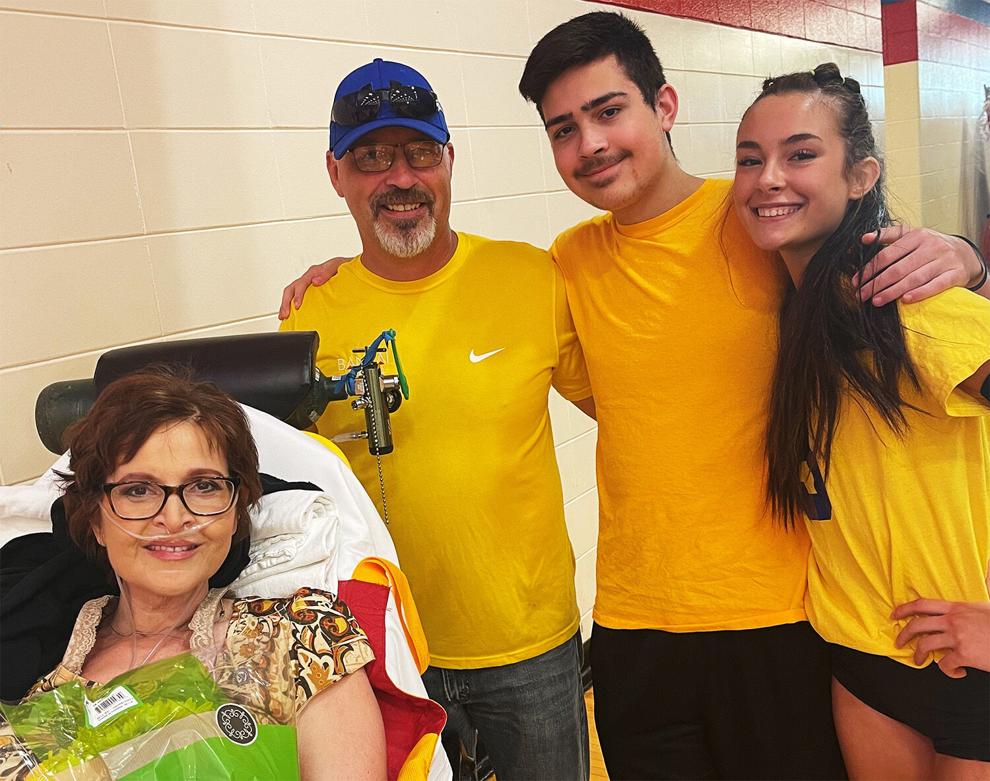 Those in attendance were asked to wear yellow to recognize the type of cancer Terri is fighting. The eight seniors on the Patriot squad brought Terri a yellow rose as they were introduced.
"It was the most outstanding turnout we've ever had for a cancer event," Poppleton said. "I've been doing cancer events like this for 12 years. It was epically amazing."
Emily said it wasn't difficult to play despite all of the attention. She was determined to do her best for her mom.
Terri had to leave early, with another standing ovation, and didn't see the Patriots lose to Millard North in five sets, but Emily said she was satisfied with her 15-kill performance.
"I think I played such a great game," she said. "I actually found it really almost comforting to have my mom there. I needed to be strong for her. I played my game for her. I just loved having her there."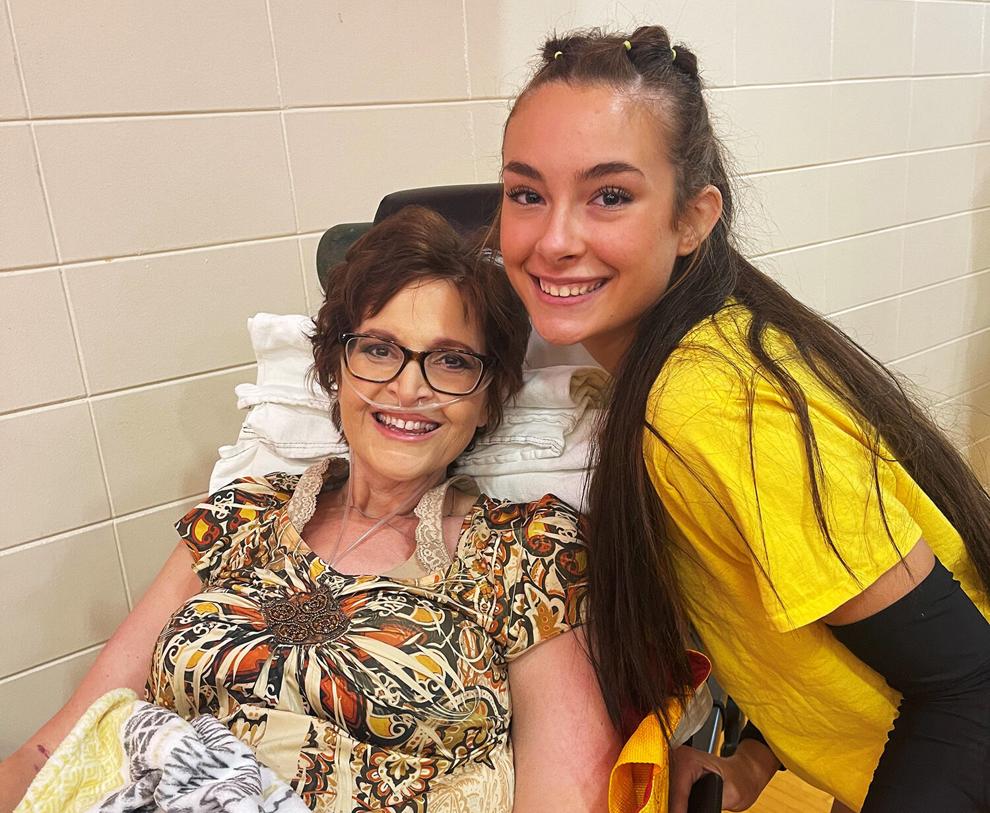 After the match, her mom told her how wonderful it was to see her friends and the other moms. She gave her daughter a hug.
Roger said he and Terri talked afterward, too, about seeing only divisiveness and arguments on social media due to the current state of the country and how Thursday night was so different.
"This has made us see another side," Terri told her husband. "We see nothing but goodness.''
---