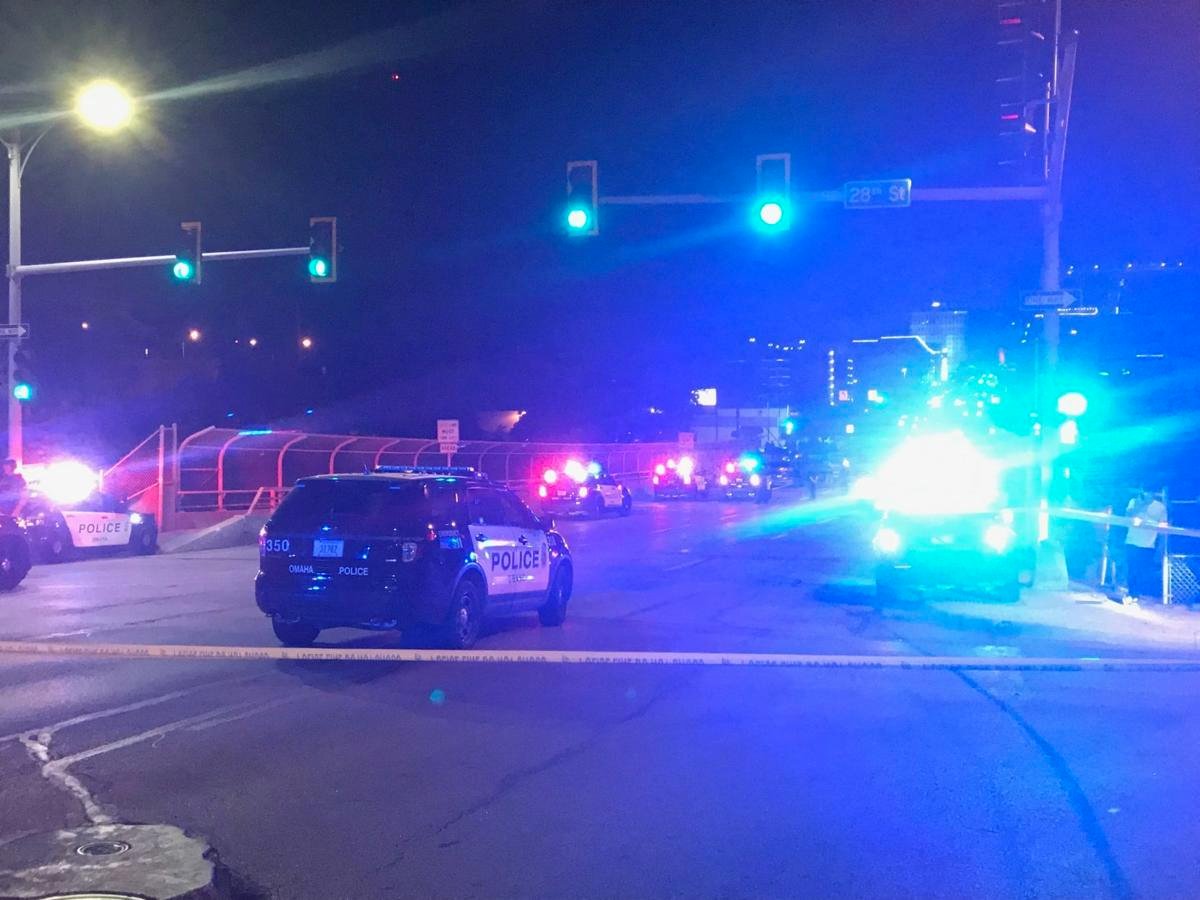 Computer problems at the Douglas County Jail early Sunday led to a lengthy delay in releasing protesters arrested after a Saturday night demonstration in midtown.
Adding to the confusion was the inability of family and friends to reach some of those who had been jailed.
Several people called The World-Herald on Sunday to say they didn't understand why it was taking so long to have their friends and family members released from the jail at 710 S. 17th St.
Regan Johnson said her fiancé, Riley Wilson, 31, had been in custody for more than 14 hours. About 10:45 p.m. Sunday, a county spokeswoman said that the remaining protesters would be out of jail by midnight Sunday, barring the unexpected.
"He is a second-year law student at Creighton, and he was there as a legal observer," Johnson said. "He was wearing a neon traffic vest and had a notebook to record interactions between the police and protesters."
Another protest occurred Sunday in midtown, spurred in part by what happened Saturday.
Among those at Sunday evening's protest was Omahan Johnny Redd, who is worried about a friend who is bipolar and had been jailed Saturday night without his medications.
"Who knows where that will go," Redd said.
Sunday's computer problems resulted from routine maintenance followed by an unplanned outage, according to a press release from the Douglas County Board of Commissioners.
From Saturday night into Sunday morning, 109 people were booked into the jail, and about 75% of them were connected to the protest, according to the county. The rest were booked on suspicion of a variety of infractions, from domestic violence to driving while intoxicated.
Michael Myers, the director of the jail, said that the booking process involves multiple steps and that even when things go smoothly, it's time-consuming. Jail employees have to check each person for warrants, Myers said. There are also medical screenings to be conducted.
"Even if the system is up and running, the process takes multiple steps," he said.
The problems began about 3:30 a.m., when the computer system was taken down for routine maintenance. (Myers said the jail's computer system is routinely taken down for maintenance on Sunday mornings because that's usually a quiet time.) After the computers were updated, some functions failed to come back online. That further delayed the process.
Myers said that to work around the computer problems, jail employees reverted to the paper process.
"Several small groups have already been released, and we continue to work as fast as possible," he said late Sunday afternoon.
"It is truly horrible timing that we h
ad an IT problem during an unexpectedly busy time," he said.
The Saturday protest, which started at 7:30 p.m. at Turner Park, was organized to shine a light on the "horrific slaying of our brother James Scurlock" and to "stand in solidarity with Portland" and other cities, according to a Facebook post. On May 30, bar owner Jake Gardner shot and killed 22-year-old James Scurlock during protests in the Old Market.
Cole Christensen, 28, was one of the f
irst people arrested Saturday night, and while he was able to post bail quickly, there were other protesters who as of Sunday afternoon had paid their bail and were still waiting to be released.
"We're just very concerned for our friends who cannot leave even though they've done everything that has been asked of them," he said.
The Omaha man said he was near the front of the protest line and was crossing the Farnam Street overpass at 28th Street when officers moved in.
"We were in sight of our vehicles. We were getting ready to disperse and leave," he said. "It was the end of our march."
Christensen said he bled through his shirt while waiting in jail from injuries he suffered when officers repeatedly fired projectiles.
Omaha Police Capt. Mark Matuza said the Saturday protest started peacefully.
About 9:15 p.m., the crowd started walking east on Farnam in the westbound lanes, obstructing traffic. Police were also seeing Facebook posts about possible damage to be done downtown.
"It leaned toward the potential of getting violent," Matuza said, so police declared the gathering an unlawful assembly.
A spokesman for the Omaha Police Department said that "numerous announcements were made to disperse" via police cruiser public address systems, starting when protesters entered the traffic lanes on Farnam. The announcements continued throughout the evening, he said.
"The protesters were walking eastbound, against westbound traffic flow, and continuing throughout the remainder of the protest," said the spokesman, Officer Michael Pecha.
Hannah Theobald's mother posted her bail at 4:50 a.m. Sunday. The 29-year-old was released about 4 p.m., more than 11 hours later.
"When they first brought us in, they just sat us in the parking lot of the jail for hours with our zip ties on, not telling us what we were charged with, if we were able to leave," Theobald said. "It took probably three hours just to get booked into the jail."
Theobald said the cell she and about 40 other women were held in had a capacity of 14 posted on the door.
"We got a chance to use the phone, but they weren't telling us that bail was posted," she said. "They told us it was because a computer system was down, they told us another time it was because a copier was broken. At one point, they said that they were just hoping to teach us a lesson by keeping us in there."
Redd has been participating in protests since this spring and said that the treatment of protesters by police has reinforced Redd's belief that police are the aggressors.
"The police have been provoking us, they'll shout orders, we'll be confused, and then they'll use that to suppress our voices," Redd said. "I wish they would step back and let us have our protest."
---
Photos: Our best staff images from July 2020
Get local news delivered to your inbox!
Subscribe to our Daily Headlines newsletter.