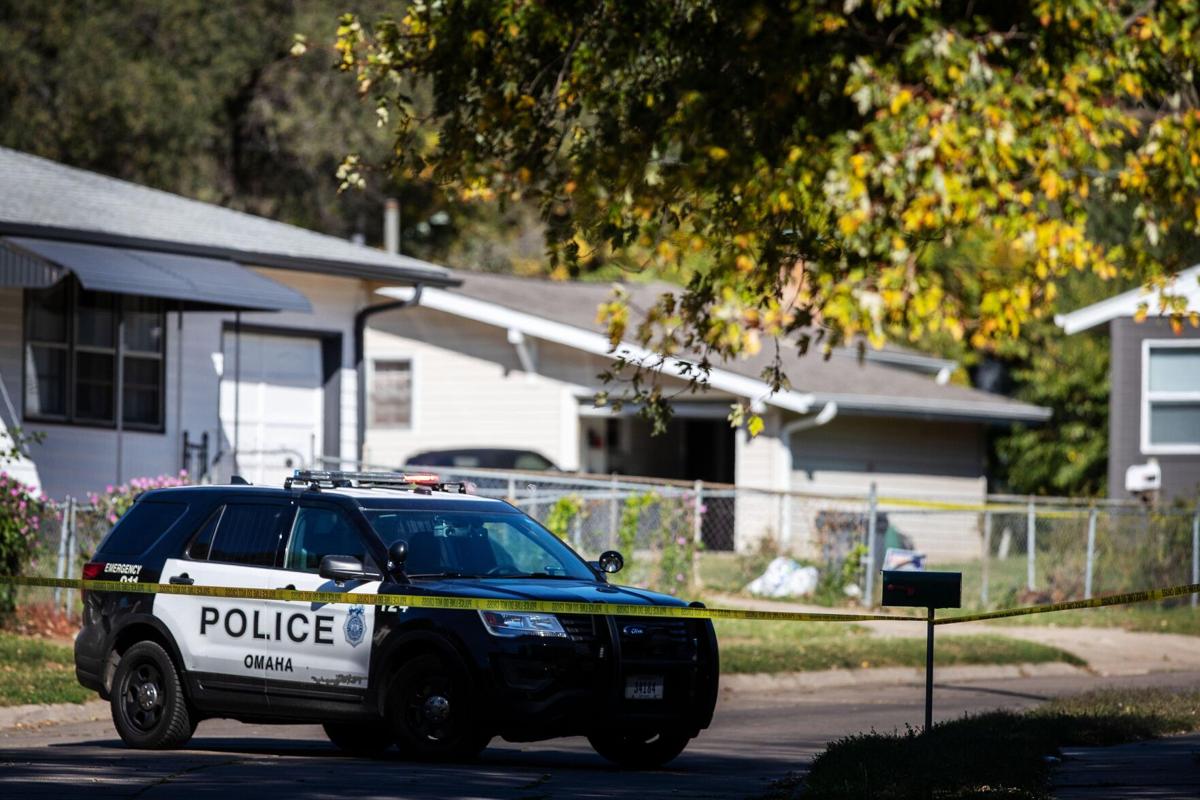 The Omaha Police Department's upcoming recruit class shatters previous records for diversity and size as the agency aims to restore the force's strength to the high 800s.
Of the 60 recruits, 40% are people of color, about 28% have previous law enforcement experience and just over a fifth are women.
More than half have either an associate's, bachelor's or master's degree.
Ten recruits are bilingual — nine speak Spanish and one woman speaks Karen. Once graduated, she would be the first Omaha police officer to speak that language.
The recruit class, which starts Monday, is sorely needed to replenish numbers and bring the department close to its authorized strength of 906 officers.
The department reached an all-time high of 886 officers in April 2020 when the last recruit class graduated. As of Wednesday, OPD has 841 full-time, sworn officers, which is slightly less than the total in May 2018 immediately following a class graduation.
The drop is a loss of about 5% — 45 officers — in one year.
"We need to get our staffing back up to levels that will assist us," Omaha Police Chief Todd Schmaderer said, reflecting on the challenges of the pandemic. "We have a lot of vacancies right now. That class won't totally get us to where we want to be, but we'll be close."
The force numbers have dropped because of two reasons: Officers have retired a few years early due to 2020 stressors, and the pandemic delayed the continuous hiring needed to maintain and incrementally increase numbers.
Schmaderer said exit interviews have shown that officers who were eligible to retire did so two to three years earlier than initially planned.
"The pandemic had an effect on a lot of people," Schmaderer said. "And then also in 2020, there were some aspects of policing being delegitimized, and that takes a toll on an employee base that derives being here on an intrinsic value — helping people, being perceived in a positive light. So when that took a hit, Omaha became part of a larger narrative. ... All these cities, all these police departments are losing quite a few people."
As of February, Schmaderer, who is 49, became eligible to retire. He entered the Deferred Retirement Option Program, which freezes pension benefits and then delivers a lump sum of the total after the person officially retires. The worker essentially earns a monthly pension while working, but receives it at a later date.
Schmaderer will accrue $14,796.45 per month in pension benefits during the DROP program. If he remains chief for five more years, he will get a lump sum of that accrued total — $887,787 — at the end of that period. His current annual salary is $216,923.
Schmaderer said he has no plans to retire. He said he viewed the switch as a transitional phase of his contract.
"There are a lot of options out there, a lot of major police chiefs have exited in 2020. You do receive calls, but I'm just not interested right now because I like the way Omaha sits," he said. "I like this city, I think the mayor's done an amazing job, and I'm really impressed with the men and women of the Omaha Police Department. So I'm comfortable here."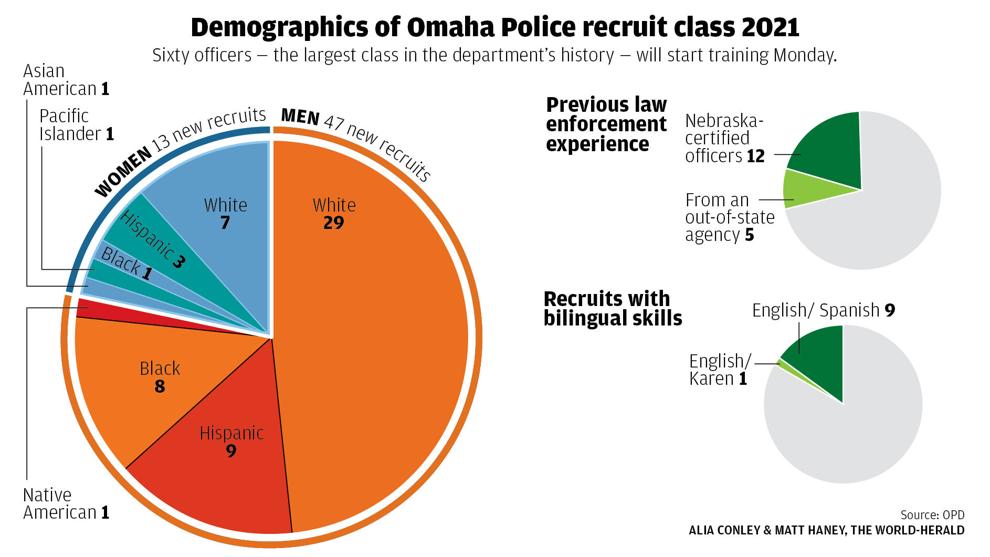 Omaha officers aren't leaving for other law enforcement agencies, Schmaderer said. In fact, experienced officers from nearby departments are wanting to work for OPD.
That's usually because Omaha, which has the largest police force in the state, has more career opportunities and specialties, said Lt. Gregg Barrios of the backgrounds and recruiting unit. Barrios said that these recruits have been on the application list for months because of the suspended hiring.
"They stuck with us for quite a while because of COVID," Barrios said. "The candidates bring a lot to the table in terms of education and experience."
The upcoming recruit class has 17 people with previous law enforcement experience. The 12 of those who are certified in Nebraska will complete a shortened 10-week training class and then an abbreviated 10-week field training period with a seasoned Omaha officer. That means they will be able to fully respond to calls on their own by mid-September.
Five people have been officers outside of Nebraska — in the Dallas and Phoenix police departments as well as in South Dakota. They will train a full 23 weeks with the 43 other "rookie" recruits, and then have a 16-week field training phase, hitting the streets independently by the end of January.
The group will have a formal graduation ceremony in October.
Capt. Sherie Thomas, who commands the training and community services section, said most of the recruits do volunteer work, which is an important consideration for the department. Finding applicants who speak more than one language, she said, also is a plus.
"A big part of our job is communicating with citizens, so having recruits or officers being able to speak the language is very important, especially to gather the information, to get the facts," Thomas said. "But also when people in the community can speak to someone, they kind of feel comfortable in sharing what happened."
According to the Karen Society of Nebraska, about 5,500 Karen refugees and immigrants from Burma live in the state, with the largest portion residing in Omaha. The recruit who speaks Karen isn't the first officer who could directly speak to immigrant communities. In April 2019, Officer Muorter Majok became the first OPD officer from South Sudan, which also has a large community in Omaha.
Deputy Police Chief Greg Gonzalez, who heads the executive services bureau, said OPD's continued commitment to diversity, in recruiting and promotion, is clear.
Twelve recruits, or one-fifth of the new police class, are Hispanic, compared to 10.3% of the current makeup in the department. Nine recruits, or 15%, are Black, compared to 9.2% of current officers. The recruit class also counts one Native American, one Asian American and one Pacific Islander.
The current police department is 77.6% White, compared to 60% of the incoming recruit class.
Gonzalez said the department emphasizes not just recruiting diverse classes, but also continuing to promote and provide opportunities for officers of color.
"They want to feel that they not only have a seat at the table, but they're welcomed and embraced and have an opportunity for advancement," Gonzalez said. He noted that two of five deputy OPD chiefs are women, one of whom is Black. "We're looking beyond just recruitment; we're looking at command structure. We shatter a lot of those goals, and we've met them already."
Gonzalez said OPD is planning a "massive" recruiting campaign to stay ahead of and avoid deficiencies in applications. Schmaderer said he hopes to start another recruit class by the end of the year or early 2022 to address additional gaps caused by department vacancies that will arise as this recruit class goes through training.
Anthony Conner, the president of the Omaha Police Officers Association, said last week that the "political climate in policing" has led to a smaller number of officer applications.
"No one is interested in doing this job," Conner said.
Gonzalez, who oversees the recruiting process, said nationally, the pool of applicants has been smaller. But he said the quality of the Omaha recruits is extremely high.
"Our barometer is really the end result — is our class diverse? Do we have quality candidates with experience and unique skill sets? The answer is yes," Gonzalez said, adding that Omaha has a unique "recipe for success" because of policing support from city and community leaders.
Schmaderer said he hopes application numbers increase so that Omaha won't have a problem finding qualified people. About 980 people applied to become part of this year's recruit class, a number that was down from an average of 1,500 in past years.
"The decrease in numbers did not equate to a decrease in talent," Schmaderer said. "Matter of fact, we're very happy with this class."
---