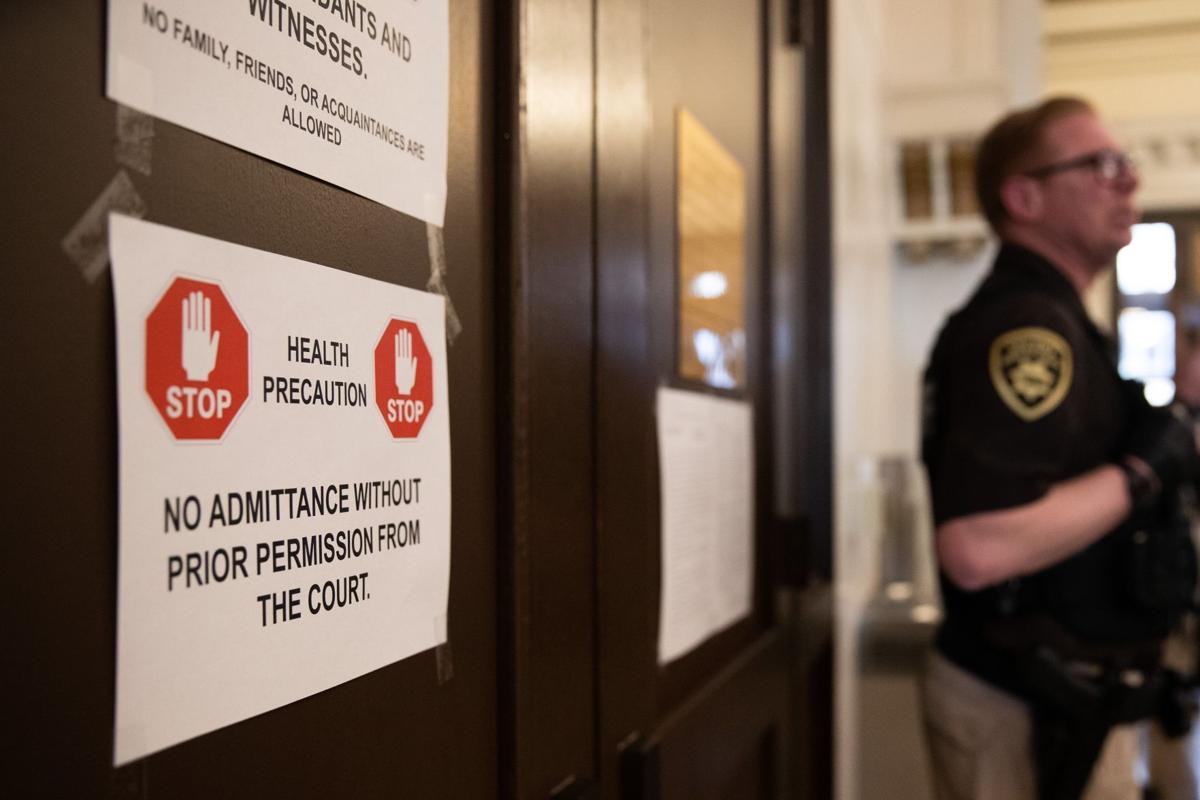 After an apparent coronavirus case caused a mistrial this week, judges in the state's largest courthouse are trying a new approach to try to reduce the risk of COVID-19: Clear the courtroom.
Under the plan, Douglas County District Court trials would be reserved for the parties involved, court personnel and jurors. Video cameras would be set up in the courtrooms, and the video feed would appear on a TV screen in a satellite courtroom where members of the public and news media could watch.
The move comes after the sister of defendant Nyir Kuek told attorneys that she had tested positive for COVID-19. The revelation came after she attended her brother's trial on charges that he killed two Omaha men in June 2019.
Her disclosure caused Douglas County District Judge Marlon Polk to declare a mistrial. It also sent court officials scrambling to figure out how they could better carry out jury trials.
The jury trial schedule has cleared for July after defendant Jeffrey Loving, who was scheduled for trial this week and next, took a plea deal in return for a 40- to 60-year prison sentence in the 2016 death of Mickey Washington Jr. Loving had been tried and convicted and sentenced to 110 to 130 years in prison. But an appellate court ordered a new trial, saying Judge Greg Schatz failed to instruct jurors that they could determine whether Loving killed Washington as part of a sudden quarrel.
With that trial off the docket, court officials are preparing for several jury trials in August, including one murder case.
Doug Johnson, administrator of the Douglas County District Court, said judges met Tuesday to consider adjustments in light of Monday's mistrial.
Some court officials had expressed misgivings over the mistrial, noting that the woman didn't sit within 6 feet of jurors who were spread out across the courtroom. When told of the woman reporting an infection, one court official said "So what?" and questioned why there was a mistrial.
Another official noted a case at a hair salon where COVID-19 had infected two female hairstylists. None of the 139 customers who had received haircuts in the shop got sick. Possible reason: The stylists were wearing masks.
Everyone in the courtroom on Monday had been required to wear a mask and sit at a distance from one another.
That anecdote aside, the mistrial was the right call, said Chief Deputy Douglas County Attorney Brenda Beadle. She noted that Adi Pour, the county's health director, had shared concerns about the virus's propensity to linger in the air — and questioned whether county officials could ensure jurors' safety.
The last thing either side wants, Beadle said, is for jurors to be distracted while considering the case.
"I get that (the risk) was probably remote," she said. "But I felt like it was the right call. God forbid somebody gets really sick and something happens just because they came down here to do their duty."
Beadle said her office suggested that court officials start with shorter trials to see if those could be completed without interruption.
Court officials were considering that and other adjustments. Johnson and Douglas County District Court Clerk John Friend said they have found a company in Omaha that will perform $80 COVID-19 tests with a 15-minute turnaround time for results. Bailiffs have the ability to check the temperatures of courtroom participants, including jurors, and could send anyone who says they have symptoms to get tested.
That way, Johnson said, trials would have to recess only briefly while officials verify whether the person has COVID-19.
Friend said the focus has to be on jurors' welfare.
"We have to depend heavily on Adi Pour," he said. "It's not just a judge, who doesn't have a medical degree, deciding, 'Ah, it's fine.' " If I'm a defense attorney or a prosecutor, the last thing I want is to have a bunch of pissed-off jurors in there."
Members of Nebraska's news media traditionally have resisted restrictions on courtroom access. Randy Essex, executive editor of The World-Herald, said the newspaper will continue to work hard to cover trials, one of the most consequential governmental processes. A World-Herald reporter was in the courtroom last week, sitting about 10 feet away from the woman who later reported testing positive for COVID-19. That reporter, who was wearing a mask, received news Thursday that she had tested negative for the disease caused by the virus.
Essex said he wants court officials to ensure that any video setup allows the newspaper to fully cover cases.
"Court business must be open to the public," Essex said. "So it is essential that officials are diligent in providing real-time video access in all cases."
Concerned about COVID-19?
Sign up now to get the most recent coronavirus headlines and other important local and national news sent to your email inbox daily.