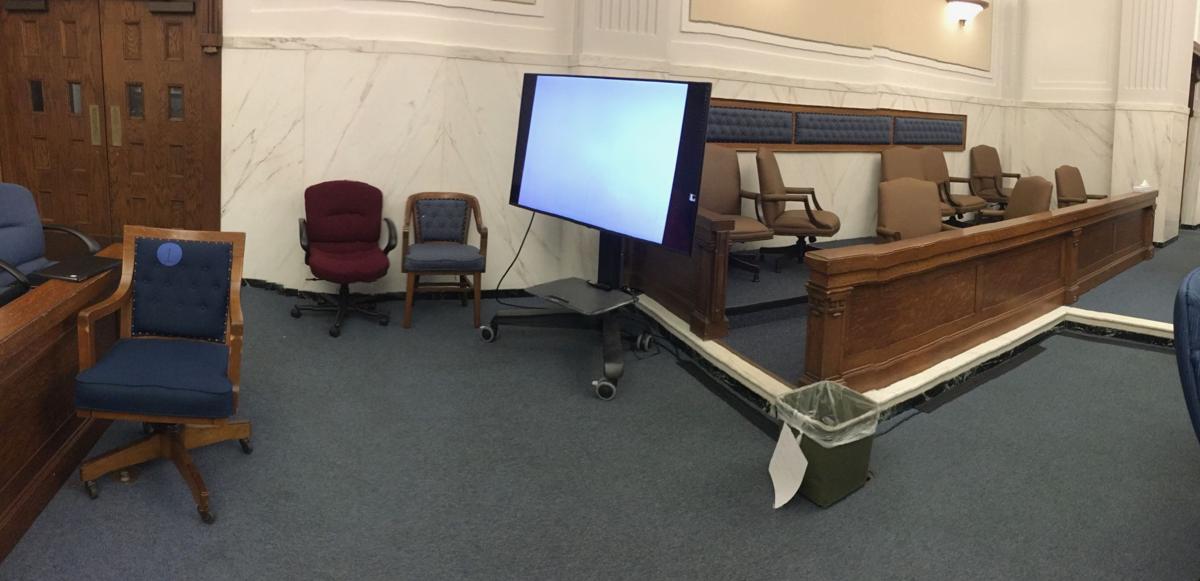 The search for justice in an Omaha double-homicide case continues to be plagued by the novel coronavirus.
Douglas County District Judge Marlon Polk declared a mistrial Monday in the case of Nyir Kuek after Kuek's sister informed attorneys that she had tested positive for COVID-19.
The reason Polk declared a mistrial: On Friday, the sister, who is in her mid-20s, sat in court as attorneys gave opening statements in the June 2019 shooting deaths of Michael Sykora, 57, and Tracy Atkins, 50, in a Florence-area home. Kuek, 21, faces two first-degree murder charges and three firearms charges.
Douglas County Health Director Adi Pour told attorneys that the safest course would be to shut down the trial and reschedule it for a later date, Douglas County Public Defender Tom Riley said.
Attorneys did not request any proof of the positive test, saying Kuek's sister would have no reason to lie.
"No one, including the prosecutor, questioned the validity of it," said Riley, Kuek's attorney. "Nothing nefarious is going on."
Prosecutor Amy Jacobsen, a deputy Douglas County attorney, said shutting down the trial was the "responsible" decision. Another attorney noted that the county potentially could be held liable if, after receiving information about a positive test, officials had proceeded and someone had gotten severely ill.
No one has reported symptoms. Polk's bailiff checked the temperature of jurors each morning of the trial, which started last week, and none had fevers.
Polk's courtroom had been reconfigured so jurors were seated in the back of the courtroom. All the jurors' seats were more than 10 feet away from the sister.
The only people who were somewhat close to the sister were Kuek's father, prosecutors Jacobsen and Corey Rothrock, the court reporter and a reporter for The World-Herald.
Sign up for World-Herald news alerts
Be the first to know when news happens. Get the latest breaking headlines sent straight to your inbox.
Most jurors took the news in stride. One did not. That juror, Jacobsen said, was a bit panicked after Polk delivered the news. The man asked several questions, including whether the county would pay for him to be tested.
The answer: No. Phil Rooney, a Douglas County Health Department spokesman, said jurors have options for free testing from TestNebraska, the state's contractor for testing. Health officials encouraged jurors who are asymptomatic to not schedule any testing before Wednesday. The virus can take several days before it is detectable.
Everyone in the courtroom wore masks. According to health officials, those at risk of contracting the virus typically are those who have more than 10 minutes of sustained contact within 6 feet of someone who is infected.
Only one member of Riley's office had sustained contact. Riley said he is advising that staffer to monitor her health and make sure she doesn't develop any symptoms. Rooney advised jurors to do the same. Anyone who was within 6 feet of the sister for longer than 10 minutes should quarantine until they get test results, Rooney said.
What's left to be seen is how the mistrial affects other cases.
A second-degree murder trial is set to begin Wednesday; the county has requested 60 prospective jurors for that case.
Riley, who serves on a courthouse coronavirus committee, said the committee probably will meet this week to address how to proceed.
After Kuek's trial was delayed in March because of the pandemic, Kuek had been eager to have his case heard and had agreed to have it serve as a guinea pig of sorts.
Riley said jury selection went well. All but six of the 145 prospective jurors showed up and sat at least 6 feet apart from one another in the legislative chambers.
In four months, with hundreds of visitors and dozens of staff members working staggered shifts, courthouse officials say they know of 12 people who have tested positive for the virus.
Riley said he doesn't know if the courthouse will turn to video feeds more often to try to cut down on the number of people in courtrooms. He noted that many thought virus numbers would be dropping four months into the pandemic, but they're not.
"We've got to figure this out," Riley said. "We have cases that have to get to trial or we'll have defendants sitting in jail ad infinitum. I'm very concerned about how we go forward."
Notable crime news of 2020
Read about some of the biggest and strangest crime stories in Nebraska and western Iowa.