Kenneth Gerner remembers everything about the night he was shot 10 times during a deadly assault on the Bellevue Sonic Drive-in.
Every shot. Watching two of his co-workers die. Seeing the shooter walk out the door.
On Nov. 21, the 25-year-old had just handed food to a car at the drive-thru window. He turned to talk to co-workers Nathan Pastrana, 22, and Zoey Lujan, 18, and saw a man walk in the door out of the corner of his eye.
Gerner didn't pay much attention to the man, thinking at first that he was another employee. Gerner was looking at Pastrana when, without a word from the man, the first shot was fired.
"It seemed so fast," Gerner said. "Right down the line. Nathan, me and Zoey were all shot and laying there together."
Gerner said the shooter reloaded his pistol and shot Pastrana again, then him. In all, Gerner was shot three times in each arm, three times in his left leg and once in his right leg.
The shooter then shot 28-year-old Ryan Helbert before leaving through the back door.
Gerner sat up, grabbed his phone off the nearby table, dialed 911 and talked with an emergency dispatcher for 16 minutes until officers arrived inside the restaurant at 1307 Cornhusker Road.
"There was so much blood, but somehow I unlocked (the phone)," Gerner said. "I was pretty numb. I could feel every gunshot, but just the impact, almost like getting a tennis ball thrown at you."
Within those 16 minutes, he watched Helbert and Pastrana die. Lujan was wounded on the ground and quiet. She suffered critical injuries but survived.
"I'm blessed she's alive," Gerner said.
Police arrested Roberto Carlos Silva Jr., 23, of Omaha, in the parking lot. He was lying facedown on the ground when officers approached and put him in handcuffs.
Silva has been charged with two counts of first-degree murder, two counts of attempted first-degree murder, four counts of use of a firearm to commit a felony and first-degree arson.
Days before the attack, he was arrested on suspicion of identity theft, accused of charging $57 to another person's Sonic app.
Silva is next scheduled to appear in court in March.
Gerner said he didn't recognize Silva, who had been at the Sonic earlier in the week.
After he was taken outside, Gerner remembers being in an ambulance for a few minutes, then waking up at the Nebraska Medical Center.
He spent two weeks there and underwent multiple surgeries to repair his arms and legs. A vein was taken from Gerner's leg and and put in his right arm, skin from his leg was transplanted to his right arm and his multiple broken bones were set or pinned back together.
He then spent another two weeks at Madonna Rehabilitation Hospital in Omaha before going home Dec. 23.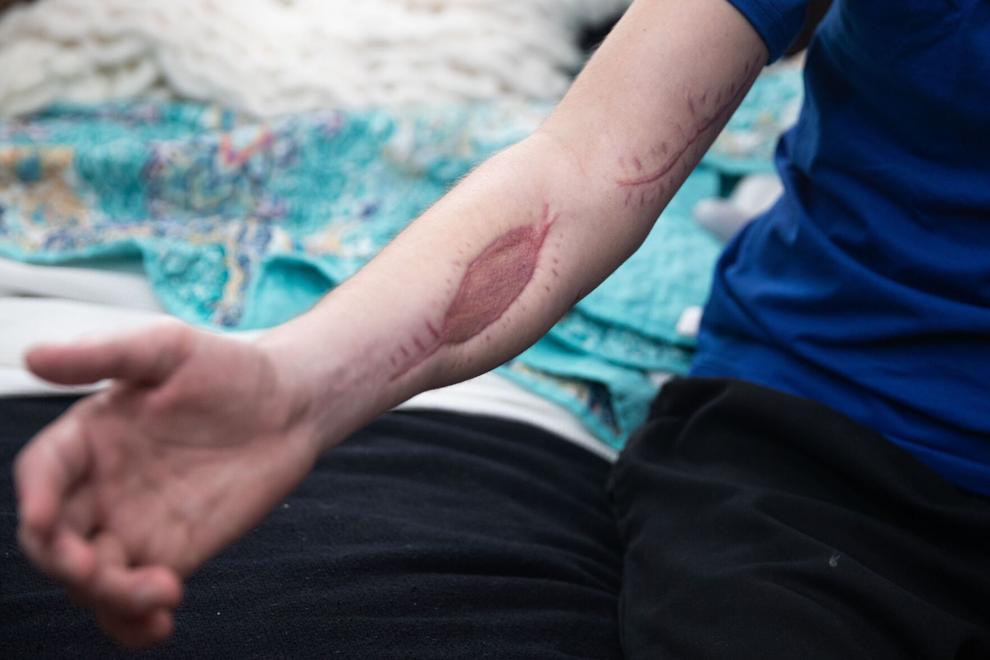 Gerner is still doing outpatient therapy three days a week. He is walking and driving on his own.
"I've got a ways to go as far as fine motor skills go with my hands, but overall, I'm doing really well, and I am very grateful to be alive," he said. "I really feel like I was watched over by an angel."
He's also working at Sonic again.
While he was nervous about going back and seeing the building, Gerner said the restaurant's remodeling after the shooting has helped.
A new sign hangs above the building, and the ceiling, walls and appliances were replaced.
"Going back was something I felt I needed to do to get closure, and honestly it's been great," Gerner said. "Life can really hit you out of nowhere, but you have to get up and keep going."
The restaurant's owner, Bryant Morrison, said he's glad that the staff "feels that they can find closure by being together."
"We're so glad to have everyone back, working together and leaning on each other as we all heal from what was an absolutely horrific experience," he said.
A memorial to the shooting victims is planned on the patio near the front of the restaurant. It will feature an open fireplace with a continual flame, seating and a plaque.
A GoFundMe established on behalf of the victims is still active. More than $42,000 had been raised as of Friday.