Although his bruising and cuts to his right eye have long healed, Adam Keup still suffers physical and emotional pain a year after a Sarpy County sheriff's deputy shot him with pepper balls.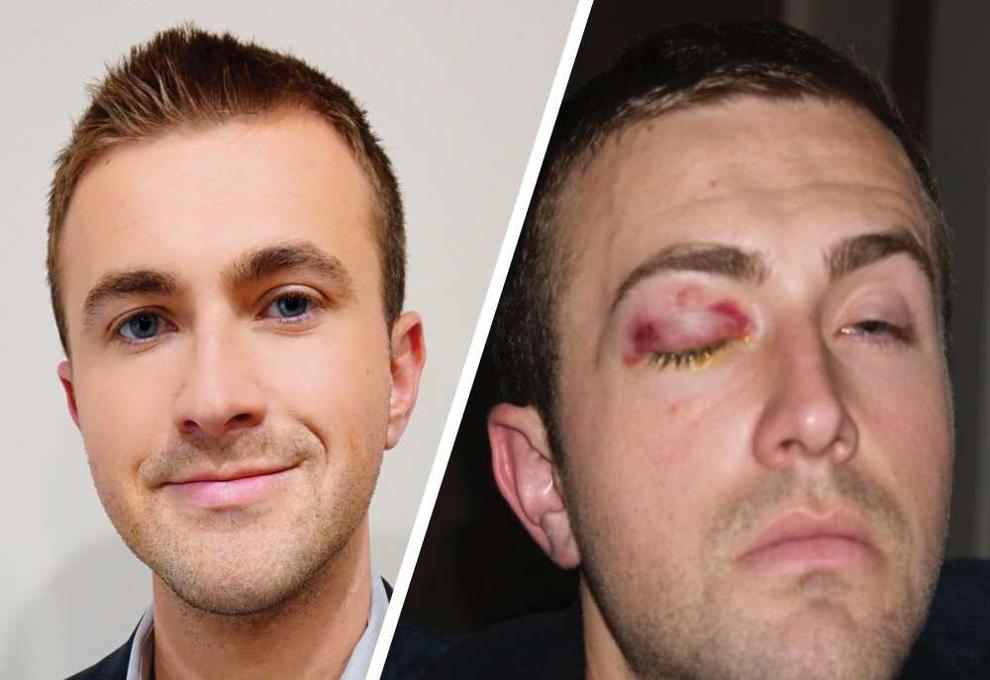 That eye is barely usable — scar tissue blocks nearly all his vision except for a tiny peripheral view, which makes the eye drift outward. A torn sclera causes flashes of light to appear randomly throughout the day, something that prompts double vision.
Keup, 24, sees a therapist to tackle feelings of grief, depression and wariness of law enforcement. And whether he's driving or completing a simple task, he always is aware of how the injury has disrupted his life.
"I definitely have to exercise more caution and be a lot more mindful as I go throughout my day. I have to recognize that my depth perception isn't the best," Keup said. "It's a pretty constant thing. When it's something like your vision and you're literally looking at it all day, every day, it never really goes away."
Keup, who filed a tort claim against Sarpy County in August, is now preparing to officially sue the county for the damages he has suffered.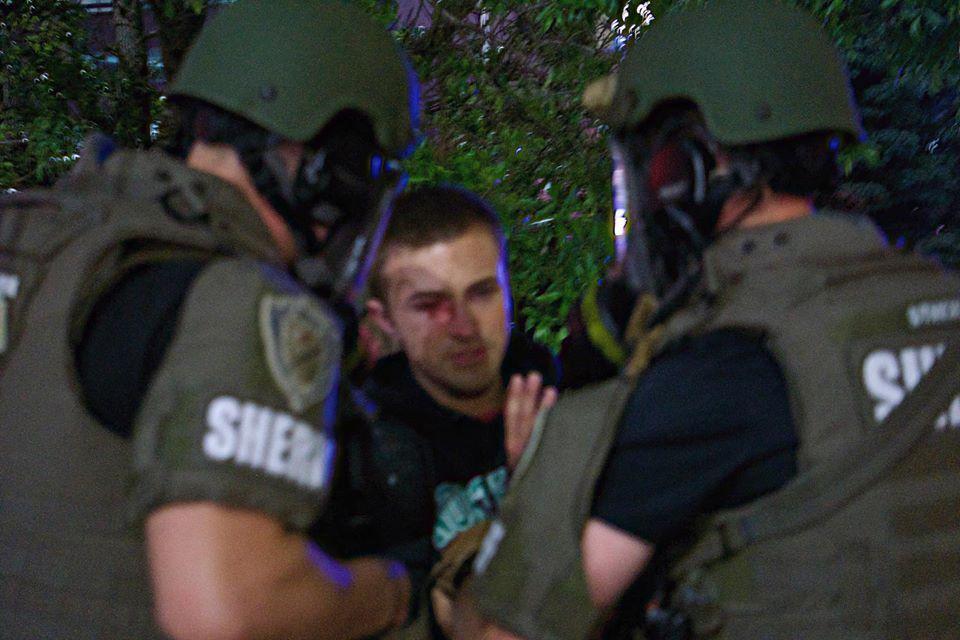 "At the end of the day, employees of Sarpy County took actions that were simply not excusable or understandable given the factual circumstances. And that resulted in (Keup) being permanently blinded in one of his eyes," said his attorney, Brian Fahey.
Keup, of Council Bluffs, arrived late to the first night of Omaha's protest at 72nd and Dodge Streets on May 29, 2020 — around 11:30 p.m. He went to 72nd and Cass Streets to watch his partner, Grady Brodigan, take photos of the lingering demonstration.
Most of the initial crowd of roughly 2,000 people had long disappeared after law enforcement used tear gas and pepper balls to clear the intersection.
Keup said the protesters near him were peaceful and he didn't feel any imminent threat standing alone on a sidewalk on Cass Street on the north side of the Walgreens at 72nd and Cass, about 100 feet from law enforcement and the main group of protesters.
But Sarpy County sheriff's deputies wearing riot gear suddenly walked through the Walgreens parking lot toward Keup. (Sarpy County was one of several area law enforcement agencies that had come to the protest to assist Omaha police.) One deputy fired his pepper ball gun at Keup, striking him twice — in the right eye and in the shoulder.
Keup said the deputies gave no order or command.
"I don't think that anybody should ever feel like if they're going to go to a public event and public space and act accordingly and behave reasonably, that they're going to be shot by a police officer, of all people," he said. "I don't feel conflicted about why did I go that night because I don't think that's really something that anybody could have foresaw. It's more just, why did they take the action they did? And why me?"
Chief Deputy Sarpy County Attorney Bonnie Moore said the county received formal notice of the claim Aug. 10. She said this week that she had no update on the county's response to the claim. Fahey said the county's inaction has led them to the next step, which is filing the lawsuit.
Sarpy County Chief Deputy Sheriff Greg London declined to comment on the case on the advice of counsel because of the pending litigation.
With a therapist, Keup works out his struggles of grieving the loss of a functioning body part and treatment to address post-traumatic stress disorder from his injury.
He grew up in Papillion next to a former Sarpy County sheriff's deputy, but now hesitates when he sees law enforcement officers and grows anxious because their presence intimidates him.
"I get very apprehensive and I can't look away from them. I watch to see what they're doing and I try to make sure that I'm not drawing any extra attention to myself by being loud," he said.
Once, he and Brodigan were at a gas station when a police officer arrived. Brodigan recognized an immediate change in Keup. The two don't plan to attend peaceful protests or large gatherings where law enforcement likely will be present. Keup said he loves to attend a large annual auto show in Omaha, but knows that officers will be there and grapples with whether to go.
It has been difficult for Brodigan, who's 30, to watch Keup manage his injury and adapt to his changed circumstances. The couple want to travel and do normal activities together. Keup hasn't gone swimming or flown since his injury, and they're constantly thinking about the potential complications.
"It's hard to plan, and it's hard to really know what's gonna come with future surgeries and stuff like that he has worries about," Brodigan said. "It's just that increase of anxiety for both of us on what's going to happen or what's happening. So the concern of the unknown."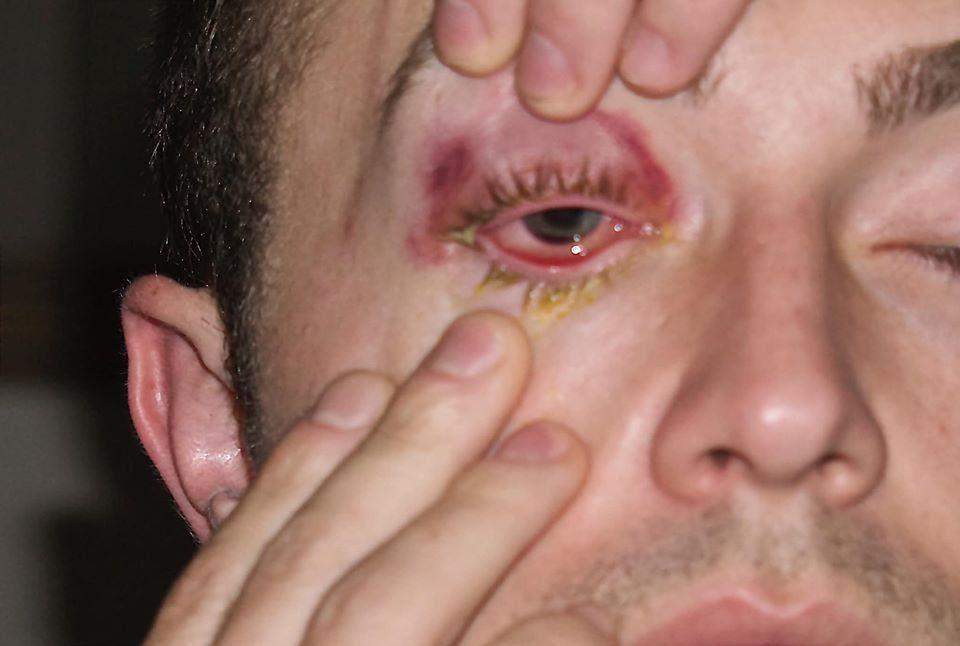 Keup is bracing for upcoming Fourth of July festivities, because hearing fireworks is unbearable to him now. The couple might travel to a remote location to avoid the loud bangs and bright flashes of light.
While he still can perform daily minor tasks, they often cause problems. He frequently runs into objects — recently, he smacked into the wall after showering. And another day, while pulling the starting cord on the mower, he misjudged the space he had and his elbow slapped the rocky side of his home.
"And I still can't seem to get down handing things off from one person to the other. I always have to really examine what I'm about to grab and then try and get it from them, and I still miss half the time," he said.
The injury has affected his financial planner job, which he had just started weeks before his injury. While his eye was still healing, he couldn't look at a computer screen. And in meetings, he tries to position himself to keep clients to his left so his damaged eye isn't as noticeable.
Fahey said the suit won't seek a specific dollar amount, but Keup has incurred thousands of dollars in medical bills and may need more surgeries. He has discussed a muscle-straightening surgery to fix his lazy eye, but that would be only a temporary fix, and he would need additional follow-ups.
Keup said he fears that one day, his eye might need to be removed. One night he panicked, telling Brodigan about feeling an odd pressure in his eye, thinking it was deflating.
Most of all, Keup would like to see accountability and change from the Sarpy County Sheriff's Office, similar to the agreement secured after the ACLU of Nebraska sued the Omaha Police Department over use of force during protests. The settlement reached in January said Omaha police will loudly and clearly announce use of any chemical agent and will use pepper balls or spray only on those people whom they think are committing crimes at protests.
"It'd be nice to see Sarpy County kind of take on that same initiative of realizing the lifelong damage that they're causing by trying to use these tactics," he said, adding that he doesn't think any apology would mean much to him. "If it was something that they truly felt like fixing or truly felt like addressing it, they would have done it by now."