The Nebraska Democratic Party on Saturday criticized Douglas County Attorney Don Kleine for comments about James Scurlock, who was fatally shot during a Black Lives Matter protest that turned violent in the Old Market, saying Kleine "perpetuated white supremacy."
Kleine, a Democrat who has won four terms as county attorney, reacted angrily Sunday, saying he would think about changing his party affiliation.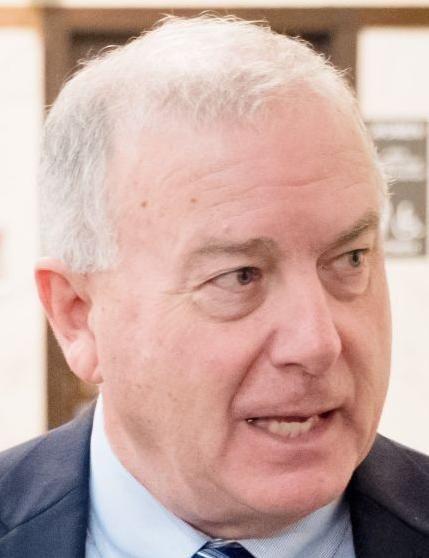 "When you have your own party vote to say you're a white supremacist, you have to think about it," Kleine said. "I don't know most of these people and obviously, they don't know me. I've spent my whole career helping the underprivileged. Most of the high-profile cases that I have prosecuted involve minority victims." 
Jane Kleeb, chair of the Nebraska Democratic Party, said Sunday that the resolution adopted during an online meeting of the state central committee "expresses some concern from the community" about Kleine's comments. It passed following debate in which several party members expressed the desire to have Kleine "line up to the values of our party," Kleeb said. 
The resolution says the state party will support reform efforts by "denouncing the actions of elected Democrat Don Kleine in his handling of the James Scurlock case in a way that perpetuated white supremacy and sparked deep division in Omaha, partnering with community activists to create an activist issue platform, partnering with racial equity activists and advocates to create a curriculum for political candidates and elected officials on racial equity/anti-racism/cultural competency to be renewed each year; and (creating) a standing meeting with activists to talk about the conduct of the party and its candidates/elected officials.​"
"We're not condemning Don Kleine," Kleeb said. "We're not asking him to resign. It was the body's intention to say his comments were unacceptable."
If Kleine were to run for re-election, he could expect the support of the Nebraska Democratic Party, Kleeb said. 
Precious McKesson, the Black Caucus chair and a state central committee member, introduced the resolution for Ja Keen Fox in response to Kleine's statement Thursday that he didn't consider Scurlock a victim. Scurlock, a 22-year-old Black protester, was shot and killed May 30 by Old Market bar owner Jake Gardner, 27. 
Kleine declined to file charges against Gardner, saying he acted in self defense. A grand jury, led by former federal prosecutor Fred Franklin, later charged Gardner with manslaughter, terroristic threats, attempted first-degree assault and weapon use.
Gardner died by suicide Sept. 20 in Hillsboro, Oregon, the day his attorney said he was expected to turn himself in. 
Kleine said last week that in asserting self-defense, Gardner's attorneys would have tried to establish Scurlock's propensity for violence. Kleine questioned whether Franklin presented evidence that Scurlock had been "terrorizing" others that night.
"The NDP resolution — in part — addresses the need to promote racial equity and anti-racist practices," Kleine said in a written statement Sunday. "This is something that I not only support and believe in, but it is something practiced every single day in my job as Douglas County Attorney. I have personally handled hundreds of cases over the years on behalf of all races and have instituted employment practices that promote a diverse office of attorneys and staff — creating one of the most diverse public offices in this county.
"This resolution is a personal attack on me and the oath I took to uphold the Constitution and make decisions based on the law and the evidence and not on emotion and public pressure. Furthermore, I was not even notified of the resolution nor afforded the opportunity to respond on my own behalf.
"Most disturbing is the fact that the Resolution adopted was submitted by Ja Keen Fox — a known radical activist. The resolution states that the NDC will partner with community activists like Mr. Fox to develop the party platform. Ja Keen Fox is someone who advocates and promotes violence and hate against law enforcement officers."
Omaha Mayor Jean Stothert this summer removed Fox from the city's LGBTQ+ Advisory Board over comments in support of the man who killed five Dallas police officers in 2017.
Correction: An earlier version of this story mischaracterized Precious McKesson's positions with the Nebraska Democratic Party. 
Videos: Grand jury delivers indictments in James Scurlock shooting
A grand jury returned four indictments against Jake Gardner including manslaughter