An Omaha chiropractor gave a client blackberry brandy and chocolate chip cookies, then sexually assaulted her when she felt drugged and incapacitated, an Omaha police detective testified Wednesday.
Matthew D. Skaff, 51, is charged with first-degree sexual assault, but his attorney said the sexual encounter was entirely consensual. Skaff, who posted the required 10% of his $75,000 bail to be released from jail, will stand trial on the charge, a judge ruled Wednesday.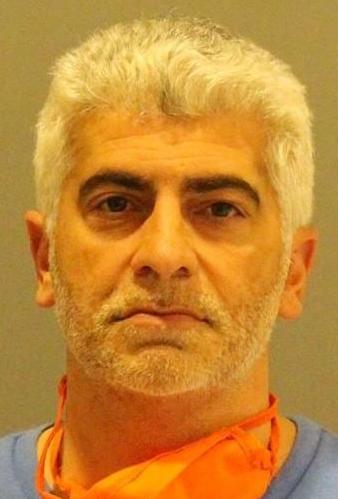 Authorities have said Skaff offered the 50-year-old woman drug-laced cookies and blackberry brandy that left her feeling paralyzed. The encounter occurred at his apartment near 120th Street and West Maple Road on Oct. 18.
The woman, who was a client of Skaff's for about four years, had gone to his apartment for a back adjustment after an appointment scheduled for his office fell through, said Omaha Police Detective Shannon Knuth of the child victims and sexual assault unit.
When the woman arrived, the two talked for about 10 minutes, and she offered her condolences because his parents had recently died, Knuth said. He showed her alcohol he had retrieved from his parents' home and, at the direction of Skaff, they both took a shot of blackberry brandy in honor of his late parents, the woman told police.
After the adjustment, she said her back was still painful, and he told her to wait about 30 minutes for the "bones to settle," and then he could do another adjustment, Knuth testified.
He then offered her some chocolate chip cookies that he said he kept in the freezer because he makes them with coconut oil, she told police.
After that, Knuth testified, the woman's memory of the sequence of events is jumbled. The woman told police what she remembered happening but didn't know in what order the events occurred.
The two sat on the couch and began talking about personal topics, which usually didn't happen, the woman said. She told police that her visits to Skaff had been professional until that night's interaction.
At some point, she took two more shots of brandy and ate one or two more cookies, until Skaff took the cookies away and told her that was enough, Knuth said. Skaff didn't eat any cookies, the woman told police.
The woman is a bartender and told police that taking three shots shouldn't have "made her feel the way that she felt," Knuth testified.
The conversation between the two turned sexual, and Skaff began talking about sexual relationships he had with other patients and exposed his penis to her twice, telling her to look at it and touch it, Knuth said. The woman told police she told him she didn't want to touch his penis.
He also asked her to go to the bedroom, and she said she didn't want to do that, Knuth testified.
During the second adjustment, Skaff slapped the woman's butt and touched her breasts and then immediately apologized, Knuth said.
She was in "excruciating pain and couldn't walk" after the second adjustment, Knuth testified, and the woman grew worried and texted a friend to call her right away. She told the friend she'd be there in 15 minutes and told Skaff she had to leave, and he got upset, Knuth said.
The woman walked to the kitchen counter and then said Skaff took her pants down and digitally penetrated her, Knuth said. She pushed him off and asked what he was doing, Knuth testified.
The woman didn't remember how her pants got back on or leaving. A friend later told police that the woman had said she was on her way but didn't show up for three hours and that her location showed she was driving all over Omaha. The woman had no memory of that, she told police. It's unclear when she left the apartment, but the woman told police it was midnight, based on calls she had made, and Skaff said it was midnight, too.
A friend took her to the hospital, where the woman completed a rape kit, the results of which have not been completed. Knuth said Wednesday that "benzos," a tranquilizer, and another drug were found in the woman's system. A prosecutor in November said she tested positive for sedatives and opioids.
Skaff later admitted to police making sexual advancements, including exposing his penis and that they finished the bottle of blackberry brandy, Knuth said. Skaff admitted to sending sexually explicit texts to the woman after she left and then grew concerned "as her doctor" when she didn't respond, Knuth testified.
Authorities twice searched his home at least three weeks after the interaction and found marijuana and an unregistered firearm, Knuth said.
Skaff's attorney, Michael Fitzpatrick, argued that there were many holes in the evidence from that night but that the meeting and sexual encounters were consensual.
"She was free to go at any time that she wanted and she chose not to," Fitzpatrick said after the hearing. "We contend that this is a consensual matter."
In June, Skaff was sentenced to one year of probation from an indecent exposure charge that occurred in December 2019 at his office.
A 37-year-old woman told police that she had been getting adjustments from Skaff for about a month when, after an appointment, Skaff told her, "A lot of people think I have a nice penis." Skaff then exposed his genitals to her, according to a police report.
The woman said Skaff then asked her to go into another room, where he continued to talk about his "sexual experiences with other clients" and pointed out where he'd had sex in his office, the report said.
The woman reported the interaction to police and never returned.
Fitzpatrick said Skaff surrendered his license after he was charged with the felony sexual assault charge in mid-November and no longer practices.
---
Our best Omaha staff photos of 2020