A 22-year-old Omaha man and another armed man waited in early January for two people to leave a North Omaha barbershop, then drove up to the two people as the gunman opened fire, an Omaha police detective testified Monday.
Brevin Fleming will stand trial on charges of first-degree murder, first-degree assault and two weapons charges in the Jan. 2 slaying of 22-year-old Jumeez Sherman and the shooting of 21-year-old Desmond Edwards.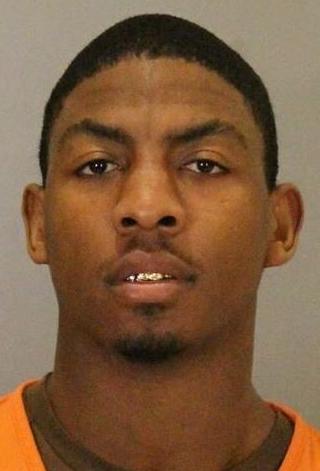 Just after 4:15 p.m. Jan. 2, Edwards and Sherman were shot after they left Transitions Barber & Beauty shop, 3318 N. 24th St., and walked to a Nissan Altima parked in front of the shop.
The two had been inside the shop for only a few minutes, Omaha Police Detective Sergio Gutierrez testified.
According to security video footage, Gutierrez said, a Nissan Rogue passed the shop heading north on 24th Street as Edwards and Sherman parked and headed into the shop.
The Rogue turned right on Pinkney Street and sat there until Edwards and Sherman left the barbershop, Gutierrez said. Then, he said, as the men got into the Altima, the Rogue turned south on 24th Street and stopped next to the parked car. The passenger in the Rogue fired three times before the Rogue continued heading south.
Sherman, in the passenger seat, was struck in the head. Edwards, in the driver's seat, was hit on his right hand.
Sherman died the next day. Edwards was released from the hospital soon after he was treated for his injury.
Two witnesses who were driving in opposite directions on 24th Street at the time of the shooting told police officers what they saw, including the make and model of the shooter's car. They noted that it had in-transit papers instead of license plates.
Within two days, Gutierrez said, a caller to Crime Stoppers said a Nissan Rogue with in-transit papers was parked at an apartment complex near 108th and Blondo Streets. Detectives went there and found that the SUV belonged to Fleming. They took him into custody and interviewed him.
Fleming first told police he wasn't involved, but when a detective showed a photo of the Rogue from a security video, he said he didn't know that a shooting was going to happen, Gutierrez said.
Detectives think that Fleming was the driver and that another man, who has not yet been arrested, was the shooter. Gutierrez said Fleming said in his interview with police that he was driving the Rogue.
Because he was on parole, Fleming was wearing a GPS ankle monitor, but police attempts to determine the coordinates of the monitor failed.
Omaha Police Detective Jacob Haniszewski testified that Fleming "had been deliberately shielding his location." Gutierrez said a search of the northwest Omaha apartment found no weapon or ammunition, but a "large stash" of aluminum foil.
Haniszewski said the gun used in the homicide also had been used in two Dec. 27 shootings, but the weapon has not been found.
Douglas County Judge John Huber ruled that authorities didn't have enough evidence to link Fleming to the Dec. 27 shootings and dismissed that felony assault charge against him.