Just after midnight on the last day of July, bullets flew outside homes near 27th and Spencer Streets.
Omaha police officers found 10 9mm casings in an empty lot between houses and another five casings outside a patio apartment.
A 48-year-old man's red Kia Rondo was hit eight times.
Fortunately, no one was injured in the torrent of bullets that day. But the gunfire capped a month of violence not seen in Omaha in more than a decade.
Thirty-nine people were shot in July in 28 shootings. Six of those people died.
Police attributed the rise in violence to several factors, including gang feuds. The pandemic also has led to a lack of in-person services and activities for young people and has created economic hardship for many.
Last year from January to July, nine people had been slain. In the same period this year, 23 people were criminally killed.
"For the year, we know we're up considerably," Kanger said. "Our last four years have been exceptional with regard to violent crime."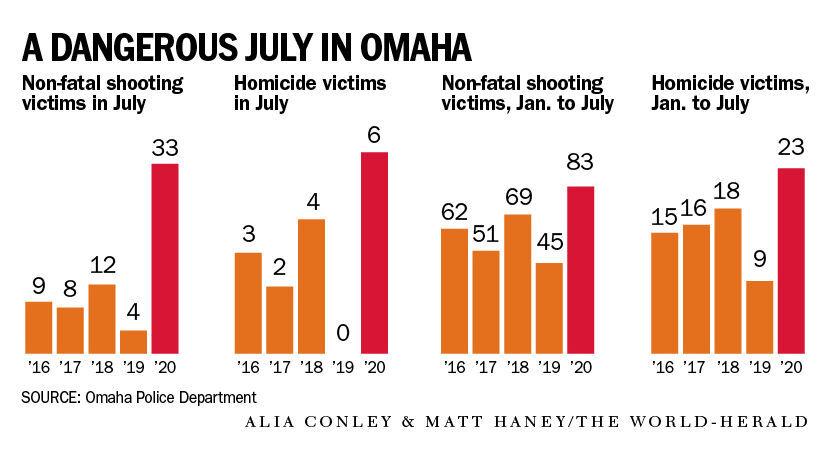 July's high tally of shooting victims — either injured or killed by bullets — represents about a 70% increase from May 2016, the second-highest month in the last four years of comparable statistics recorded by the Omaha Police Department.
The last month with more shootings was November 2008, which had 30, according to World-Herald records. But July 2020 even surpassed the 31 victims shot over the 31 days of July 2007 — which at that point was a high and a rallying cry to combat violence in Omaha. The summer violence that year prompted city officials to call for tougher gun laws and additional police officers.
Kanger said some of the recent gun incidents are related to feuds among neighborhood gangs, especially the crips and bloods, though he wouldn't specify which ones. Police say a shooting is gang-related when either the suspect or victim has gang ties.
Many of the shooters or accomplices are as young as teenagers, but even gang members older than 30 seem to be more active now, Kanger said. Violence can spike as retaliation for a high-profile gang member who is shot.
The shooting figures don't include instances in which no people or property are hit by bullets.
The number of "shots fired" calls is at its highest in the past six years — both for the month of July and from January to July 2020.
Shootings rose sharply from May to June, from five people injured by gunfire to 15. In response to the increase, Kanger added eight patrol officers to the gang unit in the beginning of July. Those officers, who have gone through gang liaison training, are added as needed a few times per year to help with investigations, executing search warrants and other police work.
Police continued to target illegal guns or people who are not allowed to carry weapons. In the first week of August, officers recovered 14 guns, and in the past week, officers took an additional 10 guns off the street.
At the weekly meeting of Omaha 360, a coalition of organizations and nonprofits to prevent violence and provide services to the community, gang unit Lt. Keith Williamson described a recent gun arrest near 30th Street and Ames Avenue.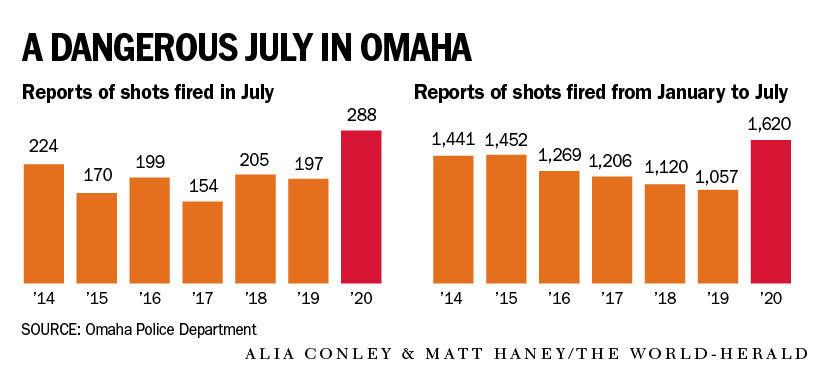 "I wish I could use my crystal ball to show you what we prevented in this case," he said. "They weren't probably going to do anything good with that weapon."
Twice in July, gunshots erupted near large groups of people.
On July 4, shots were fired across a stretch of about 2 miles on North 24th Street, from Patrick to Grand Avenues. People heard about 15 to 20 shots at 3:33 a.m. near the Fair Deal Village Marketplace at 2118 N 24th St., which had a window hit.
Three blocks north, more than 300 people were in the 24th and Lake Streets area at 3:38 a.m. when someone fired shots. A 19-year-old woman suffered a graze wound on her upper left leg below her belt line, and a 37-year-old man was hit in the arm, according to a police report.
At 24th Street and Grand Avenue four minutes later, a 53-year-old man was shot while inside his vehicle.
Two weeks later, eight people, ages 15 to 33, were shot near the Southside Terrace Apartments at 29th and T Streets about 5 a.m. when people in a Dodge Journey fired on a crowd of about 100.
A 15-year-old girl was shot in the chest but survived. Police said the others had injuries that were not life-threatening — most were shot in their arms or legs. Those who were shot declined to speak to a reporter or could not be reached.
Kanger said the department has reassigned detectives who normally investigate burglaries, robberies and property crime to help with non-fatal shooting cases, because those other types of crimes are down.
He believes that hardships caused by life during the pandemic have played a part in the increasing violence. For example, community organizations are unable to provide in-person services and activities for young people.
"We believe that the more active and involved our kids are with intervention and prevention programs, it gives them something to do and keeps them out of trouble," Kanger said. "What the country is dealing with respect to the pandemic and the civil unrest, all of those things are a factor."
Recent gunfire in Benson alarmed residents, who held a neighborhood meeting last month with police. Officers have said the Bucky's Convenience Store, 5718 Northwest Radial, has become a gang hangout and they've increased the police presence in the area. The convenience store also planned to beef up its security, including adding outside security cameras and hiring off-duty police officers.
Just north of the Benson neighborhood, a man awoke in his home to gunfire outside about midnight on July 21, near 63rd Street and Camden Avenue.
The man thought it was fireworks. Police said two men were shooting at a car with a 28-year-old man inside, striking him in the neck.
The neighbor's car window was hit, and another neighbor's mailbox and deck were struck by bullets.
The man, who spoke on the condition of not being named because he feared for his safety, said it was the first time he's heard gunshots on his street in the seven years he's lived in the neighborhood.
"It was really, really scary," he said. "My first thought was, I was thinking to move."
He said he's still considering that.
"Somewhere I can be safer."
World-Herald chief librarian Sheritha Jones contributed to this report.