An Omaha man fatally shot near 30th Street and Sorensen Parkway is being remembered for his fun-loving ways.
Kevon Green, 23, was shot in his car Monday about 5:45 p.m. He went by private vehicle to the Omaha Fire Department station at 36th Street and Ames Avenue, and then by ambulance to the Nebraska Medical Center, where he died.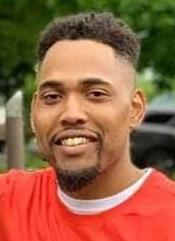 "Kevon was a beautiful soul, always smiling and laughing," said Green's aunt, Rhonnie Andrews of Omaha. "He loved his family and he loved to work. He had a bright, bright future."
Green, a 2015 graduate of Benson High School, worked at Popeye's near 90th and Maple Streets and had recently signed up for barber college, Andrews said.
Andrews said someone shot him when he was on his way to the store.
"It's just senseless," she said. "I don't know why this should happen to anyone, but especially not my nephew. He never hurt anyone."
Green's sense of humor led to lots of family fun, his aunt said. Recently, he called Andrews to ask what time she would be coming home and learned it would be about 5:30 p.m.
"I got home and there he was with cousins and his best friend for the biggest water balloon fight ever while his grandma was standing there on the porch yelling at us to stop it," she said. "We laughed and chased each other. I don't run, but he had me running."
Green was very close to his mother, Yolanda Green, and sister, KeZiah Green, Andrews said. His routine was to go to work and then come home and hang out.
"He was the biggest mama's boy," she said. "He loved his mama and his sister so much. That was Kevon, always wanting to be with his family and friends."
Andrews said the family hasn't had time to make funeral plans. Their primary concern is the arrest of whoever attacked Green.
"We want justice for Kevon," she said. "Anybody who knows anything needs to say something. This was a senseless waste."
Green is the city's 18th homicide victim of 2020. That compares to 11 reported at this time in 2019. By this time in 2018, the city had recorded 19 homicides. In 2017, 16 homicides had been recorded.
Anyone with information about the slaying is urged to contact the Omaha Police Department homicide unit at 402-444-5656 or Omaha Crime Stoppers at 402-444-STOP, at omahacrimestoppers.org or on the P3 Tips mobile app. Tips leading to an arrest in a homicide are eligible for a $25,000 reward.
---
Our best staff photos from July