That was the length of time from the beginning of Thursday night's traffic stop at 27th and Harrison Streets until an Omaha police officer fatally shot 35-year-old Kenneth Jones.
In a press conference Monday afternoon, Omaha Police Chief Todd Schmaderer announced that he and his command staff agreed that Officer Dan Faulkner's use of deadly force was in accordance with department policy.
Schmaderer added that such force was necessary to protect Faulkner, 29, and Officer Richard Martier, 31, because Jones was reaching for and ultimately held a gun in his hand.

Schmaderer released seven still photos obtained from Martier and Faulkner's body cameras and their cruiser camera video footage that detailed the brief interaction. He said he has not yet released the videos because a grand jury still must review the deadly police shooting, as is required under state law.
If any charges were to result from the shooting, the videos would be shown at trial. If a grand jury returns no charges, state law mandates disclosure of all evidence — the transcript of the proceedings and evidence introduced, including videos.
"The body camera footage will be released for sure, and I support its release, but it will happen after the grand jury," he said.
Schmaderer said footage of the entire interaction from Faulkner's body-worn camera showed "one of the most noncompliant situations that I have seen" in his eight years as chief.
The two officers, after leaving their cruiser, yelled a version of "Show me your hands" a combined 14 times, told Jones to open the door a combined six times and to "Stop reaching" a total of three times. All orders were met with noncompliance, Schmaderer said.
The officers pulled over the car in which Jones was a passenger because the car stopped, moved forward a few feet, stopped and then moved forward again. Both officers thought the woman who was driving might be impaired, but Schmaderer said there was no evidence of that and they don't believe she was.
The officers left their cruiser and ordered all four occupants of the car to show their hands. Officials said the three women in the car complied by putting their hands outside the car windows. Jones did not.
Schmaderer said the women didn't know Jones well (he was an acquaintance of the driver's daughter) and were giving Jones a ride.
Martier and Faulkner saw Jones immediately reach toward the floorboard, and Faulkner yelled to Martier, "He's reaching!"
"That's going to put a police officer on edge," Schmaderer said, adding that everyone has heard the advice to keep your hands on the steering wheel or where officers can see them. "The officers see that something's not right with the situation. They're instantly on alert."
Both officers drew their guns and continued with loud verbal commands for Jones to show his hands.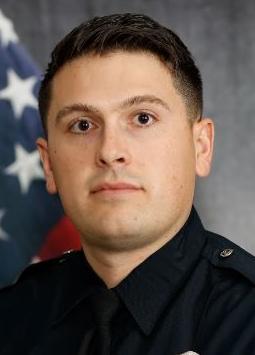 Martier saw that Jones, sitting in the back seat on the driver's side, had his right hand in his waistband like he might have a firearm. Martier tried to open Jones' door, but it was locked. He continued to order Jones to open the door and show his hands, Schmaderer said.
Martier holstered his gun and used his flashlight to break the window, which was partially open. Jones moved away from Martier, but Martier was able to grab Jones and pull him out. At that point, Martier's body-worn camera fell off and landed on the ground pointing skyward. But the audio continued to function.
The officers pushed Jones against the car but Jones pulled away, Schmaderer said. Faulkner saw Jones start to put his hands in his pants and yelled to Martier, "He's reaching!" Martier grabbed Jones' left arm while Faulkner ran his hand down Jones' right arm into his pants, where Jones' hand was on a gun.
Faulkner touched metal and knew it was a gun, Schmaderer said — Faulkner had his hand on the trigger guard and felt Jones' hand there, too.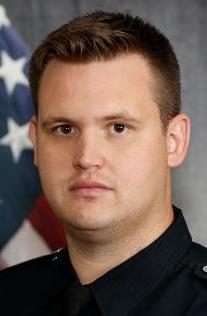 Faulkner later told officials that Jones started to twist his wrist in a way that led Faulkner to believe Jones was going to "shoot him from in between the legs," Schmaderer said.
After realizing Jones had a gun, Schmaderer said, Faulkner pushed Jones away to put space between himself and Jones, a move that the chief said follows department training. Officers are "trained to distance themselves from a perceived threat so they can transition to a firearm," he said.
Faulkner yelled, "He's got a gun, he's got a gun, gun, gun, gun!"
Then Faulkner saw Jones raise his right elbow and look over to his left, where Martier was standing. Faulkner fired four shots, Schmaderer said, thinking that Jones was going to shoot at Martier. A witness near a residence said he saw Jones holding a black object in his hand.
Jones was struck three times — in the lower back, right shoulder blade and upper mid-back — and fell to the ground.
Martier rolled Jones onto his back to perform CPR and "a gun fell from Jones' right hand," Schmaderer said — a loaded Springfield .45 handgun. Authorities found a vial of liquid in Jones' clothing that tested positive for PCP. Toxicology results from his autopsy aren't yet available.
Jones had a felony conviction on his record, stemming from a possession of a controlled substance charge in 2006, meaning that he wasn't allowed to possess a firearm. Court documents were unavailable to provide information about the controlled substance.
He also served 3½ years in prison after he was convicted of possession of a deadly weapon by a prohibited person in 2014.
"In this incident, the officer faced a very difficult situation, with a person with a gun who did not comply with their commands," Schmaderer said. "I realize that we're talking about an incident that we all wish didn't happen. But it did, and we have to address those."
Neither Faulkner nor Martier, who have been with the department for four years, have had any previous use-of-force complaints or disciplinary matters, Schmaderer said.
Internal affairs is continuing to review the incident and will investigate whether any secondary policy violations occurred, while the Police Department's training academy will check the officers' traffic stop tactics.
"We do this because it is our goal to minimize the number of officer-involved shootings," Schmaderer said. "We are always looking to learn from critical incidents to determine where we can avoid them."
Jones' sister started a GoFundMe page to raise money for Jones' memorial services. As of Monday evening, more than $6,500 of the $10,000 goal had been raised.
"He has a family who loves him, we will push past all of the false narratives until the truth is in the light for all to see," the fundraiser says. "Kenneth Jones did not deserve to die the way he did. He was a beautiful person and he was there anytime anyone needed him. He loved and took care of his family."
Jones' sister wrote on Facebook that their family wants to see the video footage from the nearby apartments. Protesters gathered outside police headquarters downtown over the weekend, demanding that officials release the body-camera footage.
Schmaderer said he waited to provide a complete account until Monday so a thorough investigation could be conducted to rigorously evaluate the officers' actions from start to finish.
"I can't control what some members of our community, how they will perceive this," he said. "I don't know if there's anything that I can say to change anyone's mind, nor am I attempting to. I'm just laying out the facts."
Notable crime news of 2020
Read about some of the biggest and strangest crime stories in Nebraska and western Iowa.