For nearly an hour Saturday, a group of more than 150 protesters marched from near Midtown Crossing to downtown Omaha before heading back west on Farnam Street.
They were a couple of blocks away from where they had started when officers, who for 47 minutes had announced that the protesters' march was an unlawful assembly, began arresting people.
Protesters have said they planned to disperse as they neared their cars, but the police moved in. Police said they could have arrested the protesters any time after their first warning, but were "looking for a safe opportunity to make an arrest."
A timeline of events released Wednesday by Omaha police details the protesters' route and officers' response. Protesters have criticized the arrests as excessive or unnecessary.
The protest began at 7:30 p.m. as a gathering in Turner Park at 30th and Farnam Streets.
The event was organized by 23-year-old Alexander Matthews to stand in solidarity with protesters in Portland, Oregon, and demand justice for James Scurlock. Scurlock was shot and killed in the Old Market after a protest May 30.
Matthews, who goes by the name Bear Alexander, is one of the leaders of proBLAC, a local organization that supports and inspires activism, especially prioritizing voices of people of color.
After the rally at Turner Park, Matthews said, he and other proBLAC leaders planned to go to the City-County Building for another rally but decided to mount a full march instead.
"We wanted to march down Farnam and show everybody whose streets these are," he said. "There was no malicious intent whatsoever."
Matthews and other protesters told The World-Herald that they noticed police cruisers blocking cross streets and following them as they marched downtown, around the Old Market and back along Farnam.
No acts of vandalism were reported by police, but they said protesters knocked over construction barrels and cones. Doing that impeded cruisers from following the group and "caused a safety issue for anyone else utilizing the streets after the (protesters') passage."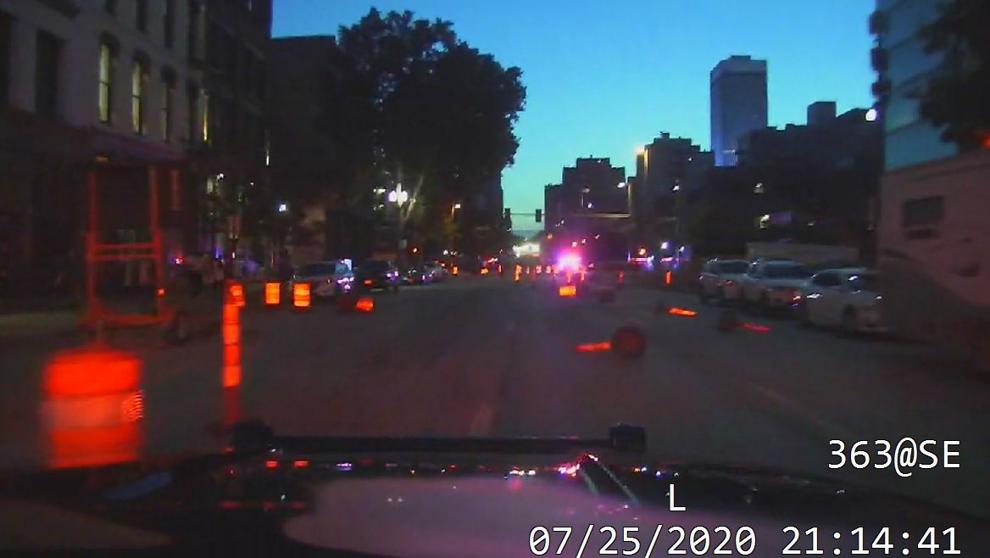 Mark Vondrasek, 29, was riding a bicycle during the march. He said that on the way downtown, near 24th and Farnam Streets, he heard officers announce that the march was an unlawful assembly and that protesters were subject to arrest. The announcements were repeated several times, and the fifth announcement, police said, ended with "go home now." Other protesters said they didn't hear those warnings until they returned to the Farnam bridge about an hour later.
One officer noted that he saw a handful of people leave after the announcements were made.
Police said they repeated the warnings at 19th and Farnam, 13th and Howard Streets and 12th and Howard. At the Farnam Street bridge over Interstate 480, the announcement changed to "you are under arrest."
Police said walking in the street can be extremely dangerous and is against the law without prior authorization and planning with local authorities. "There are numerous examples across the country of protesters taking to the street and being struck and even killed by motorists," police said.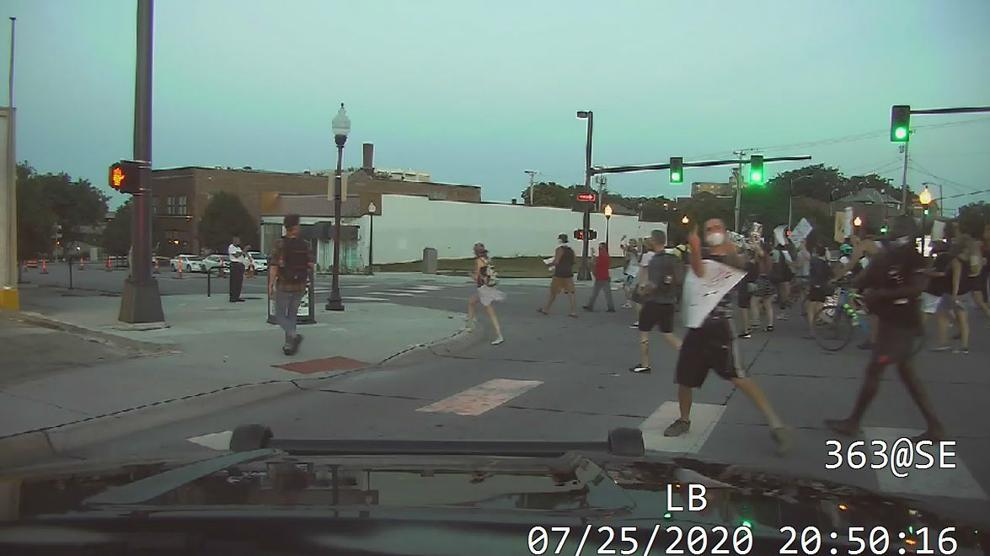 In its statement Wednesday, the department said Matthews "did not contact police for safety assistance and had not obtained a parade permit."
Matthews said he never will tell the police about his organization's plan for a rally or march.
"We at proBLAC will never, ever ask an oppressive system if, when and how we can protest against their oppression," he said. "The police want us to stay on the corner. They want us to be docile. They want us to not make noise. They want us to be submissive and they want us to be weak. Because when we are weak, we can be controlled."
During the march, police said, protesters blocked all lanes of Farnam Street. Some people also walked on the sidewalk.
Police said Vondrasek blocked a police cruiser with his bicycle in the Old Market before taking off when police attempted to apprehend him.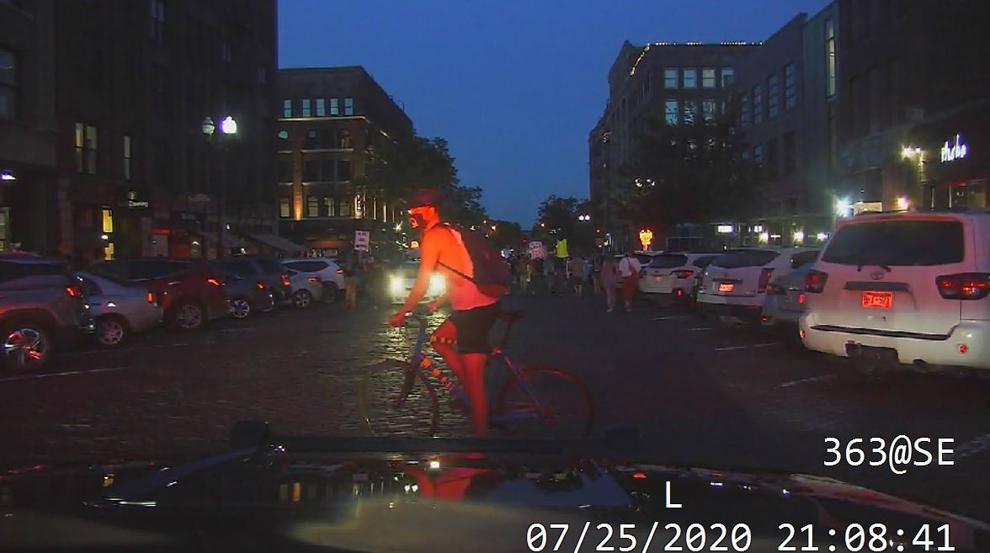 At 9:36 p.m., police said, all remaining protesters were on the bridge over I-480. Police then blocked both ends of the bridge. Police said the lieutenant supervising the protest "had a plan in place to make arrests on the bridge as it had better containment of individuals and was a better safety option."
Police said a police sergeant yelled 12 times that the group was under arrest while Matthews yelled with a megaphone: "We are peaceful protesting."
According to a separate police report, officers had given "numerous direct orders for protesters to get on the ground," telling them they were under arrest. Officer Robert Soldo then saw Vondrasek "turn his bicycle towards officers, load his pedal and attempt to flee while riding his bicycle directly at officers," the narrative says.
Soldo saw Officer Nicola Bay "attempt to stop Vondrasek from fleeing, at which time Vondrasek crashed his bicycle into Ofc. Soldo," the report says.
A video of the altercation shows one officer pushing Vondrasek on his bicycle, causing him to crash into an officer.
Soldo pushed Vondrasek away, the report says, and then Soldo fired "five direct impact pepper ball rounds to Vondrasek's right side."
"The pepper ball deployment was approximately five feet away and appeared to be effective," according to the report.
Vondrasek said the pepper balls hit his chest, shoulder, back and butt cheek and caused bleeding and bruising.
Saturday, Omaha Police Capt. Mark Matuza told reporters that one pepper ball was deployed, but the report lists more.
Sign up for World-Herald news alerts
Be the first to know when news happens. Get the latest breaking headlines sent straight to your inbox.
OPD did not respond to a request, submitted Tuesday, asking how many officers fired pepper balls. According to police reports, Soldo was the only officer who fired pepper balls.
Vondrasek said he was attempting to get away, and not trying run into anyone.
"I had sort of moved to the front, and I had an opportunity to try to bike away," Vondrasek said. "I tried to and (officers) caught me. They sort of started throwing me around, they shot me with some pepper balls and tackled me to the ground."
Vondrasek said he thinks the use of force by police was "excessive."
"We were two blocks away from where we had started, and if police had let us continue we would have gone back to the park and immediately dispersed," he said. "It would have been over within 10 minutes, but they chose to end it on their terms and commit unnecessary acts of violence."
Police said that at that point, they didn't know whether the march was going to continue or end.
Vondrasek was the first protester arrested and booked into the Douglas County Jail. Cole Christensen, 28, was arrested shortly thereafter. Police say he was arrested on suspicion of interfering with officers.
According to the police report, Omaha Police Sgt. Brendan O'Flynn was arresting Vondrasek when Soldo saw Christensen, who was holding a leaf blower and a sign, run toward them.
Soldo then fired six pepper ball rounds at Christensen's back, according to the report.
In the report, officers said the use of force was appropriate because Vondrasek and Christensen were "actively resisting" — Vondrasek "bumped into" Soldo and Christensen interfered with the arrest and reached to grab O'Flynn.
Vondrasek and Christensen were told to use soap and water to wash off residual powder from the pepper balls, the report said.
Christensen said the injuries caused him to bleed through his shirt.
Protester Neal Duffy, 38, said he never heard any instruction or announcements from police that night other than "back up" right before he was arrested. He said the group was constantly chanting and Matthews was on the bullhorn, adding to the noise.
"If (the police's) message was for us to disperse, it was a minimal attempt for them to tell us that," he said. "And a lackadaisical one at that."
After the altercation with Vondrasek, Duffy said, he heard one officer tell others, "Put them all in handcuffs." He said an officer then slammed him into the bridge railing, took him to the ground, put a zip tie on him and then kneed him in the ribs. Duffy said he plans to file a complaint, but said he doesn't know who the officer was.
Matthews said that when he was arrested, he was told he was resisting arrest because he put his hands up and didn't lie on the ground.
Matthews, Duffy and Vondrasek said police should have just issued citations and allowed people to go home, which is what they said protesters were trying to do.
"If people think that this kind of police violence is necessary in order to protect traffic flow, I think that's pretty clearly an excuse for you to feel OK about the state using violence in order to oppress your political opponents, which is fascism," Vondrasek said.
In its Wednesday timeline, Omaha police said "on-scene command made the decision to book the involved parties into jail out of fear that disturbances and potential further criminal activity would continue in the downtown area if they were cited and released."
Officers arrested 120 people. Most of them were booked on failure to disperse and obstructing passage. Other charges included negligent driving, obstructing officers, resisting arrest and unlawful assembly.
Those who were arrested said they experienced harsh conditions and long processing delays at the Douglas County Jail. Jail officials said computer issues delayed the release of many people, some of whom didn't get out until early Monday.
---
Our best staff images from July 2020