Along with most other aspects of daily life, the coronavirus pandemic of 2020 disrupted the Omaha Police Department's efforts to fight crime.
Omaha Police Chief Todd Schmaderer believes in a three-pronged approach to policing — enforcement, intervention and prevention. In 2020, when the latter two tactics were more or less scuttled, he learned that enforcement alone isn't the answer.
"We will never do enforcement as a means of getting ourselves out of any problem. It's not a successful endeavor. It's got to be a mix," he said. "There's space for all three of those ... it's our intention to get back to that mix with our community in 2021 as soon as we can."
In 2020, the number of homicides in Omaha spiked to 37 from the low 20s in each of the last two years — the lowest numbers recorded in a decade and a half. Compared with 2019, the 37 slayings in 2020 mark a 61% increase.
"There was a time in the city of Omaha where we would almost celebrate (37) homicides," Schmaderer said. "But we've come beyond that, and now (37) is a number too high for us."
The increase aligns with what was seen in other U.S. cities in 2020.
Law enforcement officials and experts have blamed several factors: economic and social hardship, attitudes toward police and a shortage of jobs and resources in poorer communities. But a unifying struggle was the impact of the coronavirus pandemic.
Data through at least September show homicides were up 36.7% in 57 midsized to large U.S. cities, according to Jeff Asher, a crime data analyst.
Final national murder update of 2020:

Murder up 36.7% in 57 agencies with data through at least September (though most have data through November). Murder up in 51 of 57, 37 of 58 agencies reporting murder up more than 30%.

Spreadsheet here: https://t.co/vEhKHuFNrY pic.twitter.com/5HgVmwGmDS

— Jeff Asher (@Crimealytics) December 29, 2020
The Washington Post reported that in 2020, the United States accounted for the largest single one-year increase in homicides since modern record-keeping began in the 20th century.
Omaha's biggest jump in gun violence in more than a decade came in July, when 39 people were shot in 28 shootings. Six of the people died.
It was a stark difference from the improvement of recent years — in 2017, 118 people were shot, fewer than half of the 247 people shot in 2007. And the city recorded a historic 125 days without a homicide from the end of 2018 to the beginning of 2019.
In 2020, nonfatal shootings increased about 44% compared with 2019, police officials said.
"As shootings go up, homicides go up," Schmaderer said. "As shootings go down, homicides go down."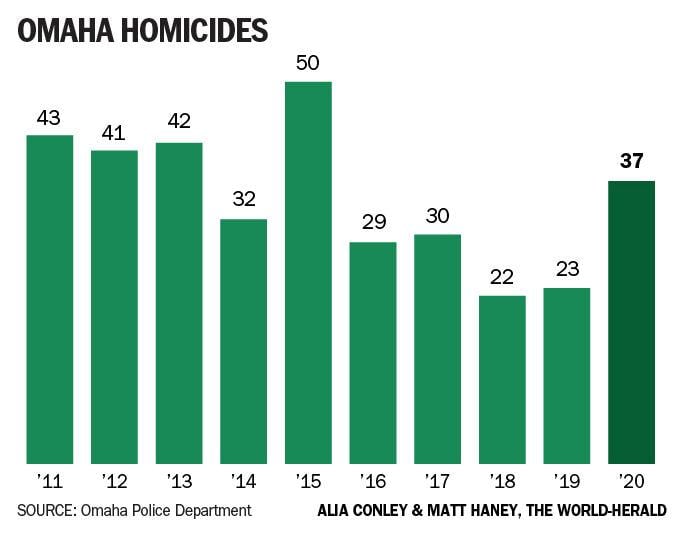 About three-fourths of the 37 people who were killed in 2020 died from gun violence, an increase from previous years, said Omaha Police Capt. Steve Cerveny of the criminal investigations unit. Three people were stabbed to death and five died by strangulation, assault or blunt force trauma.
Like everyone else, Schmaderer said, the Omaha Police Department had to adapt to the arrival of COVID-19. To prevent coronavirus spread among the community and within the department, crime intervention and prevention efforts had to be put on hold or delayed.
Police events such as Fun in the Park and Cops and Bobbers were canceled. National Night Out, an event that aims to unite residents and officers against violence, first was postponed and then canceled. Officers' sports-related outreach efforts to local kids were hampered by social distancing or restrictions required by health officials.
When schools closed, the department's gang specialists, who rely on in-person weekly meetings with youths, had to switch to phone calls or online check-ins. Even on a small scale, detectives who visit kids during school lunch couldn't do so. In-person meetings, officials said, are more meaningful than virtual sessions.
Schmaderer said the department's strong partnership with community organizations and their collective assistance to residents helped to reduce the number of homicides in the past .
"That system got disrupted in 2020," he said, adding that many organizations pivoted to helping with basic human needs in the pandemic.
So officers focused on enforcement.
Gun seizures and federal firearms cases and indictments in the city hit highs in 2020, surpassing totals from six to 10 years ago.
As of mid-December, officers had seized 1,253 guns from the streets in 2020, the highest number since 2014, said Deputy Chief Ken Kanger, who oversees the criminal investigations bureau. The department presented 132 cases to the U.S. Attorney's Office to review — the most in a decade — and of those, Kanger said, grand juries returned 91 indictments, the highest total since 2012.
Only one of the city's homicides left more than one person dead. Michael Harbour, 35, and Nicole Hatten, 36, were fatally shot July 30 outside a Best Western motel on South 108th Street.
Earlier in July, a person shooting into a crowd of roughly 100 people near the Southside apartments at 29th and T Streets injured eight people. Remarkably, no one died.
Eight multiple-victim slayings had helped push the criminal homicide tally in 2015 to 50 people — more victims than in any year since 1967.
Detectives identified a suspect in all but 10 homicides in 2020, which tracks with the city's clearance rates of previous years. Most of those face murder or manslaughter charges, but three have died — two in shootouts with law enforcement elsewhere during attempts to take them into custody. Jaquan Haynes, who was wanted in connection with the October slaying of 19-year-old Nomi Herrera of Omaha, was fatally shot in the final week of the year after authorities said he fired at members of a U.S. Marshals task force in Atlanta.
The homicide that garnered the most attention of the year is deemed cleared by the department, but many questions and frustrations from the community remain. Bar owner Jake Gardner fatally shot James Scurlock on May 30 after downtown protests of the death of George Floyd at the hands of Minneapolis police. Scurlock's slaying spurred a summer of marches, rallies and gatherings that spilled into fall. A grand jury indicted Gardner on manslaughter and three other felony charges after Douglas County Attorney Don Kleine declined to charge Gardner, saying the shooting was self-defense. Gardner killed himself days after he was indicted.
Cerveny said he was proud of the department's clearance rate despite the pandemic-related constraints on officers. Detectives still held in-person interviews as needed for homicide investigations but were told to prioritize phone calls. The unit was split up and worked remotely to make sure the virus didn't spread among all its officers at once.
For 2021, Schmaderer recognizes that COVID-19 will remain a factor. This year's homicide count has already begun — 26-year-old James C. Reed was fatally shot just three hours into the new year.
But department leaders have lofty goals to increase positive interactions between police and citizens, including a restorative justice program.
"We're trying to ramp up and get back to our original system — strong community policing with equal intervention and prevention," he said. "That is our objective."
This report includes material from the Associated Press.
Alia Conley's memorable stories from 2020
A last-minute 2019 homicide and police shooting; Nebraska Crossing opening drama; troubles with the Omaha police helicopter unit; a strange fatal shooting in central Nebraska; and an inmate who admitted to a World-Herald reporter that he killed a convicted child sex offender.
These are some of World-Herald writer Alia Conley's top stories from 2020.