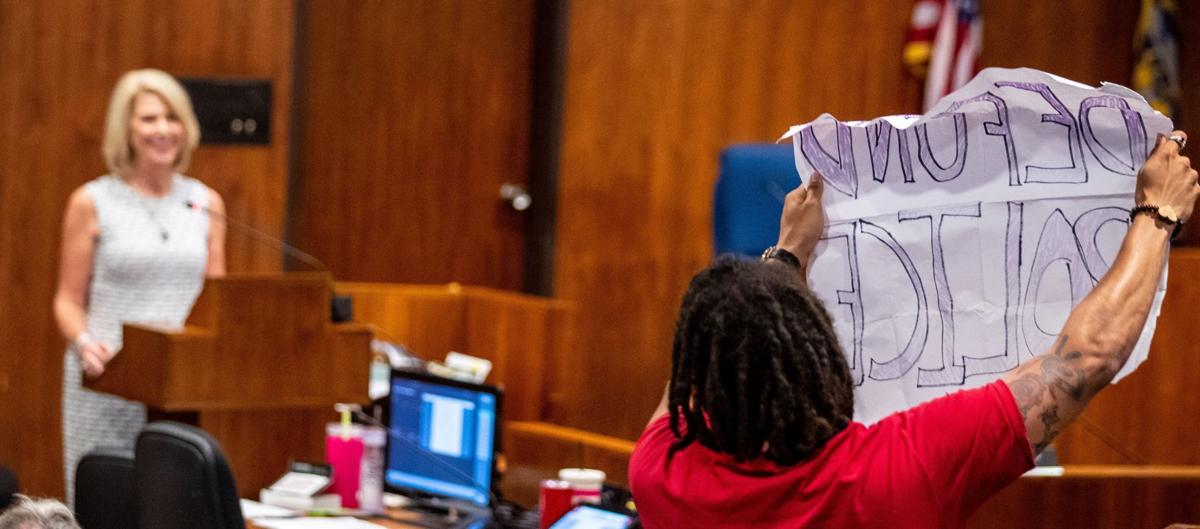 Mayor Jean Stothert plans to fund a city diversity manager, buy more police body cameras and expand a mental health response program in her proposed 2021 budget.
But Stothert will make no structural changes to the Omaha Police Department or its funding in response to recent Black Lives Matter protests.
In announcing her new budget, Stothert criticized the push from some in Omaha and other cities to "defund the police."
"I am not defunding the Police Department," the mayor said. "That would be very irresponsible and reckless at this time."
But as Stothert announced her budget to the City Council, at least a dozen protesters interrupted her speech at intervals to demand that the mayor "defund the police." Law enforcement officers led them out of the council chambers, and people gathered outside afterward to continue their protest.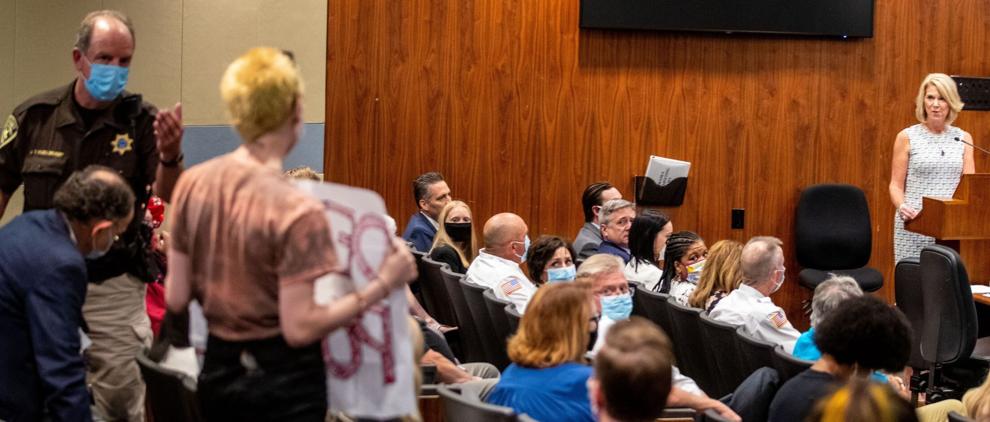 As a Douglas County deputy escorted one protester out, he told Stothert, "You don't fund the people — you fund the police. Fund the people. Defund the police."
Stothert announced plans in June to update the department's use of force policy and other efforts to beef up training, seek public input on officers' actions and improve diversity within city government. Her proposed budget would fund some of those changes, and her proposal now goes to the City Council for review and approval.
The Police Department has the largest operational budget of any Omaha city department at a cost of $161.3 million for 2021, including money for 1,054 positions. For next year, the Police Department would account for 36.7% of all day-to-day governmental city spending.
The budget proposal for the Police Department represents a spending increase of $1.96 million, or 1.2% more than this year.
Since the death of George Floyd in Minneapolis police custody in May, local and national movements have begun calling for cities to redirect police funds to other community services, or strip departments entirely.
Bear Alexander, one of the people who protested Stothert's speech, gathered with a couple dozen protesters outside the City-County Building after many of them had been escorted from the building.
Using a megaphone, Alexander played music and led chants such as, "All power — to the people."
In an interview, the 23-year-old said defunding the police isn't about completely stripping the department of its budget, but rather reallocating some funding into more "humanitarian outlets" such as local health care, education and underserved communities.
He drew a contrast between the police budget and the city's Human Rights and Relations Board, which accounts for about 3% of the general fund budget.
"We wanted to just let (Stothert) know, and let the city know, that there are people that are upset with where she's going with the budget — and she's completely ignoring them," Alexander said.
Councilwoman Aimee Melton said she disagreed with how protesters chose to relay their message during Stothert's speech.
Some shouted "defund the police" or told the mayor that she should allocate more money to departments such as the library; others shouted curse words at Stothert.
"I don't want to see an us-against-them mentality, which is what I think has come out of this," Melton said.
Included in the mayor's budget are:
» Expansion of a program for mental health practitioners to respond with police on mental health-related calls. The program began in 2019 following the death of a mentally ill man, Zachary Bear Heels, whom Omaha police punched repeatedly and shocked multiple times with a Taser.
The program operates in partnership with Lutheran Family Services and will be in place at each police precinct, the city said.
» Addition of body cameras for the K-9 unit and mounted patrol, meaning nearly 600 officers will have the equipment, according to the city.
» Purchase of new Tasers that will sound a "de-escalation warning" before an officer discharges the Taser. Officers also will go through additional Taser training, the city said.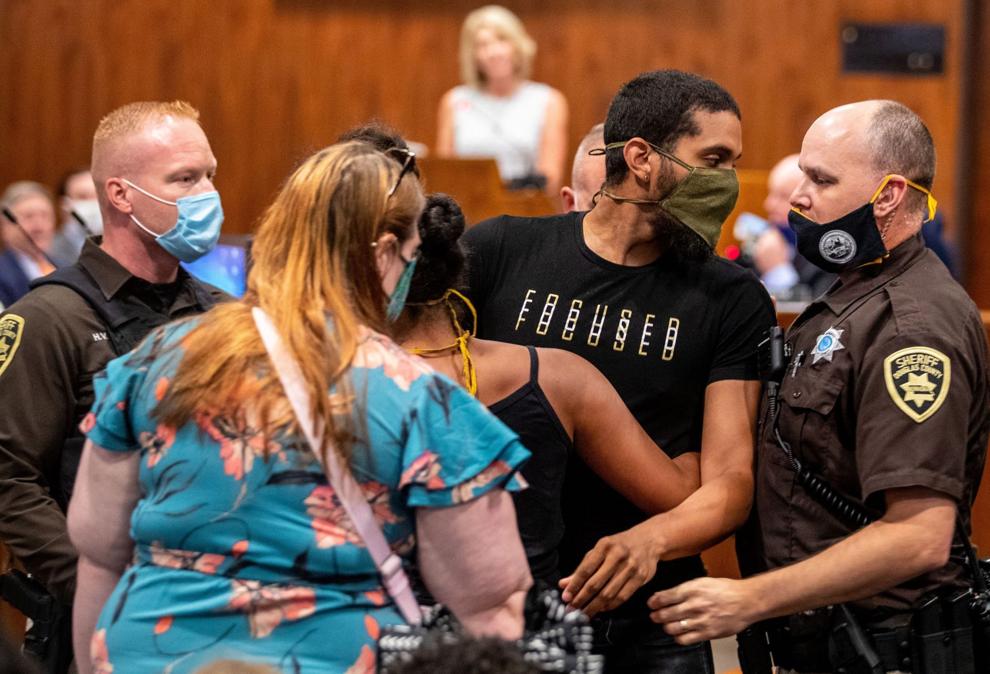 The city also will create a new diversity and inclusion manager within the Mayor's Office at a salary of $95,000, and Stothert said the position is "more important now than ever."
The mayor said many private businesses have added a diversity manager. Stothert said she wants the city to have a full-time official whose priority every day is focusing on diversity issues, including hiring and city testing practices.
By placing the official in the Mayor's Office, Stothert said she wants that person to advise her and all city departments. While the position would be funded in the 2021 budget, Stothert said she hopes to bring someone on by this fall.
Stothert also praised City of Omaha spending on community programs, as police critics call for a shift in city spending from police officers to community and social assistance.
But her argument led to accusations that she was misleading the public on city spending.
Stothert said the city distributes $20 million annually to community programs, including job training, youth services, housing and mental health assistance.
Some of that comes from the city's general fund. But much of it comes from federal grants given to the City of Omaha through Emergency Solutions Grants and Community Development Block Grants.
Stothert said putting money into community programs is "not either/or" in relation to police funding. "It's both. We already put a lot of money into social programs," she said.
Stothert said she would not divert funding from the Police Department into new social programs that aren't even established yet.
Community organizer Ja Keen Fox, in a posting on Twitter, said it was "embarrassing" to listen to Stothert mislead Omaha citizens.
Listening to @Jean_Stothert intentionally mislead Omaha citizens is so embarrassing. We know you spend money on community programs, how out of touch do you have to be to not see that you have missed the heart of the issue

— JaKeenwiththeMegaphone (@JaKeenFox) July 21, 2020
"We know you spend money on community programs," he wrote. "How out of touch do you have to be to not see that you have missed the heart of the issue.
"The disparate investment in community programs in comparison to what you fund OPD is what is unacceptable. The people can't be misled by semantics. We have the budget and we will use public pressure to ensure all city officials are clear about our displeasure."
Terrell McKinney, an Omaha community activist and candidate for Nebraska Legislature, said on Twitter that "police matter more to this city than addressing poverty."
Police matter more to this city than addressing poverty the mayor, the police, and anyone that supports providing more money to police than poverty shouldn't be complaining about the uptick of violence in our community https://t.co/AJgDfr78WZ

— Terrell M. McKinney (@T_McKinney2020) July 21, 2020
"The mayor, the police, and anyone that supports providing more money to police than poverty shouldn't be complaining about the uptick of violence in our community."
Stothert said no city can exist without law enforcement. Her goal, she said, is to make Omaha's well-funded, well-trained and well-paid Police Department even better.
"To defund them now would be reckless and irresponsible, and I'm not going to do it."