The young couple, eager to meet their new puppy in Nebraska, made the long drive from Minnesota.
But when they pulled into the driveway of their destination, a Gretna home, they received demoralizing news.
There were no puppies. They'd been scammed.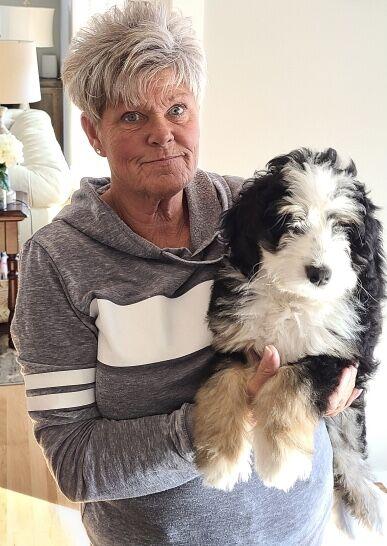 Linda Albrecht, the Gretna homeowner, said six couples have arrived in her driveway seeking a dog they thought they had purchased on the internet.
And if she was home, it fell to her to deliver the bad news.
"One man was devastated," she said. "I felt so horrible."
She suggested they do as she had, report the scam to law enforcement.
Albrecht herself was nearly scammed by puppy fraudsters and wonders if that's why her address is being used.
"I called them out and said, 'Shame on you, this is a terrible thing to do.'"
Now, she wonders if the scammers could be paying her back by sending hapless victims to her home.
Jim Hegarty, president of the local Better Business Bureau, said puppy scammers have been using Nebraska addresses and phone numbers as fronts for their scams. Other addresses have been in Lincoln and Omaha, he said. The scammers, often working from overseas, set up professional-looking websites to convince people that their operations are legitimate.
One of those sites drew in Mahdiyyah Chase of Torrance, California. She thought she'd found the perfect miniature poodle in Nebraska. In retrospect, she said, there were plenty of red flags. The price was too appealing, $850, and the payment email address didn't look right.
"I was adamant about getting a dog," she said. "I kept ignoring my gut, but the signs were there."
She hopes others can learn from her experience.
Chase is not alone. In 2020, losses to puppy scams reached $3 million, according to the BBB. The onset of COVID-19 and the at-home and alone time that has come with it have caused a huge increase, Hegarty said.
Scammers typically are selling expensive breeds or mixes. Hegarty said many of online puppy-sales sites are a scam, so it's important to do your homework.
One slick website advertised puppies for $850 that were raised in their Northern Hills (Omaha) home as "part of the family." Other websites with Omaha area addresses have offered Akitas, French Bulldogs and Golden Retrievers. An individual from Texas lost more than $6,000 in his bid for a puppy. Another person lost $1,110.
While there are legitimate sellers online, the BBB recommends seeing the pet in person before paying, researching the likely price and watching out for "too-good-to-be true" deals and doing a reverse image search of the pet. If you discover the same images or description of the pet on multiple sites, that's a tip-off to a possible rip-off.
And there's always this tried-and-true option: An All-American Mutt from your local animal shelter.
---
Our best Omaha staff photos of January 2021