A combination of federal and local funding totaling $440,000 will allow the Sarpy County Sheriff's Office to provide body-worn cameras for all road patrol deputies.
Body-worn cameras can be useful for "evidentiary purposes, documentation, investigating complaints, improving safety and enhancing training," said Lt. Dan Golda of the Sheriff's Office. "The cost was the biggest holdup."
The project has been in the works for about a year and a half, Golda said. The agency conducted research, field-tested cameras and created policies for camera usage.
A federal grant provided $84,000, and another $80,000 came out of federal criminal forfeiture funds, he said. The Sheriff's Office road patrol budget kicked in $226,000 and the Sarpy County Attorney's Office added $50,000.
The money also covered the cost of replacing the outdated camera systems in the deputies' cruisers so that they will work in sync with the body-worn cameras, Golda said. Over the next couple of weeks, 42 body-worn cameras will be deployed as deputies get trained on them, he said.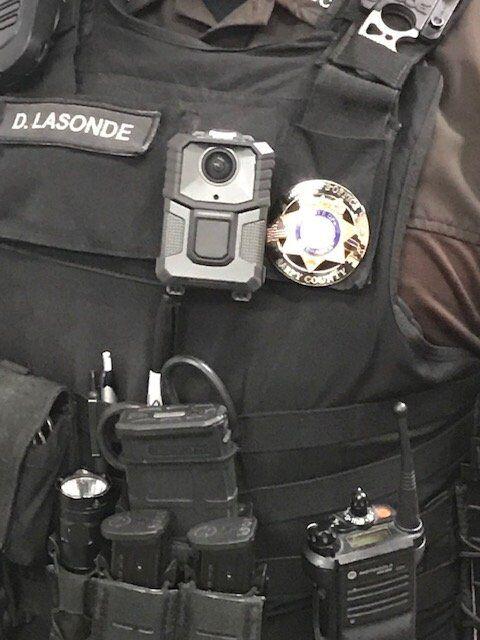 "There are a few deputies actually wearing them now," he said. "We're hoping that they turn out to be a pretty good addition to our work."
The Omaha Police Department began using body-worn cameras in 2016.
The Douglas County Sheriff's Office still is testing and evaluating one last body camera to determine which kind the office will choose, said Douglas County Chief Deputy Sheriff Wayne Hudson. "For us it is not if, but when," he said.
Seven states now mandate the statewide use of body-worn cameras by law enforcement officer as of April 30, 2021, according to the National Conference of State Legislatures. Those states are Colorado, Connecticut, Illinois, Maryland, New Jersey, New Mexico and South Carolina.
The laws generally apply to all law enforcement officers who are interacting with the public, the group said. But they typically exclude officers working in courtrooms or other secure areas or confidential settings, nor do they apply to administrators or civilian staff.
---