On the first night Julian Lopez visited his father, Jose Valenzuela, in Omaha, Lopez went to Valenzuela's bedroom.
Valenzuela's fiancée awoke to Lopez standing at the foot of their bed, holding a large knife, she later told Omaha police detectives.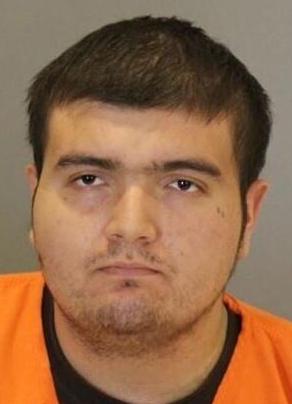 Days later, Lopez shot his 40-year-old father seven times, killing him, Omaha Police Sgt. Ryan Hinsley testified Wednesday.
Lopez, who has schizophrenia, told a detective in an interview that he was instructed by Valenzuela to shoot him.
Lopez, 23, will stand trial on second-degree murder and use of a firearm to commit a felony, a judge ruled Wednesday.
Valenzuela was found dead about 12:40 a.m. July 16 inside his apartment in the Tudor Heights complex near Interstate 680 and West Maple Road. He was slumped over a bed in a room shared by his 5-year-old son and Lopez, with nine 9 mm bullet casings surrounding him, Hinsley said.
Valenzuela had at least 16 "defects" because of injuries from bullets, and was shot in the face and back, according to an autopsy.
Lopez was in the apartment when officers arrived and was taken into custody. A Taurus 9 mm pistol was found near him.
Hinsley said that although investigators haven't gotten the gun's tracing information back from federal authorities, they think the gun used to shoot Valenzuela belonged to him.
Valenzuela's fiancée told police that before the shooting, she saw Lopez sitting at the kitchen table, repeatedly picking up the table and slamming it on the ground. Hinsley said she went to the balcony to tell Valenzuela, who was outside smoking, to talk to Lopez. The fiancée told police she didn't see a gun at the time.
Apartment security camera footage showed Valenzuela entering the apartment. His fiancée took their 5-year-old to their master bedroom to put him to bed. Soon afterward, she told police, she heard what she thought were fireworks from the second bedroom. She said that Lopez had lit fireworks before so she wasn't "immediately concerned," Hinsley said.
The woman left the apartment without seeing Lopez or Valenzuela and went outside, calling Valenzuela's name. When she didn't find him, she flagged down security officers, and then Omaha police arrived, Hinsley said.
Lopez later told a police detective that he had been in the second bedroom when his father came in, gave him a gun and told Lopez to shoot him, Hinsley testified. Lopez said he instead took the gun and sat on it.
Then, Lopez told police, Valenzuela walked toward him. Lopez said he didn't know what to do, Hinsley said, and shot once or twice into the wall and then shot his father twice.
He told police that after the shooting, he went to drink a beer.
Lopez told police that Valenzuela had been drinking. Officers found drug paraphernalia in the master bedroom, but Hinsley didn't explain what that was or whether anyone in the apartment was under the influence of drugs or alcohol.
Hinsley said police had found no evidence that Valenzuela was having suicidal thoughts.
His fiancée told police that she thinks Lopez was taking his medication for schizophrenia — officers collected some prescription bottles as evidence, Hinsley said.
Allyson Mendoza, an assistant public defender, argued that Lopez should be on trial for manslaughter because the evidence presented pointed more toward an unlawful act and that Lopez did not intend to kill Valenzuela.
Lopez primarily lived in Palm Bay, Florida, with his mother. Authorities in Brevard County, Florida, said that in 2018, he stabbed his stepfather in the head and neck nine times with a foot-long, "Rambo"-style knife.
At one point during the court proceedings in that case, Lopez was deemed incompetent to stand trial because of his mental illness, but ultimately he was sentenced to five years of probation on one count of felony battery.