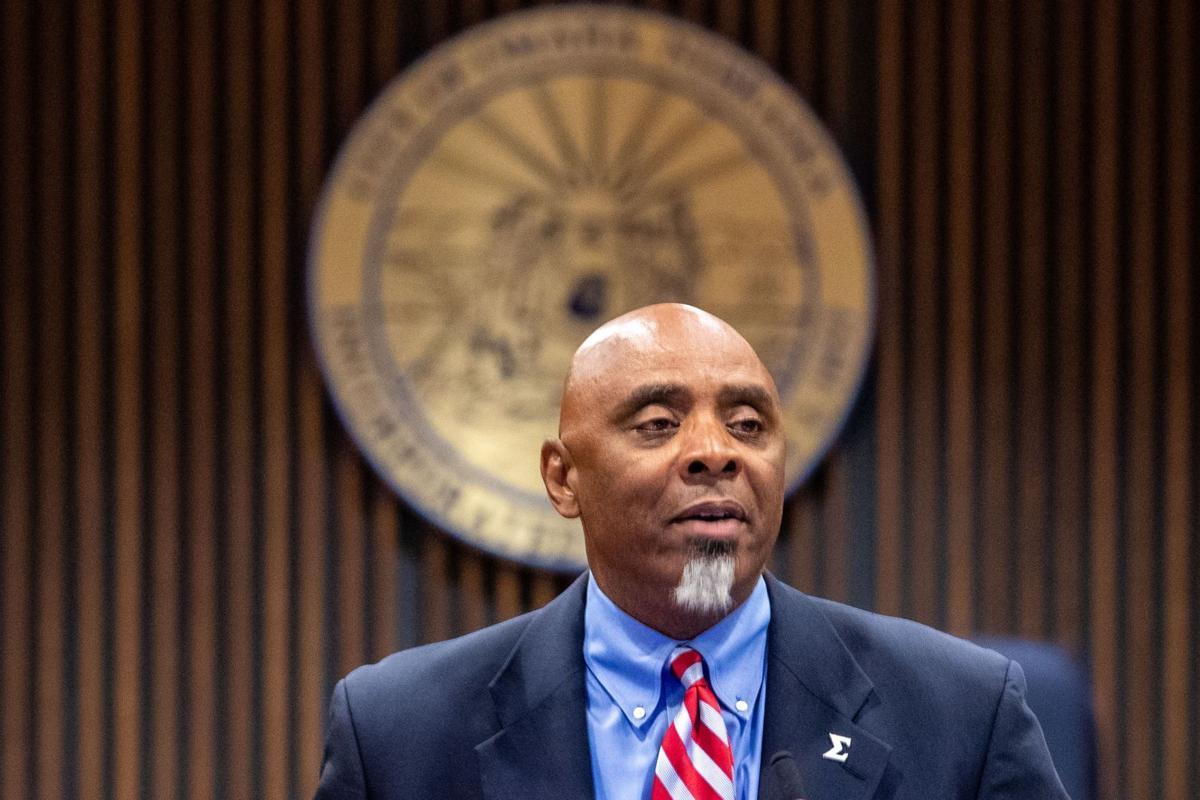 The special prosecutor leading the investigation into the death of Omahan James Scurlock directed some of his final comments Tuesday toward protesters — most pointedly to people who vandalize or damage property.
"When people engage in that sort of behavior, you are dishonoring the memory of the people who have died," Fred Franklin said. "You are playing right into the hands of the people who are against what it is you are protesting for."
At an afternoon press conference announcing a grand jury's decision to indict former bar owner Jake Gardner on four charges in connection with the fatal shooting of Scurlock, Franklin said he heard people were "just waiting for an outcome that would reignite a bunch of riotous behavior and vandalism."
"As a person who spends a significant amount of time in the downtown and in the Old Market area, it saddens me to see people have to walk around with those kinds of concerns, with businesses having to be boarded up," he said. "Folks, y'all getting played when you engage in that behavior."
Large protests first began in Omaha as a reaction to the killing of George Floyd, a Minnesota man who died May 25 after a Minneapolis police officer knelt on his neck for about eight minutes.
Scurlock was fatally shot in the Old Market on May 30, the second night of protests in Omaha. Rallies continued for several days after his death and have occurred sporadically throughout the summer. Protesters demanded "Justice for James" and marched in solidarity with other Black Lives Matter protests throughout the country.
Scurlock's family had requested after that the protests remain peaceful, and most of them were. Yet in the first two nights of protests, including the night Scurlock was killed, people broke the windows of businesses and police cruisers, tagged buildings with graffiti and set items on fire. Police say Scurlock and a friend, Tucker Randall, damaged equipment in a downtown architecture firm less than an hour before Scurlock was killed.
As of mid-July, officials estimated nearly $384,000 in damage from protests from May 29 to May 31 near 72nd and Dodge Streets and downtown.
Tuesday, Franklin spoke directly to "allies to justice movements," saying demonstrations have a place.
"But they shouldn't be the only tool in the toolbox," he said. "There are other things like economic boycotts, like registering and voting, like uniting behind a particular business or other things that people can do in the name of generating the justice that they want to see happen rather than just simply destroying stuff."
The protesters who demonstrated nearly every day from June 4 to July 11 outside Douglas County Attorney Don Kleine's west Omaha neighborhood were peaceful. Two days after Scurlock was killed, Kleine announced that he wouldn't file charges against Gardner, saying the evidence he had reviewed showed Gardner had acted in self-defense. The protesters said Kleine should have charged Gardner.
City officials and the owners of downtown businesses had braced for reaction to the grand jury decision. Officials on Monday had placed orange barricades, full of water and sand, to prevent anyone from driving across any openings in the sidewalks to the Douglas County Courthouse. Omaha police and Douglas County sheriff's deputies patrolled outside the courthouse, both in plain clothes and in cruisers.
The Omaha Police Department decided last week to order officers to work an "Alpha Bravo" schedule starting Monday, The World-Herald learned. That means officers work 12-hour shifts instead of the normal eight hours and cannot take days off, including vacation or sick days.
Lt. Sherie Thomas, a spokeswoman for the department, declined on Monday to confirm the shift change, saying it "is considered operational and tactical in nature."
Many protesters wrongly assumed the barricades and increased police presence meant that the grand jury had come to a decision and that it would be unfavorable to the "Justice for James" cause.
Rumors swirled online that downtown businesses were told to close Monday, but that was not true, the Downtown Improvement District said. Some business owners did decide to close early, however.
Nebraska Antifa on Monday claimed that Omaha police had "advanced knowledge of the grand jury verdict." But Franklin said the case was handed over to grand jurors on Tuesday to begin deliberations.
Before Franklin began speaking at the 5 p.m. press conference at the City County Building, many city and county workers were seen leaving early. In addition, the downtown call center for the County Treasurer's Office closed at 2:45 p.m.
Franklin, a longtime U.S. attorney, said he agreed to be the special prosecutor in the case because he wanted to be fair and objective.
"I accepted this responsibility not to advance any organization's agenda. Not to advance the agenda of Black people because I'm African American. Not to rubber stamp what Don Kleine's office had decided to do," he said.
"When I accepted the responsibility," Franklin continued, "it was with the understanding that I took an oath to be impartial in terms of gathering the evidence and then presenting it to the grand jury. … If I would have done anything other than that, then I don't know that I could look at myself in the mirror."
World-Herald staff writer Reece Ristau contributed to this report.
---
Videos: Grand jury delivers indictments in James Scurlock shooting
A grand jury returned four indictments against Jake Gardner including manslaughter
Sign up for our Crime & Courts newsletter
Get the latest in local public safety news with this weekly email.