An 18-year-old stabbed a 61-year-old woman 12 times and sexually assaulted her, killing her, prosecutors said Wednesday.
Daniel Dejaynes-Beaman was charged with first-degree murder and use of a weapon to commit a felony in the Oct. 31 slaying of Jolene Harshbarger. He was held without bail after first appearing in court Wednesday.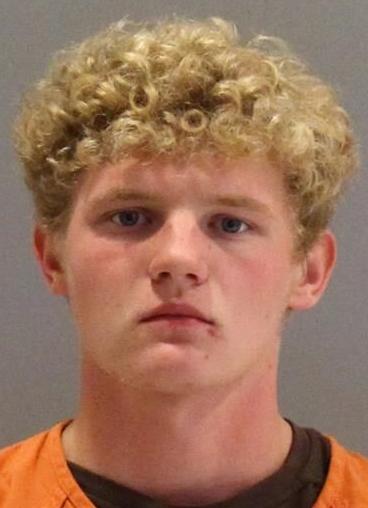 Harshbarger's body was found by her live-in adult son in a bedroom at her home near 20th and Y Streets with stab wounds to her hands, arms, upper back and back of her neck, authorities said. The son was interviewed and cleared of wrongdoing, said Chief Deputy Douglas County Attorney Brenda Beadle.
The stab wounds were deep and some went all the way through Harshbarger's hand, injuries which show she was defending herself, prosecutors contend.
Omaha police interviewed Dejaynes-Beaman, who admitted to being at Harshbarger's home, having a "physical altercation" with her and stabbing her with a knife, according to an affidavit. He had injuries only to his hands, a prosecutor said.
"I don't have a reason why, I don't think I could ever come up with a reason somebody would do this," Beadle said.
Beadle said police are still awaiting toxicology results from the autopsy and DNA test results, which could modify or add charges — especially regarding an alleged sexual assault. An autopsy showed Harshbarger had "additional injuries indicating violent sexual penetration," prosecutor Rachael Henderson said in court.
Henderson also said the knife used in the slaying was recovered at Harshbarger's home.
"It's still an ongoing investigation and the police are still working with interviews and collecting evidence and DNA," Beadle said. "So, I don't think that the charges are necessarily set in stone yet."
Authorities have provided few additional details on how the two came into contact other than saying they met through a mutual friend.
Daniel Beaman Jr., the teen's father, said they recently returned to Omaha from Pleasanton, Texas, because of a family death and to stay for the winter. A cousin who declined to give her name said Harshbarger is a longtime neighbor and babysat the cousin "her entire life."
Beaman was distraught and cried during and after Wednesday's court hearing.
"He couldn't do something like that, he's not capable," Beaman said. "Everyone that's met him says he's an amazing kid, how well-behaved he is, manners and stuff."
The cousin said Dejaynes-Beaman met Harshbarger about a week before the slaying, because he was staying with the cousin's mom, who is friends with Harshbarger.
The family believes Dejaynes-Beaman was given methamphetamine and alcohol. Beadle said police don't routinely check drug or alcohol levels of suspects and a toxicology report from Harshbarger's autopsy could take weeks. A police report notes that there were indications Harshbarger was using alcohol.
Martinez-Perez is serving a life sentence at the Tecumseh State Prison.
Dejaynes-Beaman faces life in prison, if convicted.
---