A new report reiterates that Black Nebraskans are grossly overrepresented in statewide arrest and incarceration numbers, something long decried by advocates for criminal justice reform.
The report, from University of Nebraska at Omaha researchers, also notes that Black Nebraskans are significantly underrepresented among those receiving nonprison diversion or intervention services.
One of the researchers, Leah Butler, an assistant professor in UNO's School of Criminology and Criminal Justice, said implicit bias and sentencing guidelines could contribute to the disparities. More study is needed, though.
"A great thing to be able to analyze would be how some level of disparity at one stage through the process feeds into greater disparities at the next stage," Butler said. "With the data that we have analyzed so far, we know what disparities exist and to what degree, but don't yet have those answers of why."
Butler presented the findings of the report to the Nebraska Legislature's Planning Committee in October so lawmakers could use the data to inform their policymaking. UNO School of Criminology and Criminal Justice Nebraska Center for Justice Research Executive Director Ryan Spohn and Center for Public Affairs Research Director Josie Schafer also analyzed the data with Butler.
As a researcher, Butler acknowledged that it would be easier to compare among agencies and jurisdictions if Nebraska had a "centralized and standardized source of criminal justice data."
Reporting data to one source, which then is compiled and made publicly available, would make it easy for members of the public and researchers to access, she said.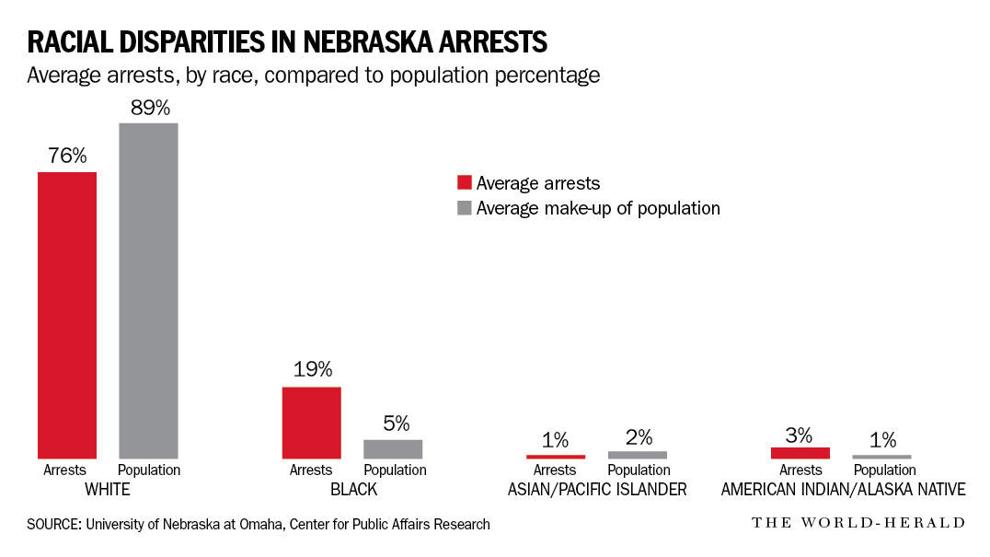 The average number of arrests of Black people in Nebraska from 2014 to 2019 amounted to 19% of all arrests, the report said. Blacks make up 5% of the state's population. Compare that to White Nebraskans, who made up 76% of arrests during that time period but are 89% of the state's population.
The counties with the largest percentage of the Black population who were arrested in 2019 were Seward, Buffalo and Lincoln Counties, with 35.1%, 33.7% and 27.5%, respectively.
About three-fourths of the state's counties were not able to be analyzed because of "suppressed data due to low counts," the researchers wrote.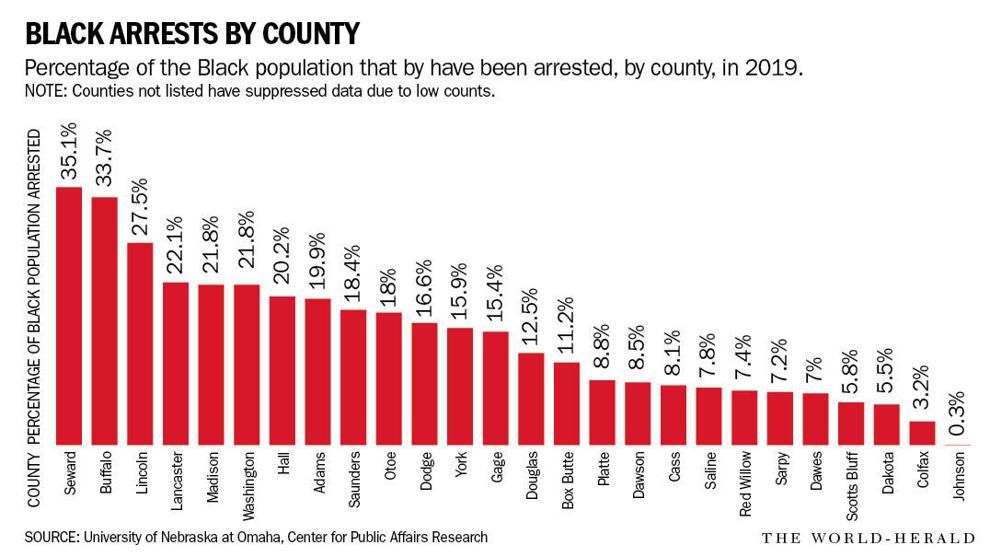 Statewide, the percentage of arrests of White people has slightly decreased year after year since 2014, while the percentage of arrests of Black people has slightly increased. Butler said that the Black disparity has widened by about 2 percentage points but that further study is needed to see if that's statistically significant.
The incarceration disparities are even greater than the arrest disparities, the study found. White inmates made up 52% of the population at state and federal correctional facilities in 2018, 36 percentage points below their statewide population. Black inmates were overrepresented by five times their population.
Racial disparities also were found in community-based correctional programs in Nebraska for both low- and high-risk offenders. Black Nebraskans also were significantly underrepresented in receiving resolutions through alternative court programs such as drug, DUI, mental health, veterans and reentry courts.
"It's diversion — it's meant to reduce incarceration rates, it's meant to provide an alternative where a person will receive more services and rehabilitation treatment," Butler said.