The Omaha Police Department has intentionally increased the racial and ethnic diversity of its sworn officers over the past decade, and department leaders say the increased diversity, along with community outreach efforts, is helping to solve and prevent violent crime as well as improve local police-community relations.  
The percentage of sworn Omaha police personnel who are not White has grown from 17% in 2012 to more than 22% this year. That includes going from 57 Black officers in 2012 to 87 this year, according to police department records. Over the same period, the number of Hispanic sworn personnel grew from 60 to 91.  
Even so, people of color are still underrepresented in Omaha police ranks when compared to the general population of the city. People of color compose about 34% of Omaha's population this year — a representation gap of 11.7%. The numbers have remained flat over the past three years as the Omaha Police Department, like other U.S. agencies, has been having difficulty hiring officers.
As for management, the Omaha Police Department has 162 sworn members with a rank above patrol officer. Of those, 27, or 16.7%, are people of color. That includes two deputy chiefs who are Black women.
Diversity underrepresentation in policing
Data gathered from October 2022 to May 2023 from nearly 120 law enforcement agencies in 14 states shows frequent disparity in the racial and ethnic makeup of the agencies compared to the communities they are hired to protect and serve.

That makes the Omaha department more racially diverse and representative of its community than many agencies included in a Lee Enterprises reporting project, timed three years after the murder of George Floyd, that examined police diversity in communities and regions where the corporation owns newspapers. Most of those 105 agencies and the communities they police are much smaller than Omaha. A few are very large state police or highway patrol departments.  
Of the handful of cities or counties near the ballpark of Omaha's population of 485,000, the Omaha Police Department is more racially reflective of its population than most. For example, in the Henrico County (Virginia) Police Department, about 85% of the 653 sworn personnel are White. But 49% of the county's overall population of 334,000 are people of color. That leaves a 34% representation gap.
The Greensboro (North Carolina) Police Department has a 29% representation gap. The city's population of 301,000 is about 60% people of color, but only about 31% of the 613 sworn officers in its police department are people of color.
Madison, Wisconsin, is similar to Omaha in that its population is 72% White. But its police department, with 488 sworn officers, has 23% people of color, leaving a gap of only 5%.
Omaha Police Chief Todd Schmaderer said his department has "made a strong push" to diversify over the past 11 years, with key help coming from the Latino Peace Officers Association and the Black Police Officers Association of Omaha.   
"And the reason for that is we want to be representative of the community," Schmaderer said. "It is our belief that strong police community relations can provide for a decrease in crime, violent crime, and an increase in quality of life."
The president of the Black Police Officers Association in Omaha, Lt. Ken Fox, and Willie Barney, the founder of the Omaha 360 community collaboration with police to reduce gun violence, both said the Omaha Police Department has worked hard to diversify its ranks, and that is helping with community relations and crime prevention.
But that view is not universal. State Sen. Terrell McKinney of Omaha, who has worked in the Nebraska Legislature for police reforms, said diversity is good, but not enough.
"I will never be against diversity and making sure we have diverse faces in positions of power, especially in law enforcement," McKinney said. "But diversity to me doesn't mean anything if the system doesn't change itself. We still have a lot of issues with law enforcement in the state of Nebraska and in the city of Omaha that need to be addressed. Just hiring a bunch of Black people or Native people or Latino people doesn't change the fact that the system of policing still needs some changes." 
Schmaderer pointed to statistics on homicide clearance rates, shootings and officer-involved shootings by officers as "vital signs of a city" that he sees as connected to police-community relations and a more diverse department.
From 2013 through 2022, the Omaha Police Department's homicide clearance rate was 80%, much higher than in the previous five years, and well above the national average for cities of 250,000 to 500,000 people. Gun assaults in the city generally trended down significantly since 2011, according to department statistics, although they ticked up during the pandemic. The number of shootings by officers also has trended down.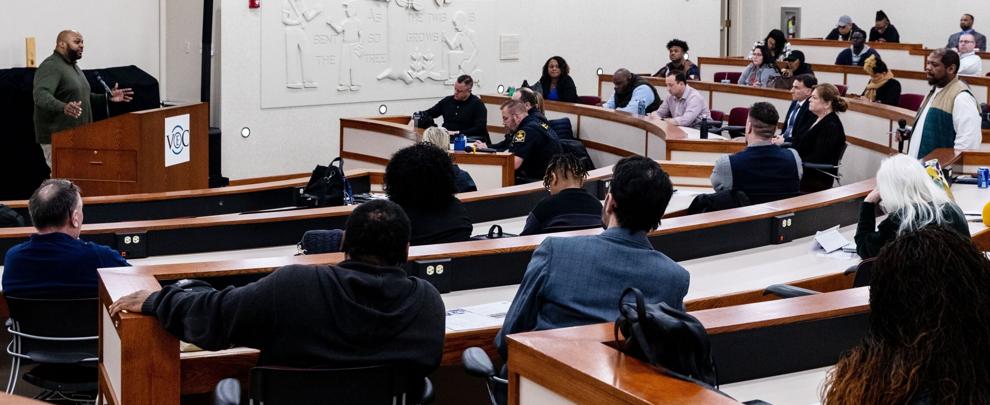 In addition, Schmaderer pointed to department statistics on homicides. They were in the low 40s in 2011 through 2013, then spiked to 50 in 2015, before sinking to a 14-year low of 22 in 2018, and 23 in 2019. Homicides rose in Omaha as murders increased nationally during the pandemic, but have ticked down since 2020.  
"These are these are some of the gauges that we use to determine how well we are impacting the community," Schmaderer said.
That requires strong police-community relations, he said. A diverse workforce is a necessity in relations with the community, and to professionalism in the department, Schmaderer said. That includes diversifying department leadership and units with high profiles in the community, such as the gang and homicide units.
"It's very important (in) our training academy, as we bring on new recruits, they see a diverse staff so we can start from day one with that culture piece," Schmaderer said. "This is a diversified department."
That includes, he said, understanding that a police uniform is sometimes seen as a negative in the community and knowing how to overcome that perception.
Schmaderer said taking a team approach to bringing in new applicants has helped increase diversity. That approach involves the Black Police Officers and Latino Peace Officers Associations, the Nebraska Association of Women Police and the Omaha Police union, he said.
"We don't have a goal as far as a number to stop at," Schmaderer said. "A lot of agencies will say, 'we want to be representative of the community.' We'll go way beyond that if we can. We're looking for our best candidates. And we're looking for a diverse workforce and ... a professional police department that's able to have a strong culture because we understand how to interact in the community, with our diverse community."
Deputy Chief Anna Colon, who oversees the Omaha Police Department's internal affairs unit, said members of the department have built deep-rooted community relationships through such things as community events and volunteering to coach young people in Police Athletics for Community Engagement and other organizations. They make special efforts, she said, in North and South Omaha, where many African-Americans and Hispanic/Latino people live.
Colon said it's valuable when people in a community can relate to officers and feel that they speaking with someone they can trust.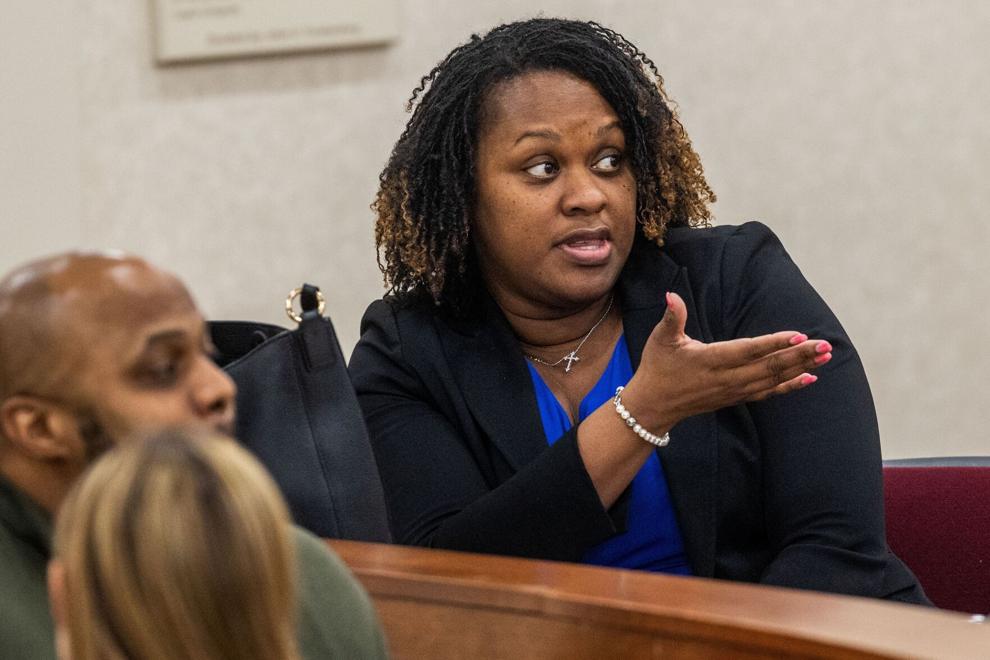 Deputy Chief Sherie Thomas said diversity isn't only about race and gender. It's also lived experience.
"It's your culture, the way that you were raised," said Thomas, whose duties as head of the executive services bureau include overseeing the background unity, which is partially responsible for recruitment and background investigations of new hires. "Diversity in thought. And so sometimes when you do have diversity in your race and or gender, you just approach a situation differently. You may be more understanding just because you've experienced something in your life, and so you can relate to the citizen that you're responding to a radio call on."
Civilian complaints, including those claiming mistreatment due to racism or other bias, have generally trended down over the past decade in Omaha, according to police department statistics. Citizen appeals have been rare. Colon and other leaders attributed that to improved community relations due in part to diversity in the ranks and the department building trust in the community.
McKinney doesn't see it that way. Based on his observation and what constituents tell him, it's more about what he considers a little-known, hard-to-understand system that does not have independent oversight. He has pressed legislation requiring independent oversight.
"I believe there are way more complaints that are not being filed," McKinney said. "But if we had a clear system to file those complaints, I would guarantee they would go up."
He said he rarely hears people in the community talk about diversity in Omaha police. Asked what solutions would make things better, McKinney said independent community oversight with subpoena power is the biggest one for him. He also listed greater efforts to ensure officers are properly tracked for misconduct and making that information available to the public, and "more intentional involvement in the community."