Jelane Stanley was not at all surprised to learn that Nebraska's Dakota County has become one of America's deadliest places for COVID-19. She personally knew four people felled by the virulent bug.
A friend who worked at the Tyson Foods meatpacking plant died. So did a next-door neighbor in South Sioux City who had just moved into a nursing home. She lost another friend she and her husband regularly played pitch with.
And on May 6, Jelane Stanley's husband succumbed to the virus. In fact, Wayne died on the same day as the friend who worked at Tyson. The virus almost killed Jelane and her daughter, too.
Weeks later, Jelane stills grieves the loss of her husband, a 77-year-old Vietnam veteran known for his outgoing, friendly demeanor. Over the years as Wayne drove his delivery route for an agriculture company, regular customers learned that a delivery from Wayne frequently came with a half-hour conversation.
"He was just a good guy all around, always smiling," Jelane said of her husband of nearly 49 years.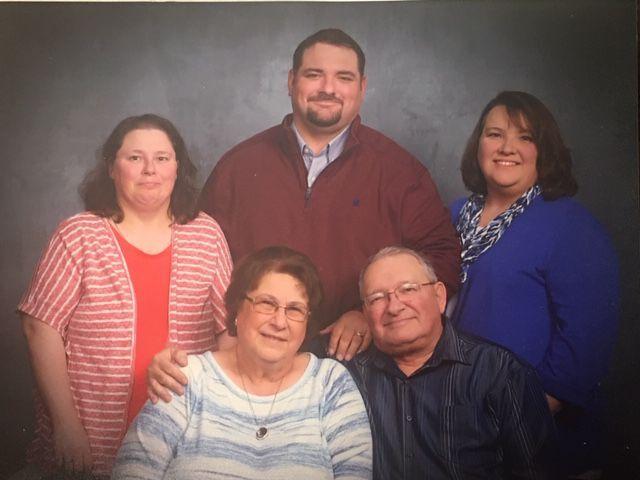 During this unforgettable year of pandemic, the novel coronavirus has cut a deadly swath across the country, to date killing 301 Nebraskans and more than 140,000 people nationwide. And while there is still much to be learned about COVID-19, the past four months have revealed much about its lethal ways.
No county in Nebraska — and few in America — has been hit as hard by the coronavirus as Dakota County. A World-Herald analysis of the nation's 3,000 counties revealed the northeast Nebraska county now has the nation's 23rd highest per-capita death rate.
However, Nebraska as a whole has fared much better, with a per-capita death rate that's less than half that of the United States.
And among those with confirmed cases of the virus, the percentage of Nebraskans who eventually succumb is only a fraction of the national rate, ranking 43rd among the states. If Nebraskans infected by COVID-19 had died at the same rate as those nationally, the state today would have more than 800 deaths.
Even compared with neighboring Iowa, Nebraska's death figures stand out as low. While Iowa's population is 50% larger than Nebraska's, the Hawkeye State's 785 deaths exceed Nebraska's by more than 160%.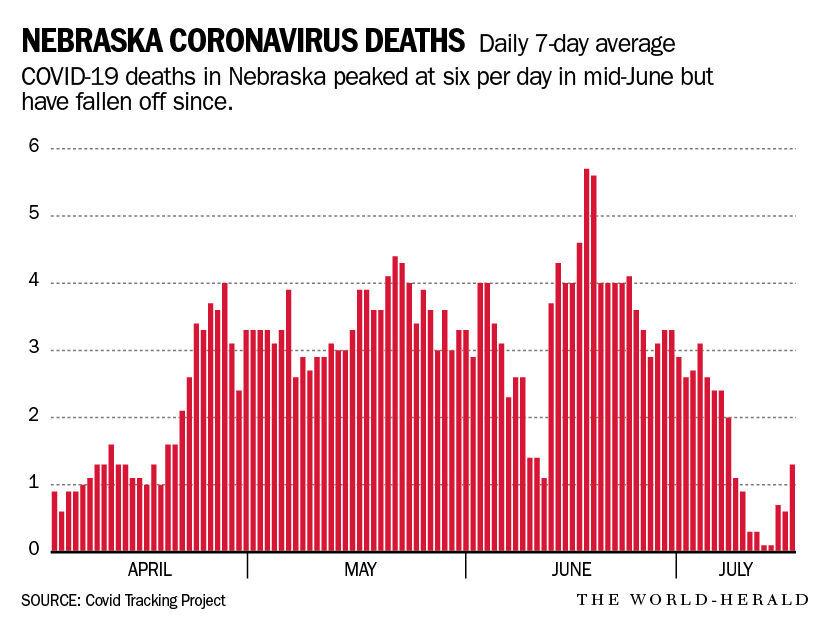 So why has the coronavirus been so much less lethal here? Infectious disease experts and doctors who have treated patients during the pandemic cite several likely factors.
Nebraska got more lead time and was able to learn more about effective treatments for the illness after it had already struck hard in New York City and other coastal cities.
Social distancing, of course, comes naturally in much of the state, with roughly a third of Nebraska's population living in rural areas.
A large percentage of Nebraska's cases have been tied to packing plants, where many of the people infected have been younger, stronger and better able to fend off the bug.
And Nebraska has been more successful than most states at preventing outbreaks in nursing homes, whose often medically fragile populations have become victims of some of the nation's most deadly outbreaks.
"A dramatic proportion of deaths from this pandemic are in the elderly, particularly elderly in long-term care facilities," said Dr. James Lawler, an infectious disease expert who leads the Global Center for Health Security at the University of Nebraska Medical Center. "If you look at our demographics, our cases have been skewed more to the young and middle-age adults, with fewer cases over the age of 75."
State death data does bear out just how much more dangerous the novel coronavirus has been for elderly Nebraskans.
Nearly three-quarters of the state's deaths have come among residents 65 years or older.
Of those 85 and older who have contracted COVID-19, more than one in five have died. Conversely, among those infected who were age 44 and younger, the death rate has been less than one-tenth of 1%.
Such trends have helped fuel a belief among many young people that they are invulnerable to the virus. The major coronavirus resurgence seen in states like Florida, Texas and California and a recent uptick in Nebraska have often been attributed to large numbers of young adults gathering in bars and other places.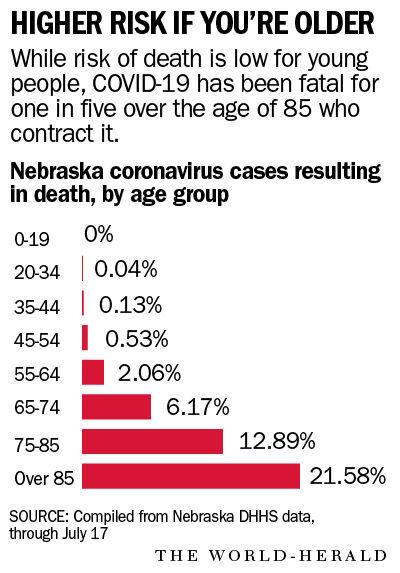 Health officials say such carefree attitudes are dangerous. While few young people die from COVID-19, it's not unusual for them to become so seriously ill that they require hospitalization and even a stay in intensive care. And they also risk being responsible for spreading the disease to their loved ones or other vulnerable people in the community.
"We've seen young people who kind of brushed it off at first and then got very, very sick, and they go back home to grandma and grandpa, and they got sick much quicker," said Dr. Doug Moore, medical director of critical care for CHI Health and an assistant professor in Creighton University's school of medicine. "The take-home message here is: How can we serve our community as a whole and do our part to limit the spread and not impact our vulnerable population."
In late March, the University of Washington unveiled a new forecasting model that offered some grim predictions.
It projected that even with social distancing, 442 Nebraskans would die from COVID-19 by the time the virus ran its course in early July. The model predicted 777 deaths by that time in Iowa, and more than 84,000 nationally.
At the time, no one really knew what was going to happen. The virus was just beginning to take off, with Nebraska having recently recorded its first four deaths. Some scoffed at the projections. But they've arguably turned out to be more right than wrong.
By July 1, Iowa had exceeded 700 deaths, and the United States had seen over 50% more deaths than the model had predicted. But the Nebraska projection significantly overshot the mark, with the state's actual deaths falling about one-third below it.
Still, the 301 deaths in Nebraska as of Saturday are notable. That's more people than have been killed by traffic accidents in the state in any year since 2002.
At the peak last month, six Nebraskans per day were dying from COVID-19. Those numbers came despite all the orders and recommendations seeking to stop the spread. And some parts of the state have been particularly slammed.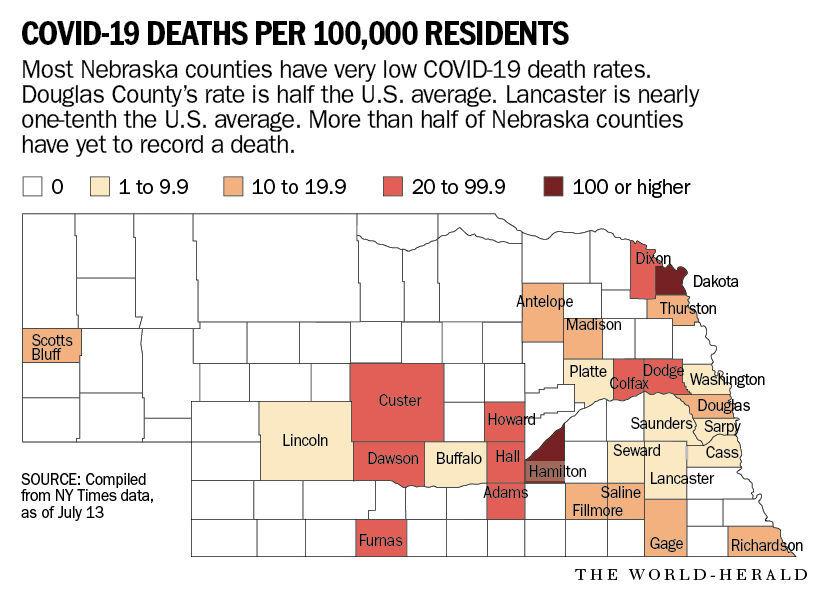 Merlene Hughes' friends sometimes jokingly called her "The Bookie" because of her penchant to want to place a bet on just about anything. But in the end, it appears one of the biggest gambles the South Sioux City resident ever took was just showing up for work.
She worked in the packaging department of Tyson's massive packing plant in Dakota City, a plant so big that in a day it churns out enough beef products to feed 18 million people.
Working from home is not an option at such plants, and the demands of the fast-moving production line make social distancing difficult. Thousands of workers stand nearly elbow to elbow doing work that was often grueling and dangerous even before the pandemic.
She was sent home and began showing other symptoms, including difficulty breathing. She ultimately was hospitalized in intensive care.
Then on May 6 she died. It was her 67th birthday.
Hughes was a friend of Jelane Stanley, who used to babysit Hughes' children while she was at work, and the families continued to see each other at holidays. Stanley described her friend as a colorful person who worked "very, very hard" to support her kids.
In the end, more than 700 of the Tyson plants' 4,500 workers tested positive for the virus, and published reports indicate at least three have died. And the plant helped fuel a wider outbreak within Dakota County and the surrounding region.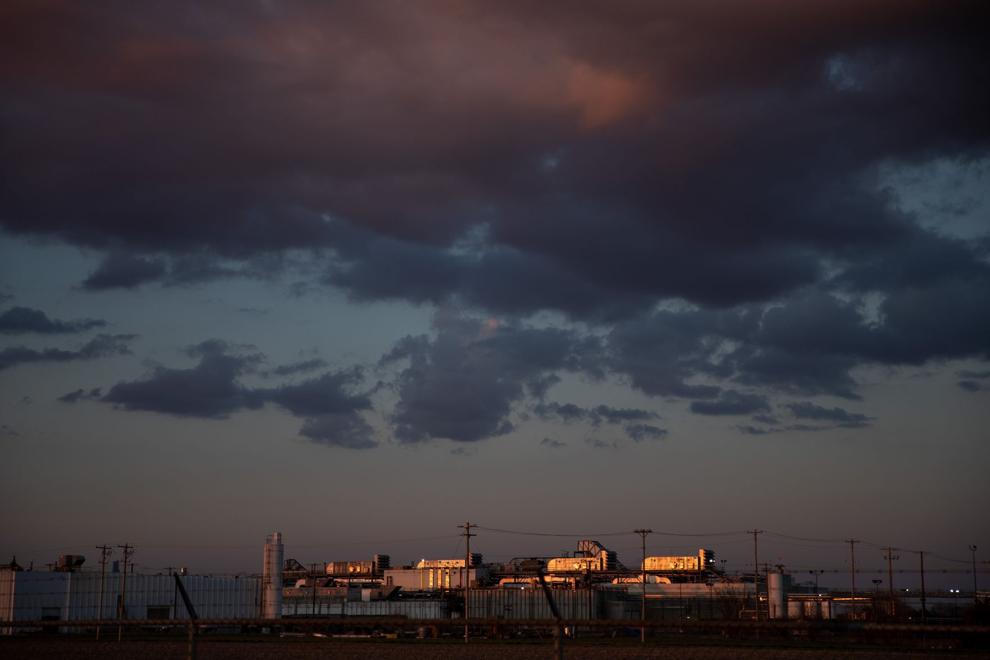 The county of 20,000 as of last week had recorded 38 coronavirus deaths — about one out of every eight deaths from the virus in Nebraska.
Besides the sheer number of infections, UNMC's Lawler said the demographics of Dakota County also likely contribute to its high death rate.
Nearly one-fourth of the county's population is Latino, and there are significant numbers of Native Americans and immigrants. It's long been known in public health circles that such populations often have poor access to health care and much higher rates of chronic medical conditions, including diabetes and heart disease.
The counties with the nation's very highest death rates likewise show large minority populations. The four counties with the highest per-capita deaths are all impoverished counties in rural Georgia with large black populations. Ranking No. 7 is a New Mexico county that's home to the Navajo Tribe.
"Anywhere there are health disparities and difficulty accessing health care, that's going to contribute" to more deaths, Lawler said.
Other meatpacking counties have also posted some of Nebraska's highest COVID death rates, including Hall County, home to Grand Island. But a number of Nebraska counties also stand out for their low mortality rates.
Fifty-two of Nebraska's 93 counties as of last week had not yet recorded a coronavirus death, making Nebraska one of about a dozen states nationwide where a majority of counties have not seen a COVID fatality. And even in Nebraska's two most populous counties, death rates are low.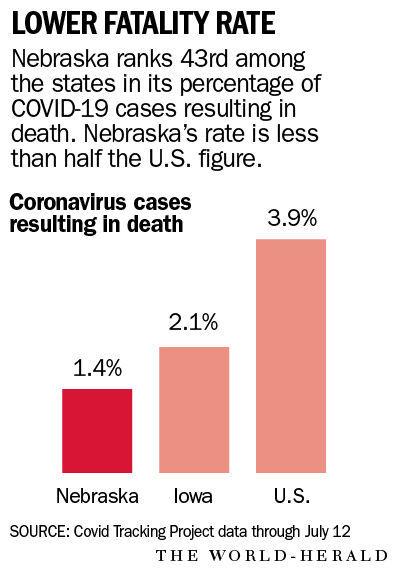 Douglas County as of Friday had seen 113 deaths, but its death rate was less than half the U.S. average. The death rate in Lancaster County has been remarkably low, almost one-tenth the national rate, though officials in Lincoln are now expressing concern about the implications of a recent surge in new cases.
Largely due to the large numbers of meatpacking cases, Nebraska has ranked high in infections, now 17th on a per-capita basis. But its per-capita death rank is 31st.
And Nebraska also stands out for its case outcomes. The percentage of Nebraska coronavirus cases that have resulted in death ranks among the lowest in the country.
As of last week, some 1.4% of Nebraskans who had contracted COVID-19 had died, the eighth lowest percentage in the country. The U.S. percentage was 3.9% and Iowa's 2.1%. If Nebraska's health outcomes had been more like Iowa's, the state would have seen 160 more deaths by now.
Doctors who fought the virus in Nebraska said the state tried to take advantage of what was learned by hospitals in New York City and other places where the virus first hit.
"We used every moment we had to prepare," said Dr. Nikhil Jagan of CHI Health, who found himself on the front lines of the COVID-19 battle in Grand Island when Hall County emerged as Nebraska's first hot spot.
Jagan said the first patient he saw was very sick and died within a day. In patient after patient, their lungs were failing, the progression often rapid.
But over time, he and his colleagues learned from experience and shared their knowledge throughout CHI's network. Stepped-up testing allowed cases to be caught earlier. Outcomes continued to improve.
"Every day there was something new being learned," Jagan said.
Lawler said the high survival rate Nebraska has seen is also likely a product of the fact so many of those infected were younger. The grueling work in packing plants is not for the old or feeble. And he thinks lower deaths in nursing homes have also played a very significant role.
According to federal data, 134 of Nebraska's coronavirus victims lived in nursing homes. For the size of its nursing home population, that's the 14th lowest death rate among the states.
"We have done a good job in general in our nursing homes and long-term care facilities to prevent big outbreaks," Lawler said.
Such outbreaks do make a difference. Hamilton County, which has the second-highest COVID-19 death rate in Nebraska and the 56th highest of any county in the nation, was the home of a significant nursing home outbreak that killed at least 13.
Overall deaths in Nebraska have fallen off in recent weeks to about one a day. But with cases surging again, particularly among young people, doctors and public health officials are concerned.
If the past scripts are again followed, Lawler said, those cases are going to contribute to higher deaths in Nebraska weeks down the road. And it's preventable. Wearing masks and social distancing have proven to save lives, he said.
"If young people are getting infected, they are transmitting that to older folks who usually are not so lucky," he said. "They are putting their parents and grandparents, their friends' parents and grandparents and the entire community at risk."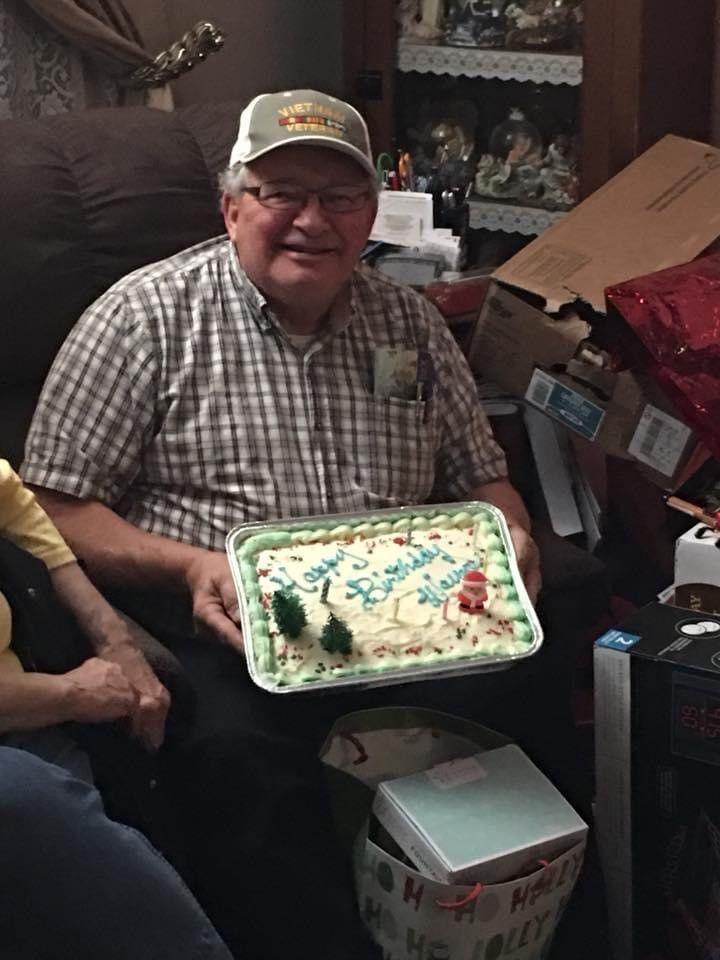 Jelane Stanley can attest to how devastating COVID-19 can be for those both young and old.
She's not sure how she and her family first became infected. They had not recently been around anyone who had the virus.
She and Wayne first became sick together, though she was the sickest of the two and was the first to end up in a Sioux City hospital on April 26. She recalls as she labored to breathe, she at one point asked her caregivers about her chances to live.
We don't think you will make it until Monday, she was told.
Her husband also got worse, and soon they were in beds side by side in intensive care. Wayne was struggling so badly to breathe he was wearing an oxygen helmet that made him look like a spaceman. Even lying next to each other, they could communicate only through hand signals.
Jelane eventually got better and was moved out of intensive care. But by then, 45-year-old daughter Barbie was also hospitalized with the coronavirus. She took her mom's place in the intensive care bed next to her father.
On May 6, there was commotion among nurses in the room, and Barbie could see her father was near the end.
The nurses took her hand and put it in his. A few minutes later, they hugged her and told her that her father was gone. At the moment, Barbie didn't even have enough strength to cry.
"I was afraid we were going to lose her, too," Jelane said.
Barbie isn't sure she would have survived had she not become the first patient at her hospital approved for use of remdesivir, the first drug shown to be effective in treatment of COVID-19. She felt immediate results.
Jelane was finally released on May 26, four weeks after first coming ill. Barbie didn't get out until June 15, her hospitalization lasting more than six weeks.
Now they're both still recovering together at Jelane's home. And the extended family, including Wayne and Jelane's three kids, their spouses and six grandkids, ponder a future without Wayne.
Jelane misses her husband, who was always there for her and the kids. They did everything together. She thought about the three-couple card-playing group they were in, one that will never get together again.
"We lost two of our men," she said.
She hopes more people heed the warnings and start taking the virus more seriously. And she looks forward to when she can once again get out of the house and have coffee with friends.
"I can't wait until things get back to normal," she said.
She was of course talking about the next normal. Because after COVID-19, she knows life for her family and countless others in Nebraska can never be the same again.
---
Feel-good moments in Nebraska amid the pandemic
Videos: Life in Nebraska amid the pandemic
Nebraskans have shown a wealth of emotions while facing the coronavirus pandemic. We have unleashed a wave of creativity to adapt in the world of social distancing. 
Watch a few bright moments our staff has collected while telling the story of this unprecedented period in history.