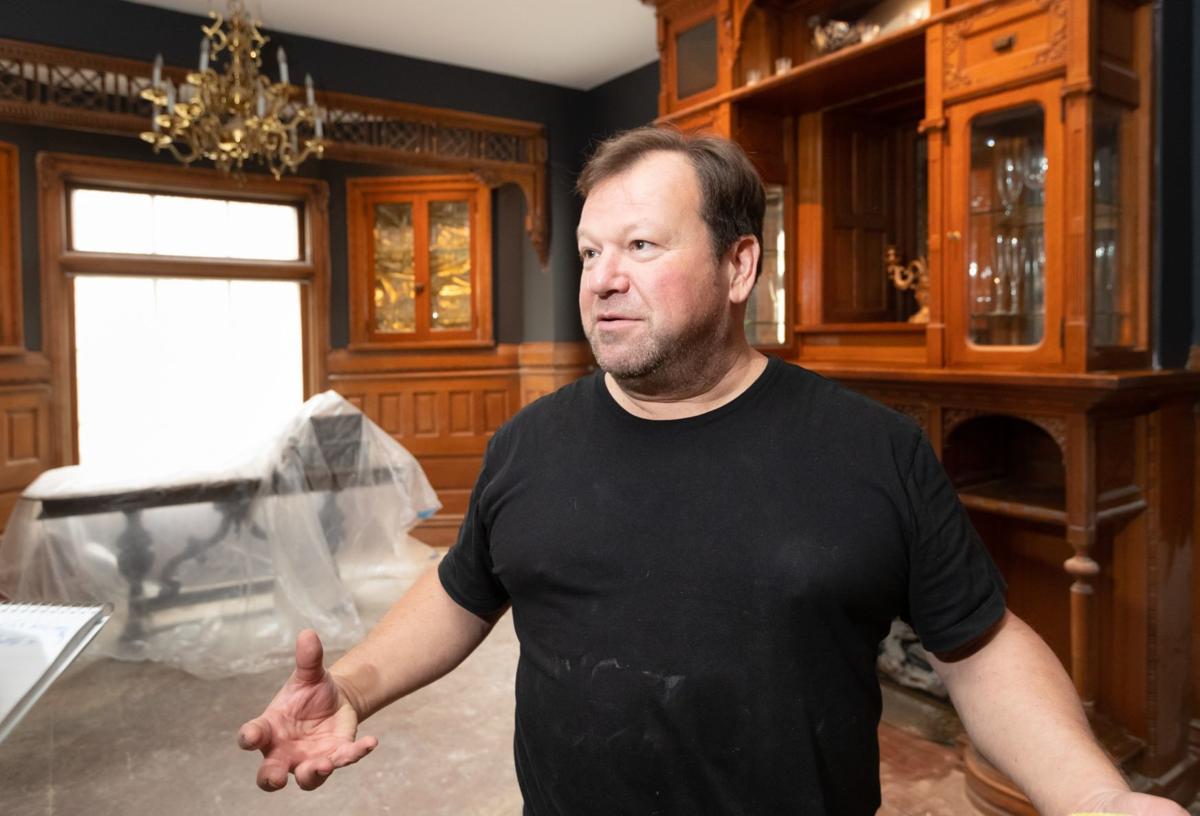 Nebraska Democrats are asking their U.S. Senate candidate to quit the race after he sent staffers text messages that the state party described as "sexually inappropriate."
Omaha baker Chris Janicek sent a group message June 4 to at least five people, including a female staff member who subsequently filed a complaint with the Nebraska Democratic Party. His text said they needed to "get her laid," referring to the female staffer, who has since quit the campaign.
Janicek has apologized and said he's staying in the race.
"This is a moment in time where I made a terrible mistake in a text message," he said.
The World-Herald obtained copies of the text messages. Janicek's texts described lining up multiple partners for group sex with the staffer and suggested that the "three guys" could be paid.
"Thoughts?!money" he wrote.
Janicek said that his texts did not come out of the blue, that his messages reflected the tone of an earlier office conversation he overheard. A lawyer for the female staffer said no such conversation involving her occurred.
The state Democratic Party issued a press release Tuesday announcing that party officers had asked Janicek to withdraw from the race last week, once the texts were brought to their attention. On Monday, he declined.
That's when the party went public in pressing him to withdraw from the race.
Nebraska Democratic Party Chair Jane Kleeb said the state party would provide no support to Janicek's campaign and neither would the national party. Janicek is running this fall against GOP Sen. Ben Sasse.
"Our Democratic Party has no tolerance for sexual harassment," Kleeb said.
The Sasse campaign did not immediately respond to requests for comment.
Scott Howitt, Janicek's spokesman, said that the comments were indefensible and inappropriate and that Janicek said so within six minutes of sending the texts. He said the campaign has owned the mistake and learned from it.
Janicek also apologized in a text to the group: "I hope everyone understands, including you … that this is a joke … I'm going on no sleep and a bunch of exuberant excitement and I think I was out of line now that I read my text back I apologize."
Sign up for World-Herald news alerts
Be the first to know when news happens. Get the latest breaking headlines sent straight to your inbox.
Janicek said that he apologized to the staffer at her home and that she accepted the apology. But the lawyer handling her complaint, Democratic Party activist Vince Powers, said she did not accept his apology and still wants him out of the race.
"Anyone who reads the text knows that Janicek should not be a candidate for high office," said Powers, who said the staffer does not want to speak publicly. "My client has done nothing wrong, and by prolonging the inevitable he's only made it worse."
Omaha-area House candidate Kara Eastman was one of many Democrats calling on Janicek to drop out, saying she was "repulsed" by the statements. Her political consulting firm, Kara Eastman Partners, had worked with Janicek's campaign into mid-2019.
Janicek has until Sept. 1 to file paperwork with the Nebraska secretary of state to withdraw from the race. The party could replace him if he resigns before that date.
Janicek said he will not step aside. He said state party leaders have opposed his candidacy from the beginning, in part because he is a conservative Democrat who values gun rights and is personally against abortion, though he supports a woman's right to choose.
Another factor: He said he told Kleeb he might run against her for state party leadership in 2018.
State party officials have denied any bias against him and said they want a standard-bearer who treats men and women "with the dignity and respect they deserve."
Janicek, who owns Cupcake Omaha, was the most experienced candidate in this May's seven-way Democratic primary for Senate. He had finished second to Lincoln grocer Jane Raybould in the party's 2018 Senate primary. He has made frequent appearances over the years on local talk radio.
Janicek won the 2020 primary with 43,212 votes. His next two closest competitors were community organizer Angie Philips, who received 33,475 votes, and mental health practitioner Alisha Shelton, with 31,516 votes.
Philips, reached by text message on Tuesday, said she and her campaign were discussing with Shelton the best way "for our community to move forward right now and how we can be part of the solution, together."
"Nebraska will have a strong woman candidate to vote for to represent Nebraska in the United States Senate," she wrote. "Because that's what Nebraska deserves and that's what girls do."
Shelton said Tuesday that she was "deeply disturbed that this brave individual experienced sexual harassment in that manner." She said she is a sexual assault survivor.
Shelton said she was "prepared to run as a write-in candidate against Chris Janicek with the support of Angie Philips." But state law appears to prevent candidates who lose a party primary from filing as a write-in candidate unless the winner leaves the race.
If Janicek stays in the race, party insiders say at least one Democrat could enter the race as write-in candidate and secure the party's backing.