The first technology library in the United States could be demolished as part of evolving plans to reimagine Omaha's public libraries.
The building that houses Do Space, at the southwest corner of 72nd and Dodge Streets, could potentially be razed, and a new central library built on the site, according to two library officials.
The possible incorporation of the private digital library, which was founded in a former Borders bookstore, is just one aspect of plans that are developing and far from settled.
As The World-Herald reported in September, those plans include demolishing the downtown W. Dale Clark Library, building a new downtown branch and establishing a new central library.
The overall project could cost upward of $100 million, according to the head of the Omaha Public Library.
Omaha Public Library and city officials have eyed the Dodge Street corridor from 72nd to 90th Streets as a possible location for a central library since a 2017 library facilities master plan pointed to the area.
Omaha fundraising organization Heritage Services, which has led a series of local civic philanthropic efforts, is planning a private campaign to pay for the project.
All options are on the table, Library Board President Mike Kennedy said of the potential central library location, and nothing has been decided.
"Where Do Space is, there's been talk about adding to it, or drastically changing the property," Kennedy said. "We're still looking between 72nd and 90th. We're willing to let Heritage come up with a final vision, and we're willing to explore joining them in that project."
Kennedy added that Heritage is committed to ensuring the library system has the resources and the tools needed for the future.
"Just looking at technology, if we could combine the best of Do Space with what we do in the library — that's common sense," Kennedy said.
Do Space, which opened Nov. 7, 2015, is a digital library where members can use computers and other technology like 3-D printers. Heritage raised about $7 million to renovate the former store and equip it with computers and software. A private nonprofit corporation, Community Information Trust, was created to run the operation.
Laura Marlane, executive director of Omaha Public Library, said in a recent interview that early discussions about the central library explored the possibility of putting an addition on the Do Space building. But, she said, talks moved to constructing a new building when it was determined an addition wouldn't be large enough.
"As far as I know, that's the plan, but I don't know what other conversations have been had," Marlane said.
Rebecca Stavick, the CEO of Community Information Trust, the nonprofit that oversees Do Space, referred questions on Do Space's potential involvement to Heritage President Rachel Jacobson.
Jacobson said options are still being explored and stressed that the final plan won't be completed without input from stakeholders and the community.
"We're looking at a lot of different options, and the project keeps evolving," Jacobson said. "We have so many partners to bring to the table, and we want to make sure the stakeholders are all brought in, and we're listening to their feedback."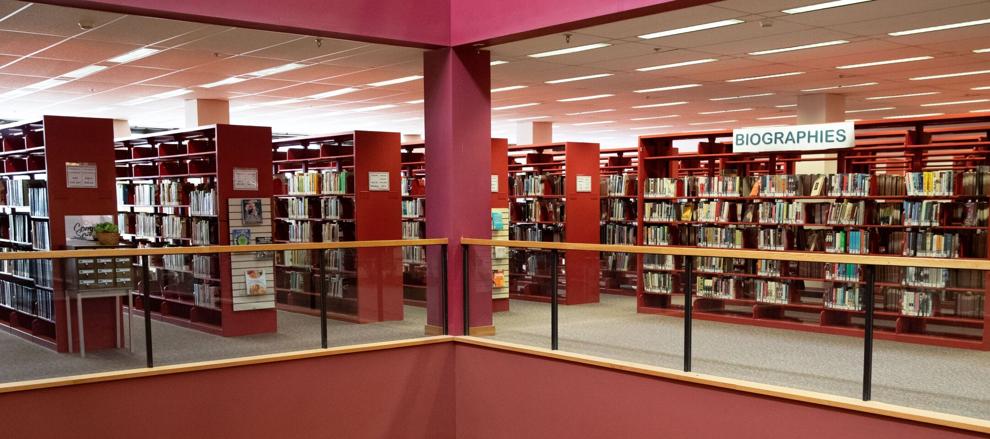 Stakeholders could include the city, the Omaha Public Library, the Omaha Public Library Foundation, Heritage Services, Community Information Trust, Do Space and others.
Like many details of the potential project, the overall cost remains in flux, but Marlane said she has heard a projected number of about $100 million.
Jacobson said she could not confirm such details as the potential cost. But, she said, the cost would likely be comparable to recent Heritage projects and would represent a "significant investment."
The nonprofit's most recent project is the $101 million Kiewit Luminarium, a science museum under construction in Lewis & Clark Landing along the Missouri River. The science center, which is being fully paid for by Heritage donors, will complement the ongoing revitalization of Omaha's downtown and riverfront parks.
Still, she emphasized that Heritage is in the process of exploring what's possible.
"We want to make sure whatever we do, we're doing it for the benefit of the city and (Omaha Public Library)," she said.
Jacobson said she has appreciated feedback on social media and through community forums hosted by library leaders during October.
"There's been a lot of constructive and thoughtful stuff," she said. "Omahans love their libraries, and they need and deserve more investment."
Some forum participants raised concerns that stemmed from an anonymous Twitter account that claimed Heritage and local officials were trying to privatize Omaha's libraries. The account cited a September 2020 email from Heritage to the city. Project organizers say the plans discussed in that year-old email are no longer under consideration.
Omaha Mayor Jean Stothert criticized the posts, which she called a false and "irresponsible social media campaign."
"Social media posts suggesting the Omaha Public Library system will be privatized are completely false," she said in September. "There is no such plan."
Kennedy stressed that the community will have a voice in the libraries' future.
"We have not been formally proposed anything yet from Heritage," Kennedy said. "When that happens, there is going to be public discussion that will involve the community about the proposal. Heritage is looking at the public input, they want to do this right."
Marlane said many of the requests made during the forums and through more than 1,000 surveys echo requests that have been made in the past 20 years.
Requests for more staff, money for books in all formats, better faxing and printing options, and the continuation of curbside service, which began during COVID, were all common themes during the forums, Marlane said. Library officials are still working to analyze the online surveys.
Marlane said she expects a strategic plan to be ready to present to the Library Board of Trustees in March.
Stothert said Friday that library officials "recognize the benefits of a strategic plan to provide the services that are important to our library patrons."
"Community input is a critical part of the strategic planning process," Stothert said. "I am confident the library administration will present a plan to the trustees that outlines a strong future."
---