Tails were wagging and tongues sagging on a spectacularly sunny Sunday for the Margre Durham Walk for the Animals outside the Nebraska Humane Society.
"It's a beautiful day, and we deserve it," Humane Society spokeswoman Pam Wiese said. "We've had a couple of years when it was a little wet and muddy, so we are excited to have this on such a great day."
The 32nd annual event, the shelter's biggest annual fundraiser, returned to live action after going virtual in 2020 because of the pandemic. It returned to the field just east of the shelter's main building at 8929 Fort St., and included a 5K run and a 1-mile walk with or without pets.
Other attractions included an adoptable dog parade, a photo booth, a kids zone and a beer garden with live music from The Pluckin' Nutz. Food was available to purchase, and vendors and sponsors gave away tons of free swag.
As usual, some of the littler dogs took in the excitement from baby strollers. Those pups had nothing on Zoey, an 11½-year-old pug touring the grounds in a remote-control BMW operated by her owner, Melissa Loetscher of Omaha.
Dressed in a ballet costume complete with a crown, Zoey regally greeted her adoring fans with sloppy, wet kisses. Loetscher stopped the BMW often to allow for photos.
"I like that Zoey loves (riding in the car)," Loetscher said. "She really loves all the attention she gets. It's just a lot of fun."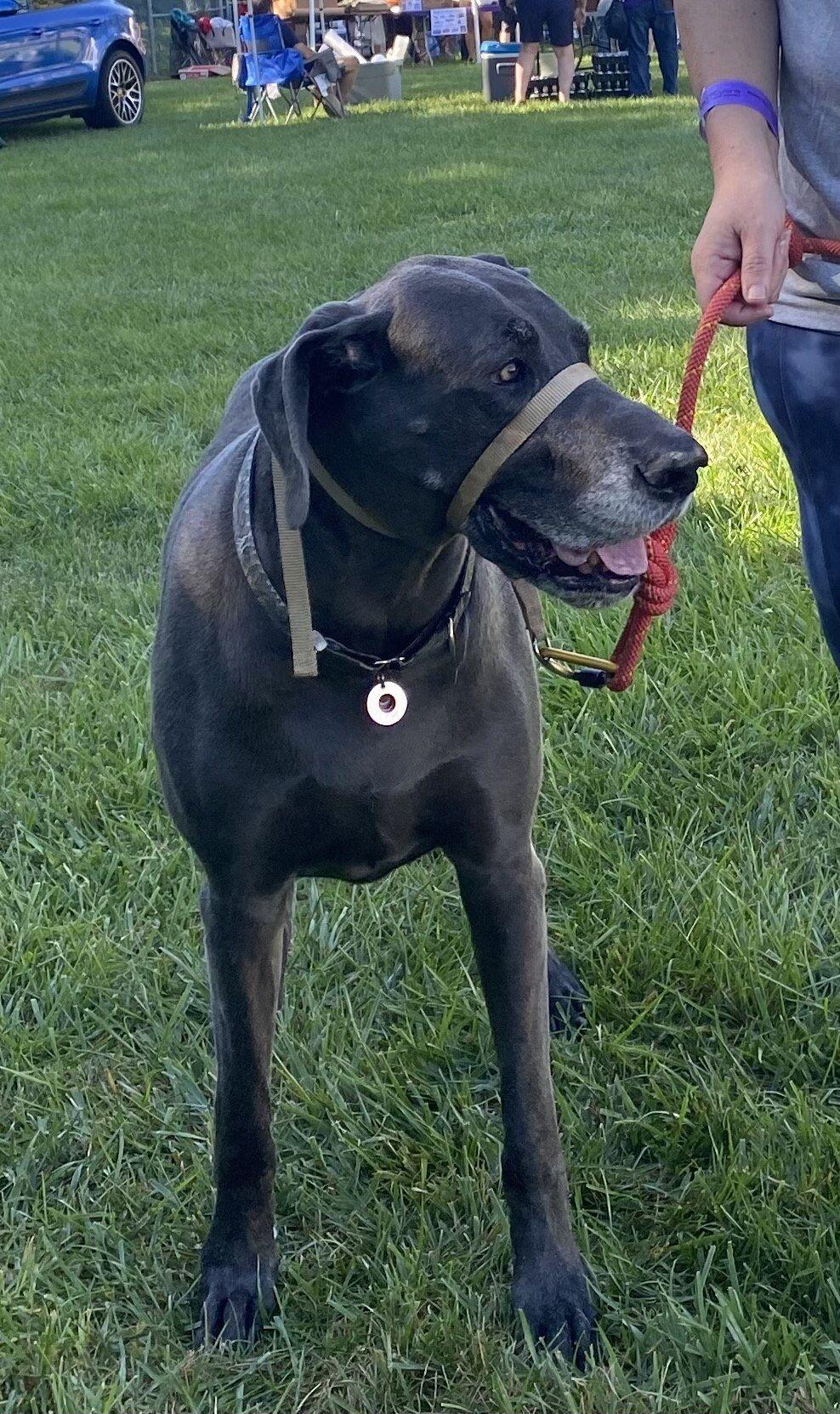 At the other end of the size spectrum, Arianna, a 5-year-old blue Great Dane, was no less accommodating for photos or a friendly ear scratch. The 135-pound gentle giant and her owner, Beth Maysles, are regular attendees of the Walk for the Animals because it's a wonderful social event, Maysles said.
"So many people want to see her, touch her and pet her," Maysles said. "She is a universal leveler for people, and they want to get involved with her."
Garrett Wills brought his dogs Luca, 6 months old, and Toby, 4 years old, so they could meet and socialize with other dogs. Both dogs are mixed-breed border collies that lavished attention on their handlers, Wills and Jamie Dittrich.
"It's nice, after the pandemic, to get out and be around other people and dogs," Wills said. "It gives the dogs more chances to socialize, and I like learning about all the different rescue groups here."
Over at the photo tent, Mitch Miller of Foto Fun Spot has been volunteering to snap pictures of owners and pets since 2016. The tent is sponsored by Urgent Pet Care, and the photo prints were free.
It's not just dogs that have had their photos taken, he said. Goats, chickens and miniature horses have all strolled into the photo tent in years past.
Some pets, like Lexie, a 3-year-old golden retriever, use the time in the shade of the photo tent to stretch out in the grass and beg for a belly rub. Her owner, Kristen Sales of Omaha, said Lexie was really enjoying her first visit to the event.
"It's really crazy, but it's fun," Sales said. "She loves the other dogs and the people, and she really loves belly rubs."
Wiese, the Humane Society spokeswoman, said the event attracted over 700 registrants, who solicited donations to the shelter from friends and family. The fundraising goal of $300,000 was within reach even before the gates opened, she said.
"Thirty-two years of this event is amazing," Wiese said. "But I think it will endure because walking and dogs just go together. I hope that if people couldn't make it today, they will save the last Sunday in September in 2022 to come out and check it out. It's a wonderful way to spend time with your whole family — including the dog."
---