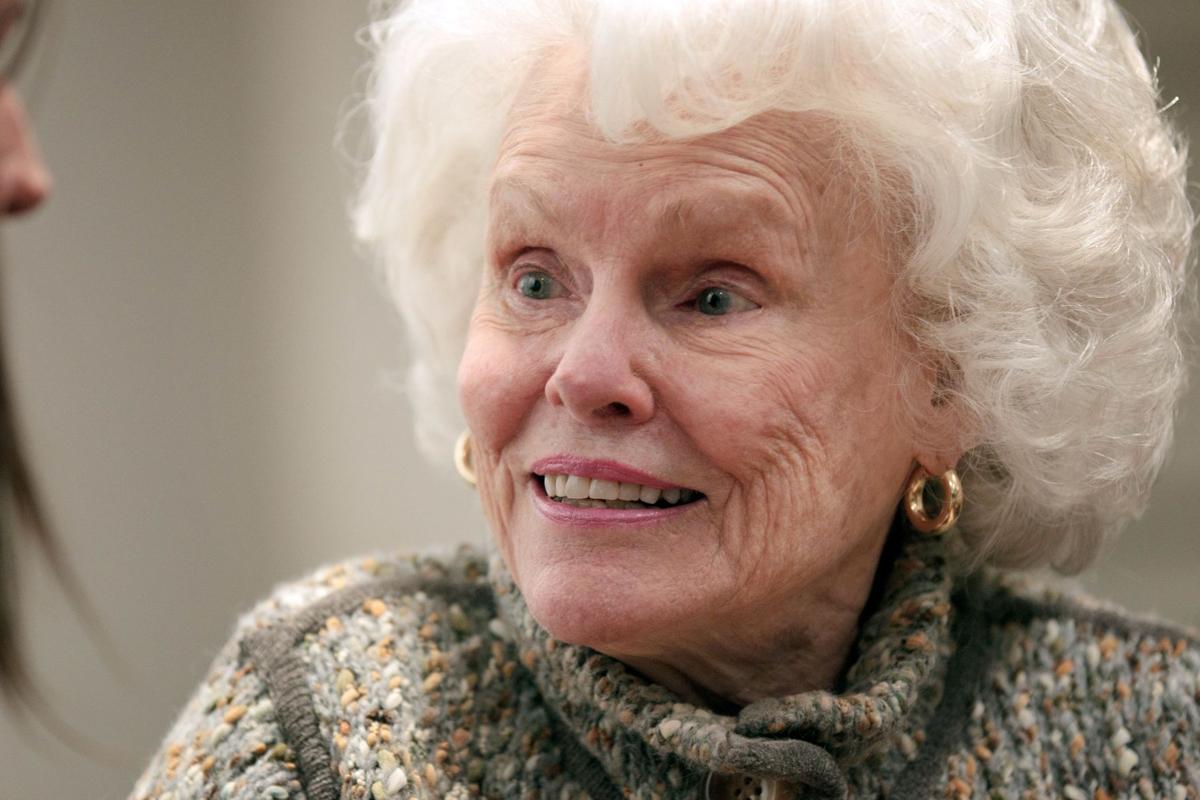 After Warren Buffett announced more than a decade ago that he would donate his fortune to charity, the news unleashed a flood of individual requests for help.
The Omaha billionaire didn't ignore such requests. He instead sent them off to his big sister, Doris. And she and her assistants at her charitable foundation would pore over each, searching for people who, through no fault of their own, had fallen on hard times.
Countless times, those down-on-their-luck people would get a hand up from Doris and her Sunshine Lady Foundation: a man who needed a glass eye, a tombstone for a child who died, a woman with a disability who needed a car to get to work.
"These are decent people who just didn't have the breaks somebody else did," Doris once said.
Doris Buffett, who used the wealth from her brother's investment success to make a name for herself through a very personal brand of retail philanthropy, died Tuesday at her home in Rockport, Maine. She was 92.
Warren, in an interview on Thursday, described his sister as a bighearted and talented woman who was "far more philanthropic than I am."
"She gave time as well as money," he said. "She did that 10 hours a day. She really wanted to know their stories."
Doris Buffett said her drive to help others was rooted in growing up in Omaha during the Great Depression, when she saw classmates gaunt from a lack of food at home. She said it also grew out of her own life disappointments, which included four divorces and the loss of millions when an investment firm failed.
Most of her charitable work was focused on cities on the East Coast where she spent much of her adult life, including Fredericksburg, Virginia, Boston and Rockport.
But she always kept a soft spot for the city of her childhood. Two years ago, she made her last visit to Omaha, and she and her brother drove around looking at former homes and other landmarks from their youth.
"I feel very kindly toward Omaha," Doris once said. "I've lived in a lot of places. But where you were raised, that's always home."
Doris Eleanor Buffett grew up in Omaha's Country Club neighborhood with her parents, brother and younger sister, Bertie.
Warren Buffett said his older sister was smart, talented and engaging. When they spent time around their grandfather's grocery store in Dundee, it was clear to Warren that Doris was among his grandfather's favorites.
Doris attended Benson High School before their father, Howard, was elected to Congress and moved the family to Washington, D.C. Doris graduated from high school there and had her eyes opened to a wider world.
But the message from her mother — with whom Doris had a complicated and at times troubling relationship — was that she needed to get married "while she still had her looks." Warren said such messages sapped his sister of her self-confidence.
"She would have been a superstar in any kind of activity involving brains and personality," Warren said. "If she had been born 20 or 30 years later, she could have been Johnny Carson. She was funny and smart and very fast."
Doris ultimately met her brother's college roommate, Truman Wood, and they were married. They moved to Denver and then Houston and then back to Omaha for his job with Conoco Oil. They had two daughters and a son together.
Doris also became one of the original seven investors in her brother's investment trust, the origins of what would become Berkshire Hathaway — an investment that would set her up for a fortune of her own.
But other things happened during her early adult years. She divorced and moved back to the Washington area. She remarried and divorced, and then did so two more times. She never publicly spoke in great detail about those years.
"I just made some grand mistakes," she once told The World-Herald.
She even lost her Berkshire fortune through some bad investments, ending up in debt when a Washington-area investment firm failed. She said in a candid 2010 interview with Charlie Rose that she was so ashamed about what happened, she could hardly talk to her brother.
But then in 1996, her mother died, and Doris and Bertie inherited a family investment trust. The trust had been established by their father, but her brother's investment acumen had increased it to more than $300 million.
That same year, Doris established the Sunshine Lady Foundation and started her unique charitable work.
Often her help for others would come from out of the blue, with Doris reaching out after reading a story in the newspaper or hearing through word of mouth. And then she started answering the letters her brother received. Her charity grew at one point to a staff of over a dozen.
Her checks in response to letters averaged about $5,000. They also often came with some stern advice, like suggesting that one grandmother who was struggling financially could earn extra money by babysitting. Doris often sent information on local credit counseling services.
"We're supposed to empower but not enable," Doris told a reporter. "It's a fine line, and I think it makes them more responsible in the end."
Warren Buffett said he was amazed when he went to the office one day and saw his sister at work. She would pass out the letters to her assistants for review, but Doris made all the final decisions and would reach out to each recipient herself.
"It would have made a good movie," he said. "She was empathetic, but in a very hard-nosed way. You didn't want to try to con her."
Not all her charitable gifts were such small amounts. She donated $40 million to help thousands of victims of domestic violence pay for college, and $1 million for research into a genetic syndrome that caused birth defects in children.
She also donated substantial sums to help people with mental illness and to fund college education for prison inmates. Warren Buffett has a picture on his office wall of his sister and him attending a 2010 graduation ceremony in New York's famed Sing Sing prison.
Doris eschewed giving money to what she jokingly called "the SOBs" — the symphony, opera and ballet — saying she wanted to help people in need. During her life, she gave away hundreds of millions of dollars.
Doris later left her foundation after a dispute with the staff and started another called the Letters Foundation. Her life and charitable works were detailed in a book titled "Giving It All Away: the Doris Buffett Story." She also in 2018 wrote her own book, "Letters to Doris: One Woman's Quest to Help Those With Nowhere Else to Turn."
Alex Rozek of Boston, Doris' grandson, said Doris died of natural causes at home in Rockport while surrounded by family and listening to Billie Holiday, one of her favorite singers.
She is survived by siblings Warren, of Omaha, and Bertie, of Carmel, California; her three children Robin, Sydney and Marshall; four grandchildren; and two great-grandchildren. The family will hold a memorial service at a later date.
During the 2010 interview with Rose, Doris was asked what she wanted her epitaph to be.
"She made a difference," she quickly replied. "Unless you do, why were you here?"
This report includes material from the Associated Press.
Notable Nebraska, Iowa deaths of 2020
A roll call of notable people who have died in 2020: