Douglas County wrapped up the old year and started the new one by tallying its highest weekly COVID-19 case count of the pandemic.
The 4,731 cases reported for the week ending Saturday were the county's highest weekly total, surpassing the 4,268 cases recorded during the seven-day stretch that ended Nov. 21, 2020.
The seven-day rolling average of new cases last week reached 700.9 cases per 100,000 residents, which also exceeded the November 2020 peak.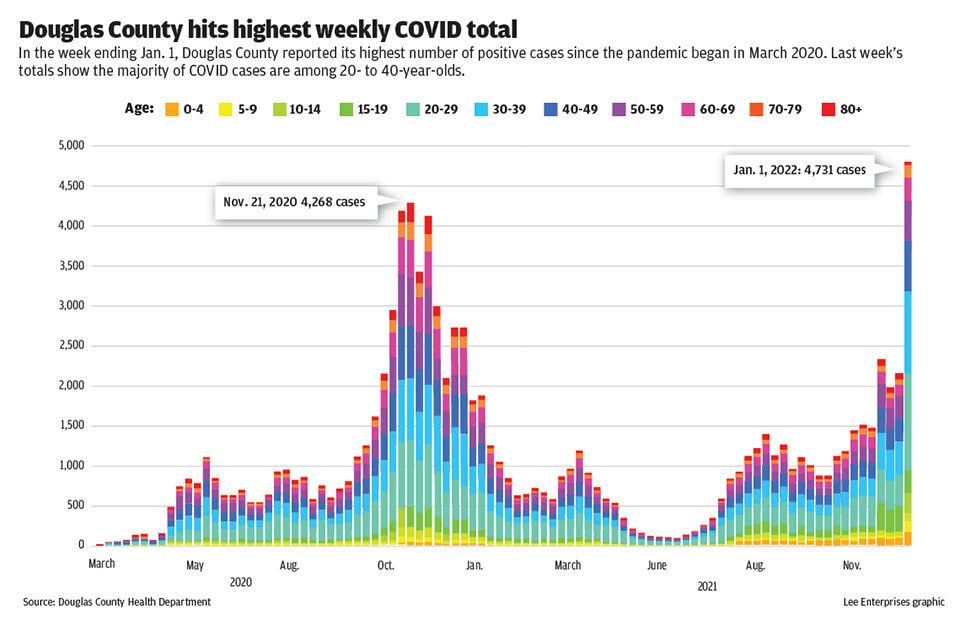 In response, Douglas County Health Director Lindsay Huse on Monday urged residents to get vaccinated and boosted and to wear masks in indoor public places. She strongly urged parents to have their children wear masks when they return to school.
The newly formalized Nebraska Infectious Diseases Society, which is made up of infectious diseases specialists from across the state, also recommended masking all students and staff in schools.
"The very high contagiousness of the omicron variant requires every step possible to prevent its transmission," members wrote in a statement. "Masking gives schools the best chance of staying open."
Statewide, Nebraska also posted its highest COVID-19 caseload in more than a year as the fast-spreading omicron variant fueled a nationwide surge in new cases.
Nebraska as a whole reported 8,575 new cases for the week ending Thursday, up 47% from the previous week's 5,826 new cases, according to a World-Herald analysis of federal Centers for Disease Control and Prevention data. That statewide count was the highest weekly tally since the first week of December 2020.
Nationwide, cases were up more than 80% last week, with nearly every state seeing rising numbers. As evidence of the omicron variant's explosive spread, the U.S. on Thursday posted a new all-time high daily case number for the pandemic with nearly 569,000 cases.
The biggest growth in cases now is in the South, with Mississippi, Louisiana and Alabama reporting that their cases had tripled in just one week. But the highest case rates continue to be centered mostly in the northeast, including New York and New Jersey.
Most Nebraska school districts, like those nationwide, return to classes this week. In addition to recommending masks, the Nebraska infectious disease group strongly encouraged vaccination for all children eligible for the shots, which includes kids 5 and older.
Nationally, the Food and Drug Administration on Monday extended emergency use authorization for Pfizer booster shots in children as young as 12. The agency also shortened the recommended interval between the first series of shots and the booster from six months to five.
The Omaha Public Schools and the Lincoln Public Schools will require face coverings for all students and staff. The Ralston Public Schools is requiring masks in elementary schools and highly recommending them in middle and high schools. The Westside Community Schools announced last week that it would require masks for all students for the first 12 days of the new semester.
Meanwhile, the omicron variant appears to be gaining ground in Nebraska.
Dr. Gary Anthone, Nebraska's chief medical officer, said Monday that omicron now accounts for between 30% and 50% of the positive coronavirus test samples that are being genomically sequenced in the state.
But omicron accounted for 77% of the latest batch of positive samples sequenced by the Nebraska Public Health Laboratory, Peter Iwen, the lab's director, said Monday.
The laboratory, situated on the University of Nebraska Medical Center campus in Omaha, likely is the largest sequencing facility in the state. Additional sequencing of samples is done at some universities, including Creighton University, as well as at a UNMC College of Public Health lab and in some commercial and federal labs.
Some studies suggest that omicron causes less-severe illness than some prior variants, including delta. A British study determined that people who contracted omicron were significantly less likely to be hospitalized than people infected with delta. Other studies suggest omicron may not spread as easily to the lungs, which may explain why it appears less severe.
But Dr. James Lawler, a co-executive director of the University of Nebraska Medical Center's Global Center for Health Security, said the more transmissible variant can make up for reduced severity through sheer volume.
In addition, he said, researchers don't yet know how effective immunity produced by an omicron infection will be against other variants. If it is like any other variant, then that immunity probably won't be nearly as good as that conferred by vaccines.
"Allowing omicron to run its course unchecked will wreck our health system and critical infrastructure," Lawler wrote.
Nebraska hospitals have been stretched for months by a combination of regular and pandemic-delayed care, as well as a high level of COVID patients. Smaller hospitals continue to face challenges transferring patients to larger hospitals.
Overall, the average of 479 patients hospitalized with COVID last week was down slightly from 490 the week before. But new hospitalizations were up from 48 a day to 52. On Sunday, the state's hospitals were caring for 516 COVID-19 patients. That included 324 in Omaha-area hospitals.
In Iowa, which is facing its own surge in cases, hospitals and clinics in the middle of the state pleaded with residents to get vaccinated and boosted in a full-page ad Sunday in the Des Moines Register: "Help. We are overwhelmed." Health system officials noted that they are caring for more COVID-19 patients than ever before and that the vast majority who are becoming seriously ill are unvaccinated.
Nebraska added 14 deaths last week, bringing the pandemic total to 3,341. The state's total COVID case count as of Thursday had reached 338,257.
Some 40,000 additional vaccinations were administered in Nebraska last week, 25,000 of them booster shots. The vaccination rate among Nebraskans continues to tick up, from 59.5% to 59.9%. But the state still trails the national rate of 62%.
World-Herald Staff Writer Martha Stoddard contributed to this report.
---