Mutual of Omaha's plan to build a skyscraper in downtown Omaha comes at a time when many workers, Mutual's included, have shifted to working remotely.
Mutual of Omaha plans to embrace work flexibility for the foreseeable future, company spokesman Jim Nolan said. Long-term, he said, workers likely will adapt a hybrid schedule, coming into the office for certain meetings or a few days a week.
But having a physical presence in downtown Omaha will help to maintain a strong company culture and may help to attract new talent, Nolan said.
Meeting in person, he said, helps to foster collaboration and creativity. 
"We've shown during the pandemic that we can be successful in a remote work environment. I think we'll be embracing that flexibility," Nolan said. "That's kind of our new working model."
Of the 125 million full-time jobs across the country, about half — roughly 60 million — can be tackled remotely, according to Gallup. 
Of those 60 million employees, Gallup found that 30% said they would prefer to never come into the office during the week. Ten percent said they prefer working all five days in the office. The remaining 60% wanted a hybrid schedule of one to four days per week, with two to three office days preferred. 
The top reasons for wanting to work from home included eliminating a commute, improving overall well-being and offering flexibility to balance family needs or other obligations.
"Put another way, a tall office building in a big city where all desk jobs can be done remotely — on any given week — will have 37% fewer desks occupied than it did that same week in 2019," Gallup CEO Jim Clifton wrote in a December blog post.
Even in this new environment, office space won't go away entirely, said Sam Nelson, director of the University of Nebraska-Lincoln's Center for Entrepreneurship.  
"It's going to be a much more hybrid scenario," Nelson said. "It's going to be interesting and neat to see how it plays out. Ultimately, it will be good for all of us, but we'll go through growing pains."
Many office workers have been eager to get back in person. Nelson said face-to-face interactions allow for better problem-solving sessions and simply are easier to have. 
But other employees are thriving under the flexibility offered by working remotely. Many of those people have been more efficient working from home or have been better able to manage work-life balance, Nelson said. 
Previously, when companies built large office buildings, it was under the assumption that every employee would work from that location. Now, some employees may opt to work remotely or under a hybrid model.
"The biggest challenge I see for companies is figuring out what that balance looks like," Nelson said.
Conagra, which employs about 1,300 workers across three buildings on its downtown Omaha campus, has a mix of employees working on campus and remotely, said spokesman Dan Hare. 
"We believe that it is important to have face-to-face interaction as part of the way we collaborate and operate the business, so having flexible work arrangements helps facilitate this," Hare said. 
Despite many workers splitting their time between the office and home, the company does not plan to change its real estate footprint in the city, Hare said. 
Conagra already downsized its real estate footprint in Omaha when it moved the company's headquarters to Chicago in 2015.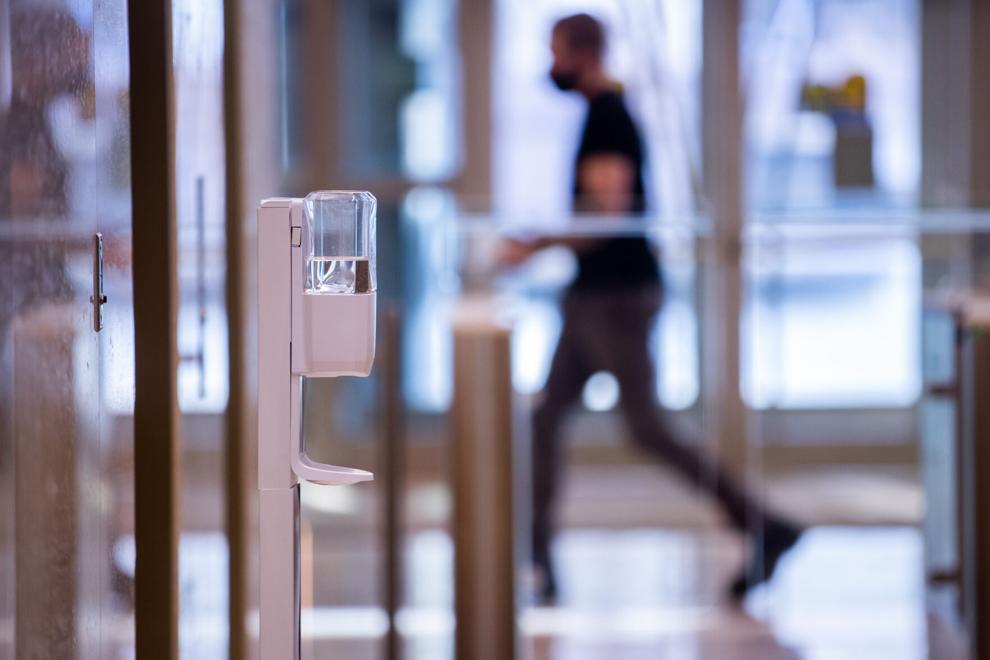 First National Bank of Omaha has a mix of employees working in the office, remotely or on a hybrid schedule. About 30% of employees are on site all the time, with another 25% working remotely. The remaining work a hybrid schedule, coming into the office two to four days a week, said Ken Bunnell, senior vice president.
With the recent surge in COVID cases, Bunnell said, employees have been encouraged to work from home if they're able.  
"Folks have expressed that they like the flexibility," he said. "It certainly doesn't work for all jobs. I believe we will see this continuing beyond the pandemic."
Bunnell said First National officials don't anticipate shrinking the company's real estate footprint in Omaha. Instead, he said, they're enhancing existing spaces by modernizing branch locations and investing in more technology. 
Office space and remote working are both here to stay, Bunnell said.
"It will continue to evolve," he said. "We and the employees will continue to adapt. The key is a more flexible environment that allows both."
Mutual officials are factoring the uptick in remote workers into plans for its new office building, which is set to be built on the site at 15th and Douglas Streets that now houses the city's main library. Nolan said the company is working with an international architecture firm to plan "what the future workspace looks like" and how Mutual can create a "dynamic, engaging and inviting workspace."
It's too early to say how much the building will cost or how many floors and workspaces the building will have. But Nolan said the building will have less square footage than the company's current 1.7 million square feet of headquarters space at 33rd and Dodge Streets.  
"Our space now is inefficient and inflexible," Nolan said. "We realize that we have opportunities for improvement there." 
Being in downtown Omaha will be exciting, Nolan said, with the revitalization of downtown parks and other amenities in the area. 
"This also will continue the positive trend that's occurring in downtown Omaha so that we do have a vibrant, busy, interesting and engaging urban core that's easily accessible," he said. 
---