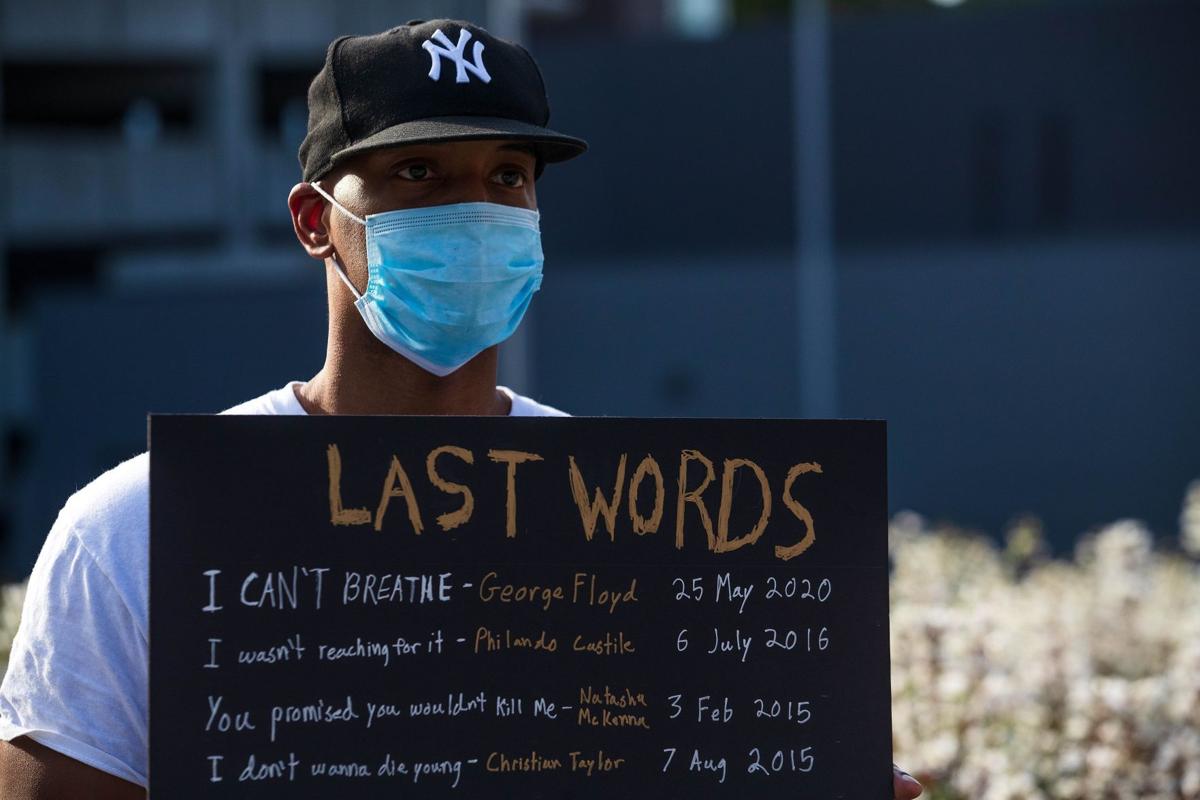 The fifth night of protests in Omaha turned deeply personal and remained peaceful as protesters took turns sharing their stories, aspirations and fears before leaving when the 8 p.m. curfew arrived.
One of the most powerful moments Tuesday evening came at the end, when the final words of minorities who had died at the hands of authorities and others were read aloud.
"I can't breathe" were the final words of three men, George Floyd in 2020, Freddie Gray in 2015 and Eric Garner in 2014.
"I wasn't reaching for it," Philando Castile said in 2016; "You promised you wouldn't kill me," Natasha McKenna said in 2015; "What are you following me for?" Trayvon Martin asked in 2012. "Why do you have your guns out?" asked Kenneth Chamberlain Sr. in 2011.
A young man, who said his name was Iggy, wrote the final words of 15 people killed since 2006 on his poster, because, he said: "Honestly, I couldn't think of anything to say, so I wrote their words."
After reading from the poster, the group held a moment of silence and dispersed for the night.
So much of the night was different from the first four. Those had resulted in the shooting death of a man, other violence, vandalism and arrests that totaled about 300. For the first time, there was no tear gas, pepper balls or police wrestling protesters to the ground.
Tuesday's crowd was noticeably smaller than previous nights — about 100 people, compared to more than 1,000 on Friday night. And it was more cohesive; there were not disparate grievances and people on the fringe spoiling for confrontation. This group was made up of people of color and their allies.
The scene of the protest had changed, too. Instead of the streets near the Old Market, the protesters rallied several blocks away on the steps in front of the City-County Building.
Police were noticeably absent, save for a few officers looking on from the top of nearby buildings, and a helicopter circling overhead.
One of the organizers, Sydnee Harris, said she has continued to come back, night after night, because change is overdue. Her grandmother, she said, was an officer in the military, and yet she's still afraid of being shot.
"I don't want my kids to go through this," she said. "I want change. We're done with this. We've been doing this for 400-years plus."
And while the protest was peaceful, farther away in the Old Market, there was a large contingent of police blocking access to the street where James Scurlock was fatally shot in a confrontation with a bar owner. Douglas County Attorney Don Kleine has ruled the shooting of Scurlock, who was black, self-defense. The man who shot him is a local bar owner, and is white.
Another young woman spoke emotionally of the pain of having her brother being locked up for months. He couldn't access his schooling, she lamented, and his younger siblings didn't understand what was going on.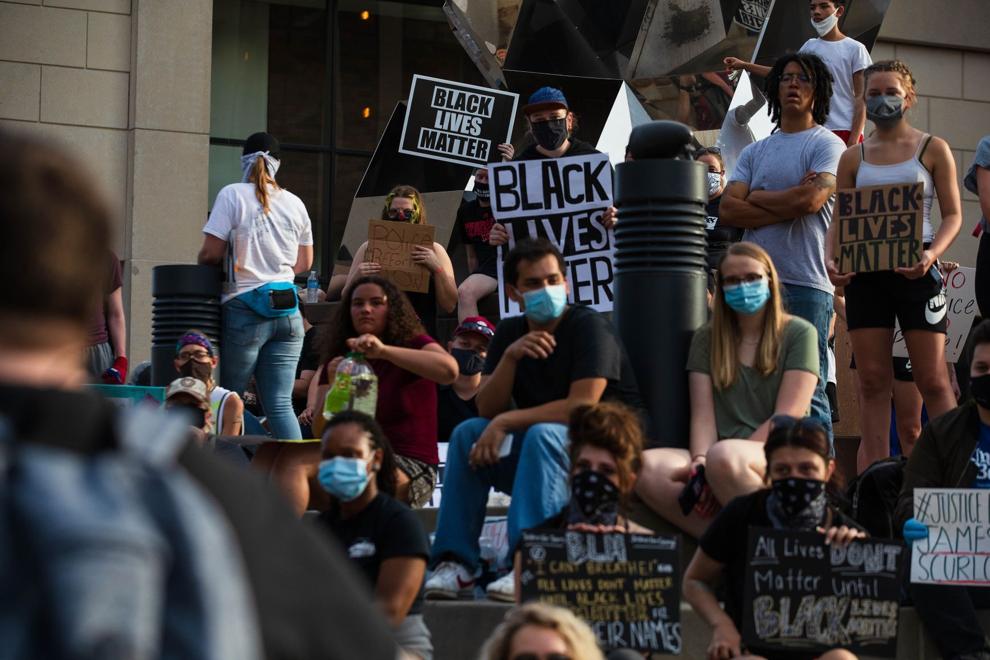 "It's a very sad thing, it's terrible," she said, adding that she worried her younger siblings were at risk of wrongful incarceration. "I'm sorry for everything that is going on here."
Her voice wavered with emotion, and she said she was speaking out at the rally so that other young people wouldn't face similar difficulties.
"I'm coming here so that you don't have to do this, you don't have to worry about your skin color, about getting locked up, about being with your friends, because of your skin color," she said. "If we don't talk, who is going to give us justice?"
Benjamin Henry II came to the rally openly armed with at least two weapons and a message for other people of color: It is good to learn your gun rights.
Henry said he has permits for his weapons. He was stopped by police but allowed to continue.
"The beautiful thing that I've seen is that a ton of people (who are) minorities have come to me and asked 'Hey, is that real? Are you allowed to do that?' And I get to say, 'Yes, yes you are.' And I get tell them the process they can go through to be able to secure themselves in this way and to be able to show them their rights."
There also was a call for sustained civic engagement and turning out to vote.
"We need to start somewhere, we need to stick together," one protester said, pointing out that past generations had fought for their rights. "It is our turn."