The 500-pound bull statue rolled down 24th Street on Wednesday strapped to a flatbed trailer.
Curious drivers slowed and craned their heads. People stepped out of businesses. And a crowd gathered outside Omaha South High School eagerly awaited its arrival.
"Wow," said Principal Jodi Pesek as the bull arrived.
The bull is about 4 feet tall and was made by Omaha sculptor John Lajba. It took a crane, several workers and a carefully coordinated effort, but now the bull sits atop a pedestal outside the school.
Current and future students at South, home of the Packers, will now pass the bull to get to the main entrance of the school.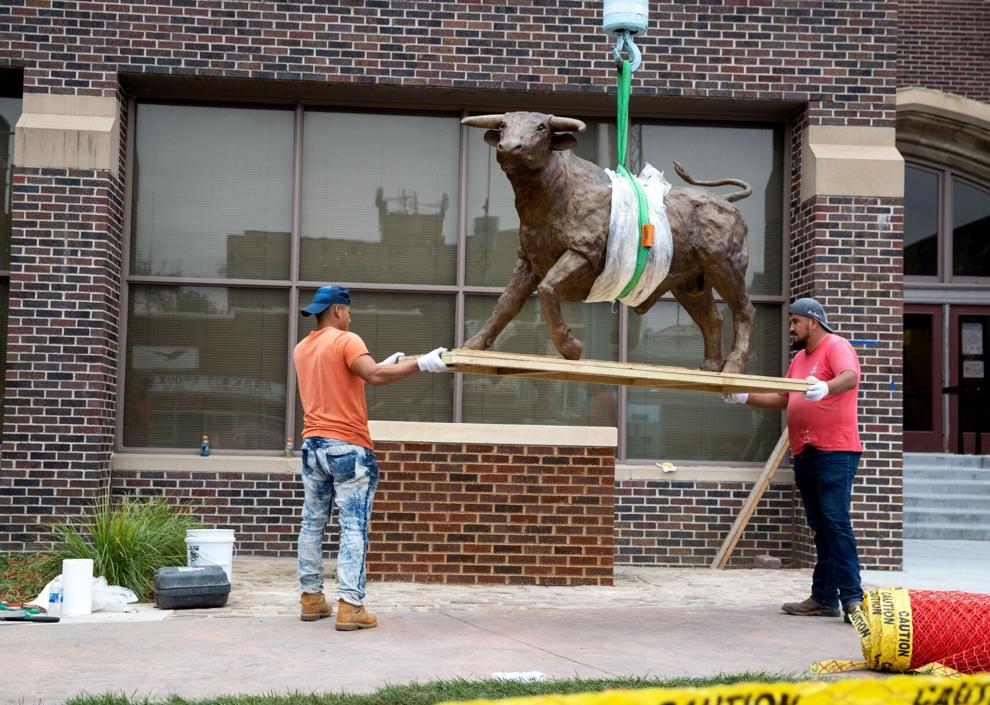 The bull is a gift from the South High School Alumni Association, Omaha Public Schools Foundation, Robert B. Daugherty Foundation, John and Mary Wilson, the Van Metre family, South High alumni Tim Holland and Tim Corcoran and John Rapaish.
Two benches and flowers will be planted near the bull. And a dirt path in the grass, made by thousands of students' feet, has been replaced by a sidewalk.
A plaque near the bull says it is dedicated in honor of Carol and Dave Van Metre.
"For their continued support and love of South High School, the South Omaha Community, our families, our history and our future," the plaque reads.
The Van Metres are credited with helping raise $42 million to upgrade parks and athletic facilities, specifically those east of 72nd Street.
"Their generosity has been boundless," said Toba Cohen-Dunning, executive director of the Omaha Schools Foundation.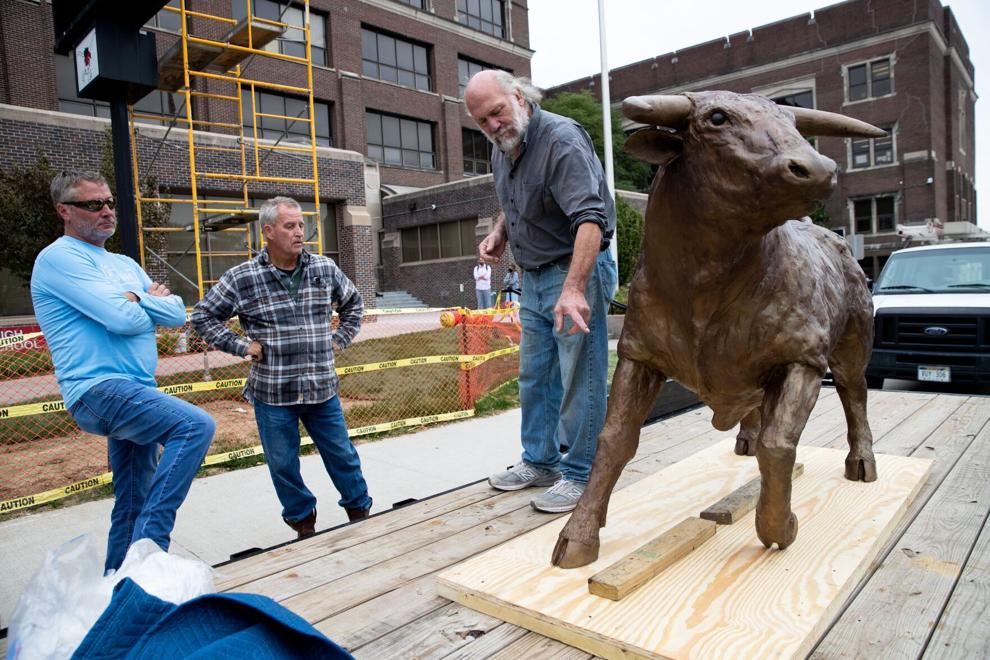 Ask what projects the Van Metres have had a hand in, and the list seems endless.
They donated free weights, stationary bikes and other machines for weight rooms at every Omaha Public Schools high school and middle school — 18 schools in all — and several Boys & Girls Clubs of Omaha locations.
Other projects included Benson's Gallagher Park softball fields, Central High's Seemann Stadium, South High's Collin Stadium, Brown Park baseball field and Christie Heights Community Center and ballfields.
They also worked on the softball field at Columbus Park, now home to Central High School's softball team.
Several people said Carol Van Metre, who died in 2016, had a soft spot for South High School. When she noticed the hand-me-down uniforms the school's cheerleaders were wearing, she replaced them with new ones.
"I don't think we can honor them ever enough for everything they've done for Omaha," said Carole Safley of the South High School Alumni Association.
The bull has a raised hoof and tail. Lajba said he wanted the bull he created for the school to be energetic, ambitious and not sure where life is going to take him — all the things that probably go through the minds of each student at the school.
The sculptor said he wants freshmen walking past it on their first day of school to know they have a friend in the bull.
And when students' time at South ends, several people said they hope the bull will be a place for students to take senior or graduation photos.
Lajba's other sculptures are all around Omaha, and many are already popular places to take photos like The Road to Omaha statue, which sits at the northwest corner of TD Ameritrade Park.
The bull is Lajba's first piece at a high school.
The bull is not only a celebration of the high school but of South Omaha itself and the people who live there and grew up there, Safley said.
"It's just that pride of being from that part of town," she said. "You can move out of it, but you can't lose it."