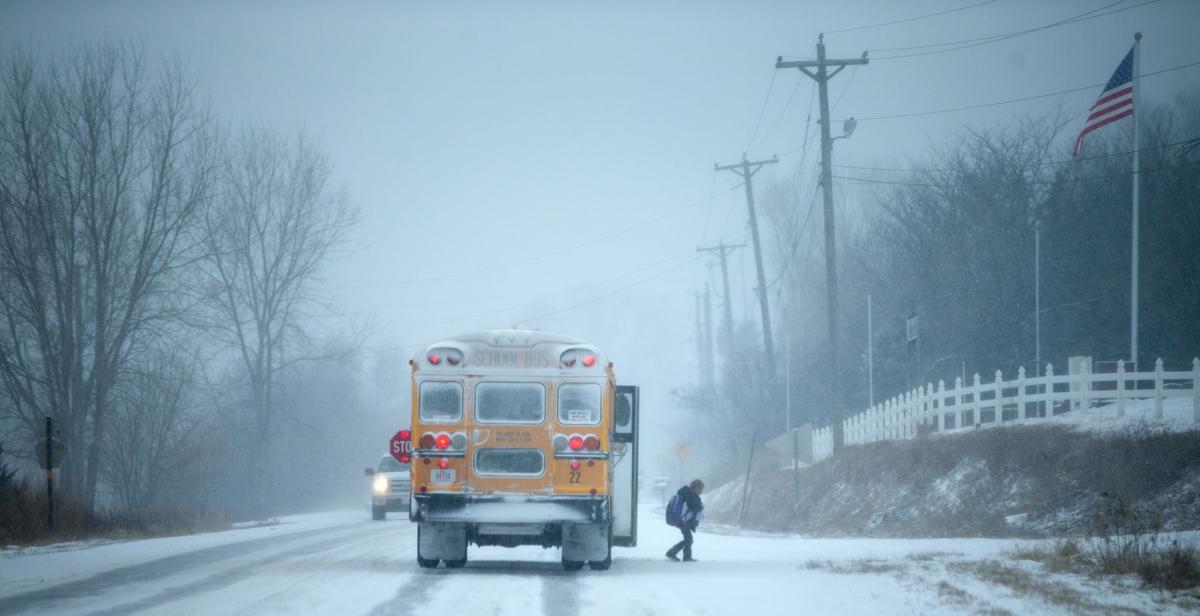 Those magical, spontaneous days off from school known as "snow days" are going away for some Omaha area schoolkids, their demise hastened by new remote-learning capabilities.
The Millard Public Schools already had been heading that direction by renaming their snow days as "e-learning days" and giving kids work to do. This year, Millard school board members made it official, erasing four snow days built into the calendar.
But all is not lost, kids.
Other districts like the Bellevue Public Schools and Elkhorn Public Schools will retain the revered tradition this year, giving kids days off free of assignments.
"Snow days are still snow days in Elkhorn," Superintendent Bary Habrock said.
The Springfield Platteview school district found middle ground this summer when it amended its handbook to address snow days.
After three days of school cancellation for snow, severe weather or any other reason, students will be expected to participate in school remotely from home through e-learning or other schoolwork, Superintendent Brett Richards said.
"For now, we are striking a balance between having the joy of a snow day versus losing too many days of school for weather," Richards said.
Other districts are still deciding how to handle snow days and looking to the Nebraska Department of Education for guidance.
And, of course, districts have to figure out how to handle snow days for the families that opted for all remote learning. Those kids have been learning at home ever since school started.
Will they get snow days, too?
Declaring snow days has always been about safety. When winter storms make travel dangerous, school officials cancel school to keep kids and teachers off the roads.
As long as there's bad weather, there will still be snow days.
What could change is what kids will do on their impromptu days off.
Traditionally, snow days are for lounging around in jammies, building snowmen and forts, or flying down the biggest sledding hill, which ironically is often found at the local school.
"Yes, video killed the radio star," Millard spokeswoman Rebecca Kleeman said. "Snow days have been removed from the calendar and will be asynchronous going forward."
Asynchronous means studying on your own time schedule as opposed to kids logging into a video- conference class at a specific time.
"The teachers will provide the work and be available for questions," Kleeman said. "But there is no set time everyone will Zoom in together. Thus the 'asynchronous' part. So if you want to sleep late or go build a snowman, you can. You just have to get the work done on your own schedule."
Millard school board members voted in September to amend the calendar, removing four days set aside as snow days. The last day of school is now listed as Monday, May 24, a week ahead of Memorial Day.
In years past, the Millard superintendent would assess each spring how many days lost to weather needed to be made up and declare the official last day of school.
School board member Mike Kennedy said snow days were "pretty much on the way out the door pre-COVID."
Millard students asked about the change were mostly disappointed.
Millard North freshman Josslyn Morgan tried to find a positive side to losing snow days. Snow days are fun, she said, but students still get winter break.
"I really like snow days, because it was a day off from school, but we also get four more days of summer, so there's that," Morgan said. "But I think I'd rather have them spread out than all at one time because in summer I get bored."
Another student, Elyse Gadbois, said losing snow days "sucks."
But she said she'll handle the assignments.
"As long as it's not going to take me all day, I don't really care."
Classmate Sean Foley said students should have traditional snow days, which he usually spends hanging out with friends.
"I don't think they should give us work when all the generations before us never had work, because it's kind of unfair," he said.
One question that's still up in the air for districts is whether the remote learning that takes place during a snow day would count as instructional hours.
The Lincoln Public Schools are waiting for guidance from the Nebraska Department of Education while exploring their options, spokeswoman Mindy Burbach said.
Nebraska Commissioner of Education Matt Blomstedt said the question of whether snow day learning counts toward state minimums hasn't been resolved yet.
On the one hand, because of the pandemic, districts have more flexibility on instructional hours this year so it's a good time to try some different approaches to snow days, he said.
"But as far as long-term policy to addressing that, we're probably going to have to put some boundaries around what quality e-learning and quality remote learning will look like to count for the future," he said.
Remote learning has been "hit and miss" across the state, he said.
Here's how some other districts plan to handle snow days this year:
Westside Community Schools
Westside will allow for at least two snow days without remote learning, spokeswoman Brandi Paul said. "We are still discussing options for remote learning beyond that," she said.
Now that every Omaha student has access to a district iPad at home, through OPS's one-to-one technology initiative, district officials may explore the possibility of students learning on snow days, according to spokesman Jeremy Maskel. But he said nothing's been decided yet.
Papillion La Vista Community Schools
The district has not adjusted its calendar to get rid of snow days. The district will eventually be one-to-one at the middle and high schools, but the computers are still back-ordered.
"We don't really have a plan to do anything different," spokeswoman Annette Eyman said. "The big unknown is we don't have our computers in yet. So we're still waiting for devices."
Administrators are discussing how to handle snow days, spokesman Jim Frederick said. The district doesn't build snow days into its calendar. In the spring, the district will assess if the school year needs to be extended due to days missed from inclement weather, Frederick said.
Douglas County West Community Schools
DC West's calendar still includes three snow days built in. "We are considering options for remote learning on those days but no final decision or plans yet," Superintendent Melissa Poloncic said.
The Bellevue Public Schools built snow days into the school calendar. This year the district will continue to keep snow days as snow days, and no requirement for doing schoolwork remotely.
Bennington Public Schools
Bennington built snow days into the calendar. District officials are evaluating the option to conduct remote learning within 12 to 14 hours of announcing a school closing, according to Superintendent Terry Haack. Not all instruction can be delivered from home, he said. "Not impossible; however, it will take some planning," he said.The 10 biggest single-day snowfalls in Omaha history