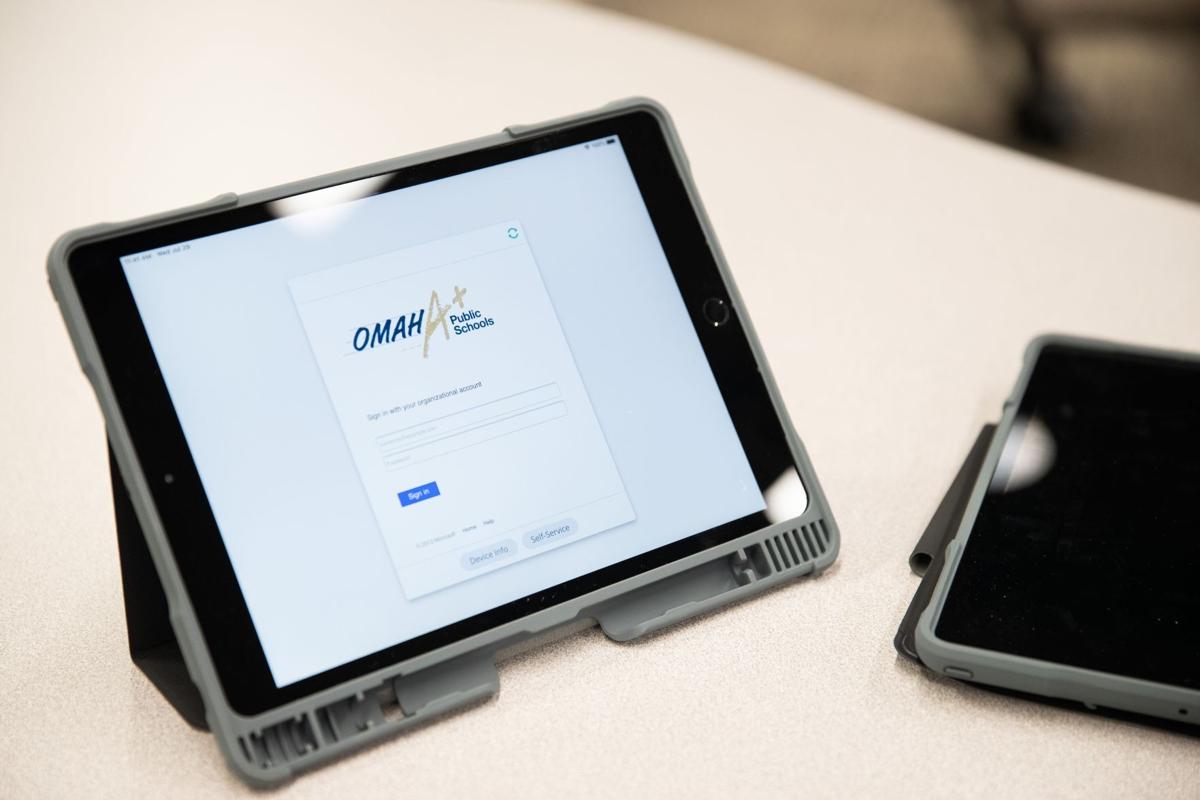 The Omaha Public Schools logo was on the iPad's home screen.
The device was covered in a sturdy-looking gray case.
All a student needed to do was log in.
This upcoming school year, OPS will become a one-to-one technology district, meaning every student in the district will receive one of these iPads. But that handout will be staggered.
When school starts in August, all elementary students and K-12 special programming students, or students not in a mainstream building, will receive an iPad, according to information provided by district officials.
Shipments to middle schools are scheduled for Aug. 24 and Sept. 1. And shipments to high schools are scheduled for Sept. 10, 17 and 23.
Since the district won't receive all the devices by August, decisions had to be made about who would get iPads first, said Bryan Dunne, director of information management services for OPS.
Dunne said last spring some devices the district already owned were given to secondary students so officials decided to focus on elementary students.
The district ordered about 56,000 iPads for the upcoming year and are receiving them in five waves through September.
"It's just the magnitude of the order," Dunne said.
Plus, the iPads go from the manufacturer to a provisioner that readies the devices for use and makes sure everything works correctly, Dunne said.
"They're doing a number of steps for us that we just simply would not able to do and then shipping them to us," Dunne said.
All a student will have to do after receiving the iPad is log on, he said.
OPS purchased seventh generation iPads with 32 gigabytes of storage space. Similar to a phone, the iPads have a SIM card that will be activated with the district's data plan for unlimited data through T-Mobile.
Dunne said that means students will be able to use the iPads even if they don't have access to internet at home.
Jeremy Maskel, a spokesman for the district, said OPS received $23.2 million in CARES Act money but $3.6 million of that was designated for non-public schools within the community, per federal and state guidelines.
When school starts on Aug. 11, OPS students will be divided into two groups based on last names and will attend classes half the week. When the students are at home, they are expected to do remote learning.
When asked if students could play Minecraft on the devices, Dunne said these iPads are not like ones you would buy at an Apple Store. Instead, the iPads are managed and OPS and students will not have free range to install anything they want on them.
On the district's website, district.ops.org, families can learn more about how to use the iPads. Students will also receive a handout on how to use the devices.
Teachers will help students learn how to use the iPads and the district will also provide virtual training for parents and community members throughout the school year so they can help students use the iPads as well.
---
Our best staff images from July 2020
Be the first to know
Get local news delivered to your inbox!