Melissa May and her husband talked before the pandemic about home-schooling their twin 8-year-old daughters, Gracelyn and Hannah.
The girls attended Two Springs Elementary in the Bellevue Public Schools last school year.
The plan was to put the girls back in public school for third grade, and then assess around Thanksgiving whether to keep them there.
Then COVID-19 happened, and May and her husband decided to make the leap into home-schooling.
"I think the pandemic just gave me a little extra push to do it and give it a try now instead of waiting," she said.
More Nebraska parents are choosing to home-school their kids next school year, and COVID-19 appears to be the driving force.
Filings with the Nebraska Department of Education are up 21% over this time last year, according to department records.
As of Tuesday, the department had processed 3,400 requests, up from 2,800 by the same date in 2019. The total includes parents who were already home schooling last school year.
Officials said the numbers may go higher still as parents continue to evaluate the reopening plans of their children's schools.
For decades, Nebraska has seen a steady rise in both the number and percentage of children home-schooled, but not an annual jump like this.
Home-schooled children are still a small minority of school-age children. About 2.75% of Nebraska children were home-schooled in 2018-19, the latest year for which data is available.
The total number of home-schooled students at the end of that school year was 9,030, the Education Department said.
Several parents who will make the switch this fall told The World-Herald that COVID-19 was a factor in their decision.
Stephanie Morgan, a longtime home-schooling parent and advocate involved with several home-schooling organizations in Omaha, said she's been fielding a lot of questions from moms interested in home schooling.
Morgan said home-schooling parents can usually point to a specific experience that was "the straw that broke the camel's back" and prompted them to consider home schooling.
She said it's likely that some of the increase is from people who were already considering home schooling, then COVID-19 sealed the deal.
Morgan ran an informal survey on social media and found that most new Nebraska home schooling parents were doing it because of the pandemic.
Some were motivated by health concerns about putting their kids back in public schools, while others were concerned that the schools were imposing too many restrictions on students, she said.
May had intended to wait until Bellevue came out with its reopening plan, but then decided that regardless of what that looked like, her kids would be home with her.
"We are concerned about not only the virus, but the school's ability to be able to put together a good plan, and to implement that plan, and try to keep everybody healthy," she said.
She said she's tried to prevent her girls from contracting the disease. May said she knows that she can't completely protect them from the virus, but she's not willing to risk putting them in a school where "one or two kids get the flu in the wintertime, and it runs rampant," she said.
She also felt that wearing masks would be an added distraction for her kids and everyone else in the school.
"When we talked to our girls about it, they said, 'We would really like to stay home and not have to wear masks all day.' "
She knows that there's going to be adjustment to a new schedule and to her role as a teacher.
She's eager to take advantage of the flexibility of home schooling to let her kids explore topics that interest them and personalize their learning.
"One of my girls really likes art. She asked me, 'Do you think that we could look at artists and learn about them.' I said, 'Sure, if that's what you want to learn, I'm totally open to that,' " May said.
Lori Tupper will be home schooling her four children, ages 6, 7, 12 and 14.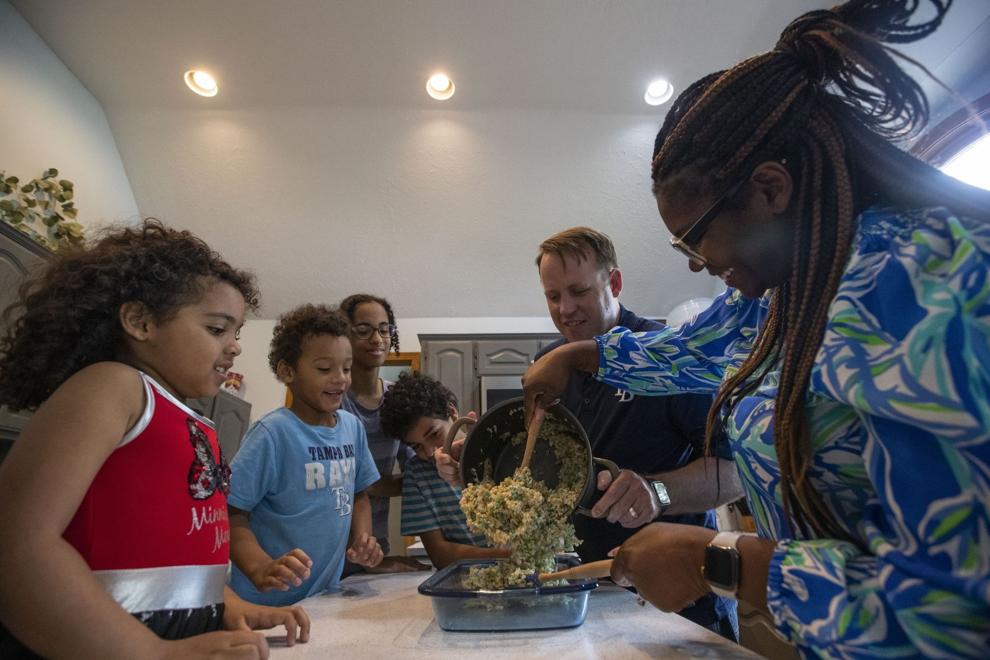 They attended the Millard Public Schools.
Tupper said she decided to home-school because there was no virtual alternative.
"We have family members that are high-risk for COVID, so sending my kids back to school is really not an option," she said. "I'm actually having to quit my job so I can home-school my kids."
She had doubts about whether her 6-year-old daughter would be able to wear a mask all day.
"She may do it for maybe 10, 15, 20 minutes, max," she said. "But to have it on for a prolonged period of time? Absolutely not."
Tupper said she's been researching curriculum, and she plans to build a curriculum that will work for each child.
Is she in it for the long haul?
"That is the plan," she said. "However, I'm not opposed to sending them back to school next year if there are policies and procedures in place to not only keep the teachers safe, but the students, and the administration and the families as well."
Right now, she said, "we're all literally flying by the seat of our pants: the administration, the parents, America. We're literally trying to figure out this thing as it comes at us."
She believes that it will take a year to get some semblance of normalcy back.
Taylor Jackson, who works in hospice, said COVID-19 partly weighed in her decision.
She said she recognizes that kids aren't at high risk for the disease, but they can carry the virus.
And she works with people who are severely immunocompromised.
"So the less interaction I have with the outside world, the better," she said. "But I also don't want my kids to be that one statistic. Whether it's one in 50,000 or one in a million, why take the chance that they're that one?"
She doesn't expect that schools will be in session in person all year. She believes that they will have to go remote and that she can offer her children more stability at home.
Her kids, 5 and 6, attend the Ralston Public Schools, and she loves the schools.
How long she home-schools will depend on the virus.
She said she could maybe put the kids back in public schools in less than a year.
"If we get to November, and it's like, 'Oh, this really isn't really a big deal,' then we might consider sending them back."
She said she will home-school as long as it's necessary.
---
Fighting measles in Nebraska, Iowa through the years