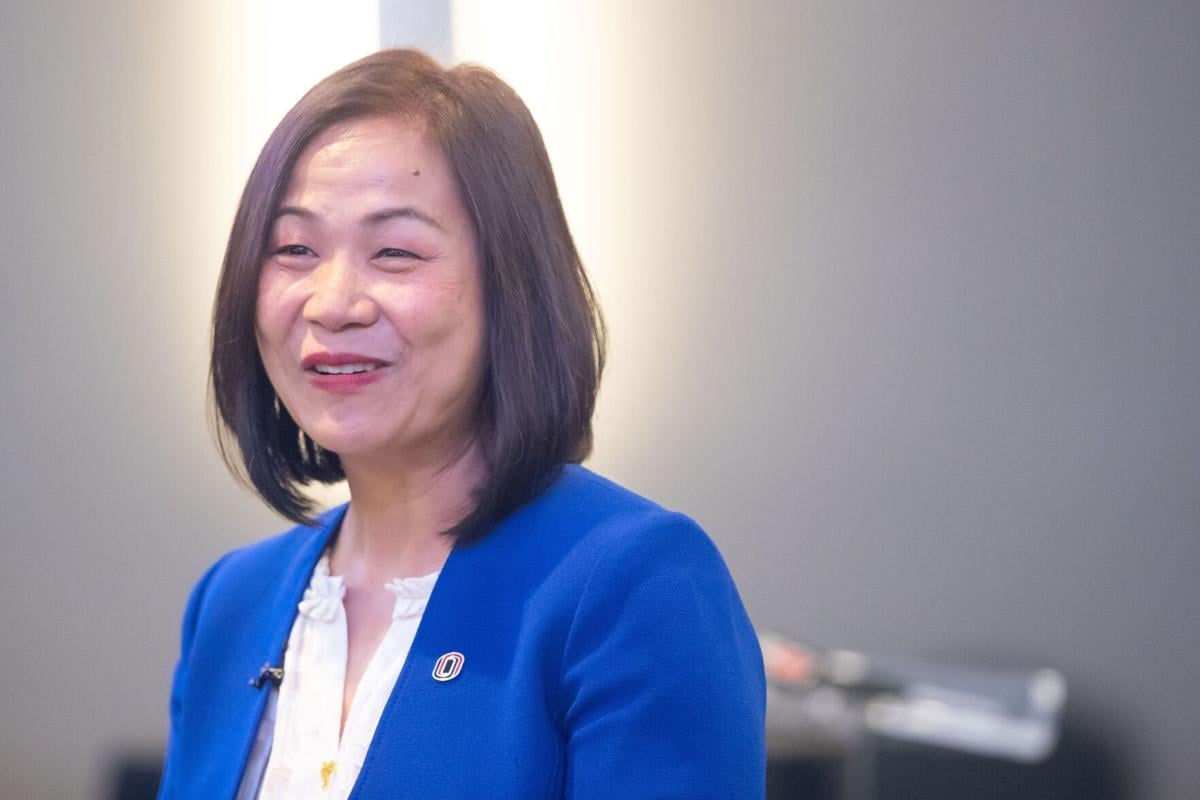 A few hours before 40,000 fans made their trek to Memorial Stadium for the Cornhuskers' spring football game Saturday, Joanne Li drew her own fanfare as the University of Nebraska Board of Regents unanimously approved her selection as the University of Nebraska at Omaha chancellor.
In a special meeting held at Varner Hall in Lincoln, University of Nebraska President Ted Carter lauded Li's accomplishments and remarked on her historic selection as the first Asian American to hold an executive leadership position in the University of Nebraska system as well as the first woman of color to be the UNO chancellor when she fully assumes the position on July 1.
"This is truly an exciting day in the history of the University of Nebraska," Carter said. "We began our search with a clear goal in mind: Find the next superstar to lead UNO into its next chapter of growth and success."
Carter said Li possesses all the qualities the committee sought. Those qualities included a proven leader who is capable of engaging with the university's diverse constituencies, a candidate who understands the university's mission as well as a person who exhibits inclusive leadership and displays a record of advancing equity, access and diversity.
"We have found Dr. Joanne Li as a leader who embodies all of these qualities," Carter said.
Li is scheduled to earn a $430,000 salary, which Carter said puts her on the lower end of the national average of her peers. Carter told The World-Herald other contract details are being worked out.
In a statement, Lee said she was humbled by the feedback she received during a 30-day public vetting period.
"My first task is to continue listening and learning," she said. "Then, together, we'll work to turn our ideas into actions that create even more opportunities for students and families, deepen our connections to our community, and grow the economic and social well-being for Omaha and Nebraska for generations to come. Let's hit the ground running together."
Li's selection is the latest step in a decorated career that most recently saw her significantly turn around the graduation rate as the dean at Florida International's College of Business. Under her watch, the college's graduation rate improved from 29% in 2017 to what is expected to be a 70% rate this year.
"She is absolutely focused on students," Carter said. "I have heard her say countless times that the needs of our students should drive everything we do. That resonated with me. I think it has resonated with the UNO community as well."
Carter said Li brings an empathetic nature to the job and understands the struggles students sometimes face. Li first came to the United States from Hong Kong in the 1980s. Li previously said she was able to complete her first semester of community college only because of a $600 gift from her best friend.
Li eventually landed scholarships that allowed her to make it through the university system.
"She understands the impact of what having a college education means for a first-generation student," Carter said.
Li will succeed current UNO Chancellor Jeffrey Gold. Gold will continue to be the University of Nebraska Medical Center chancellor and will also become the NU system's executive vice president and provost.
---