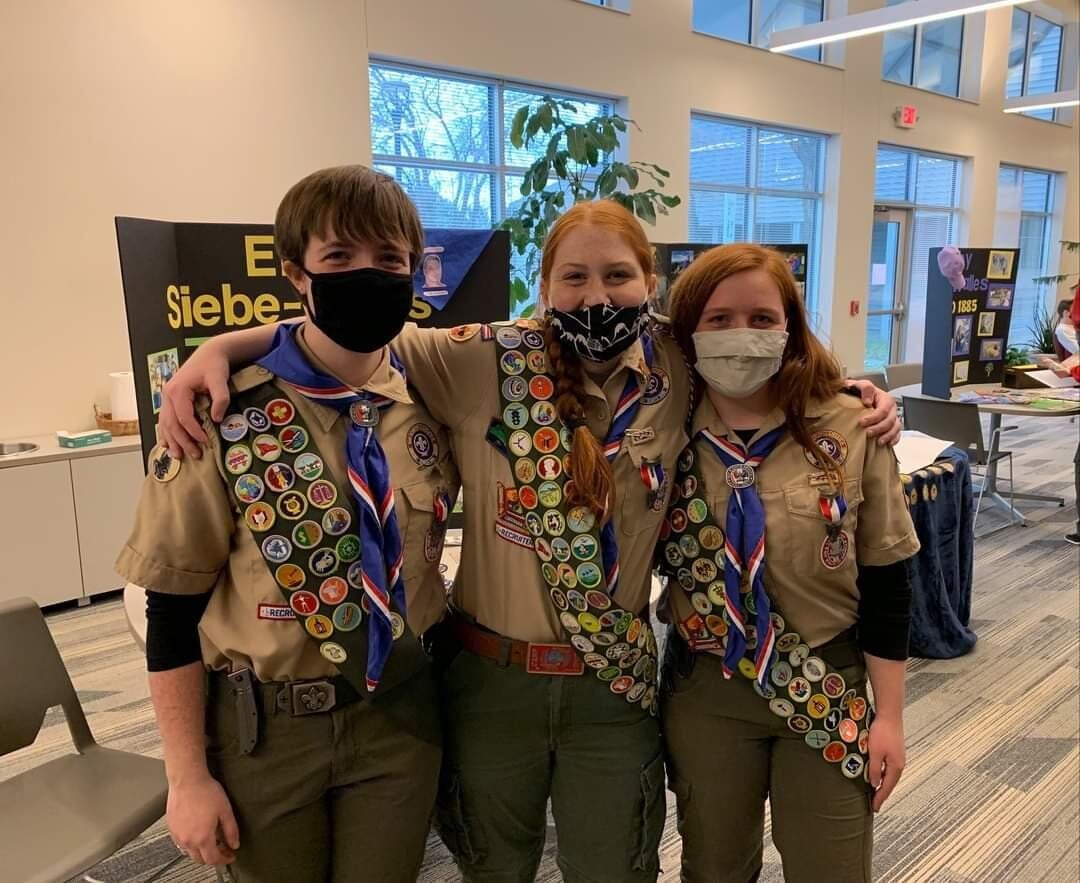 Ellie Siebe-Walles never thought she would join Scouts BSA. But the Omahan is among 10 young women from the Mid-America Council Boy Scouts of America, and nearly 1,000 nationwide, in the inaugural class of female Eagle Scouts.
"Up until really late 2018, Boy Scouts just wasn't in the cards for me," said Ellie, 18. "But now it's completely surreal. To be in the first class of women, it's just such an honor."
Young women across the country were officially recognized as the inaugural class of female Eagle Scouts last month.
Ellie, who is a part of Troop 1885 in Omaha, is joined by four other female Scouts in the troop earning the rank of Eagle Scout, including her twin sister, Abby. The others were 16-year-old Rachel Lunt, 13-year-old Ella Holdcroft and Rebecca Wright, 18.
The girls said people often wonder why they didn't just stick with Girl Scouts.
"It's not because the Girl Scouts program isn't great," Abby said, "because the programs are all phenomenal in their own way — they're just very, very different. ... We just wanted to do different things."
Ellie said it was "really, really cool" to achieve the rank along with her sister. "Because we are really close as twins," she said, "it also meant that we had a built-in support system for each other. We supported each other throughout everything in our respective journeys to Eagle, both inside and outside of Scouting."
Steve Seline, Mid-America Council chairman, said earning the rank of Eagle Scout takes hard work and perseverance. "We are honored to recognize all youth who have earned this achievement," he said, "especially the young women in the inaugural class of female Eagle Scouts."
The five other Nebraska girls in the Mid-America Council who earned the Eagle Scout rank from troops from the Omaha area and surrounding communities were Reagan Allen, Jasmine Franklin and Grace Nichols from Troop 308, Mackenzie Scram from Troop 451 and Caitlyn Talkington from Troop 231.
Ellie said it wasn't until she attended her first Scout meeting that she realized it was something she wanted to do.
"After the first meeting I was like, 'I'm in this,'" she said. "Beyond that, I wasn't sure if I was going to make it to Eagle rank because I joined at 16 and had to earn Eagle by the time I turned 18."
Scouts, like Abby and Ellie, who joined after they turned 16 were eligible to apply for an extension to earn the Eagle Scout rank. The extension was open to both male and female Scouts. Both Abby and Ellie were able to earn the rank under the original deadline.
To earn the rank of Eagle Scout, a Scout must earn 21 merit badges and complete a service project. Only about 6% of Scouts make it to the Eagle rank.
Ellie decided to dedicate her service project to running a supplies drive for Youth Mart in Omaha, a donation center for young adults coming out of foster care.
"(Youth Mart's) goal is to help young adults graduating from foster care to living on their own," Ellie said. "I collected pots, pans, cleaning and cooking supplies for them as well as monetary donations to go straight to them."
Ellie estimated that her donations helped up to 70 people.
Ellie said working her way up to Eagle Scout has been an honor.
"I'm setting the standard for people that come after me," she said. "Becoming an Eagle was already special, particularly at such a late age, but to be the first class is quite an honor."
Rebecca Wright and Ella Holdcroft both said they wanted to join Scouts after seeing the opportunities their brothers had had in the program.
"I saw everything my brother was able to do and I wanted that," Rebecca said. "I was in Girl Scouts, but my the troop folded, and I didn't have the sort of adventure and outdoor camping that I wanted."
Then Boy Scouts of America announced in May 2018 that it would allow girls in the program. Rebecca said she knew that's what she wanted to do.
Rebecca and her mom, Megan Wright, began searching for a troop she could join.
"We were having trouble finding anyone committed to starting a girls troop, so we decided to start one," said Megan Wright, who now is the scoutmaster for Troop 1885.
Ella Holdcroft earned the highest rank at age 13.
"I joined Scouts when I was 11," she said. "The older girls were moving quickly to earn Eagle Scout, and I just went along with them. I was jealous of my brothers who were in Scouts growing up, and I didn't think I'd ever get here."
Rachel Lunt joined Scouts BSA at age 14 and worked her way up to the highest rank by age 16.
"When I joined Scouts, I looked at the requirements and told myself I'm going to do them and then I hit the next rank," Lunt said. "Then I got to the next rank and it just kept going from there. Now I'm an Eagle Scout, and can't wrap my head around the fact that it's historic."
Although the girls are able to develop a sisterhood in either program, Ellie said the bonds formed in Scouts BSA are unparalleled.
"Our sisterhood has only grown as we've gone through the ranks together," Ellie said. "I encourage other people to join, especially girls, because it's just a really valuable experience."