When the pandemic struck Nebraska, many people predicted that student achievement would take a hit.
Now the evidence shows those predictions were right.
The World-Herald examined academic data from 43 Nebraska school districts to gauge the depth and scope of suspected learning loss.
Did our kids fall behind? And, if so, how bad is it?
Data clearly show that, as of last fall, children made less academic progress than normal in math, and they experienced higher than normal course failure rates, especially among remote learners.
Nebraska public school students, in the elementary and middle grades, experienced substantial learning loss in math, a trend that showed up across big and small districts, rural and urban, alike, with few exceptions.
Elementary and middle school reading performance dipped slightly or in some districts held its own.
These mixed math and reading results on the MAP Growth test used in Nebraska reflect a trend identified in the nation's schools by the test-maker NWEA of Portland, Oregon.
The Nebraska Department of Education conducted its own analysis of the state's MAP Growth scores, and the department's findings mirrored The World-Herald's.
Overall, the state found, Nebraska's students who took the test, while affected by the COVID-19 disruptions, held their own or did a little better than the nation in both reading and math.
At the high school level, in Nebraska's largest districts, a quarter to a third of students learning remotely failed two or more courses during the first semester of this school year. Those rates range from two to 11 times what districts experienced pre-pandemic, when kids were all attending school in person.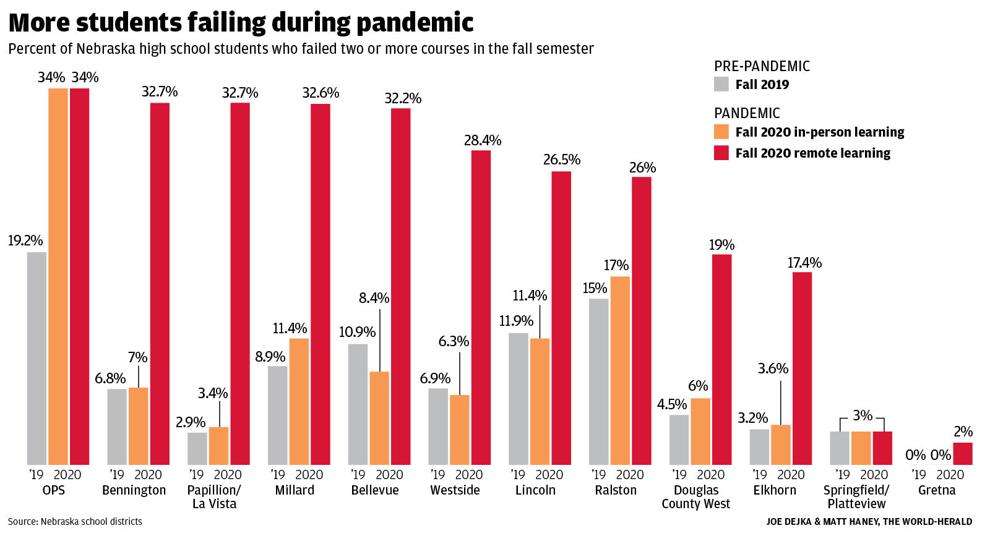 Educators generally say that a child can recover from one failed course, but two failures are a red flag that a child's academic progress is at risk. For a high school senior, it could mean delayed graduation this spring unless the student can catch up.
For elementary and middle school students, it could mean crucial learning gaps that drag down their progress unless those holes can be filled.
In-person high school learners fared far better than remote learners in most districts, but in some districts, even in-person students failed courses at slightly elevated rates.
Middle school failure rates were mixed, with some districts experiencing course failure rates several times normal.
Most Nebraska districts administer MAP Growth tests every fall and again throughout the year to measure students' academic progress.
The computerized test helps determine what students know and what they're ready to learn.
The fall 2020 test results reflect the impact of last spring's closure, when in March schools shut their doors and 366,000 kids were thrust into remote learning or handed paper packets to learn. The test results also would reflect the early part of this school year, when many students were still learning remotely, and all students learning in person had to contend with masks, social distancing and quarantines of themselves and their teachers.
In the Omaha Public Schools, every grade level tested in math, third through eighth, fell short of projected growth on the MAP Growth. Similar results were seen in other large districts, among them Millard, Papillion La Vista and Lincoln.
Slicing the data a different way, a third of all OPS test-takers as a group met math projections last fall compared to half a year earlier.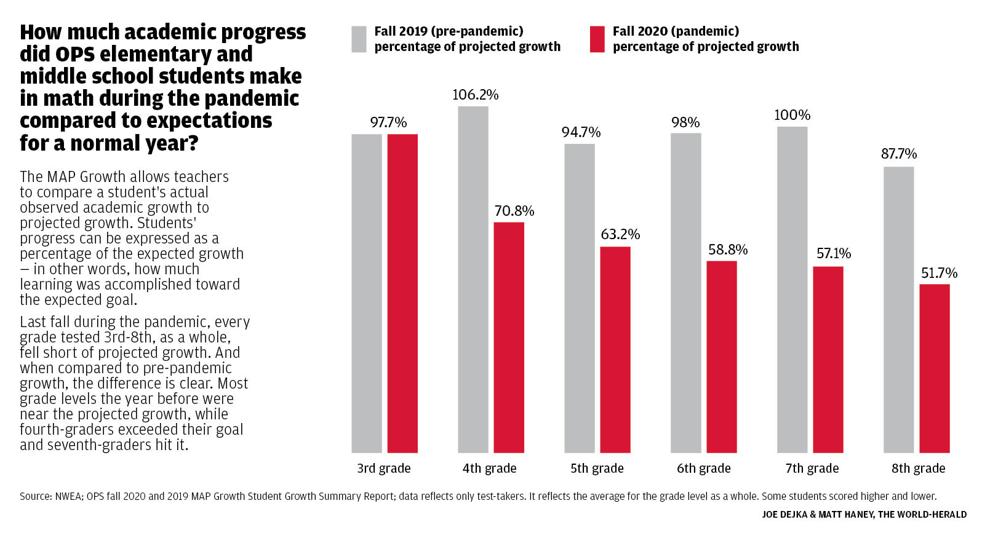 Another way to look at the learning loss is to express the progress students made during that period as a percentage of expected growth. OPS fourth graders, for example, had achieved 70.8% of what they were expected to grow as of the testing window last November and December. A year earlier, before the pandemic, OPS fourth graders exceeded expectations, and most other OPS grade levels came close to projections or exceeded them — same with the other big districts.
OPS's own analysis indicates that, at the time of testing, elementary and middle school students were, on average, 34.4 days behind in math. In reading, students were at most 10 days behind, and in some grades they were caught up, OPS said.
The gaps are troubling enough by themselves, but they come with a worrisome caveat: OPS and some other districts did not administer the MAP Growth test to their fully remote students, citing concerns about parents overseeing the test at home, technology issues and the inability to control testing conditions. So while teachers surely know which kids are struggling, there's no test data for those fully remote students — thousands of students in OPS.
NWEA officials last fall cautioned about interpreting test results. Officials with the testing outfit said that the most concerning scenario would be that the students not tested in fall 2020 are disproportionately from disadvantaged backgrounds.
Across the country, many urban, poor and racially diverse districts are still in full remote learning and not likely to test for the same reasons. Not accounting for those students would underestimate learning loss and achievement gaps, which could mean less support and resources to help the neediest kids, NWEA said.
In other words, as bad as the MAP Growth data may look, the learning loss could actually be worse.
The Nebraska Department of Education found that when the MAP Growth was given last fall, fewer than normal ethnic minorities, English-language learners, special education students and children from low-income families were represented in the test-takers.
Educators emphasize that the the MAP Growth data reflects the average performance of grade levels, and that individual student performance varies.
"We have kids who throughout all of this are being successful, and we have kids who are struggling mightily, more so than the average would dictate," said Scott Schmidtbonne, OPS's director of research. "So there's a lot of different outcomes that are occurring on either side of that average reality."
Course failure rates differed among districts, with some smaller districts faring better than larger ones. But among the state's larger districts, fail rates were fairly consistent. There is, however, some variation in how districts defined remote students, which could account for some variation in the numbers.
In five of 11 metro Omaha districts — Bellevue Public Schools, Bennington Public Schools, Millard, Papillion La Vista and Omaha — nearly a third of high school remote learners failed two or more courses last fall.
In two other metro districts — Westside and Ralston — and also in Lincoln Public Schools, more than a quarter did.
In OPS, the failure rate was identical for high school remote learners and for high schoolers in the district's hybrid 3/2 attendance plan, in which student groups alternated attending school some days and learning from home other days.
Regardless of which learning mode students were in, 34% of OPS high schoolers failed two or more courses — that's approximately 5,100 high schoolers. That compares to a pre-pandemic rate in fall 2019 of 19.2%.
For OPS middle schoolers in remote, the two-course fail rate was 38.3%.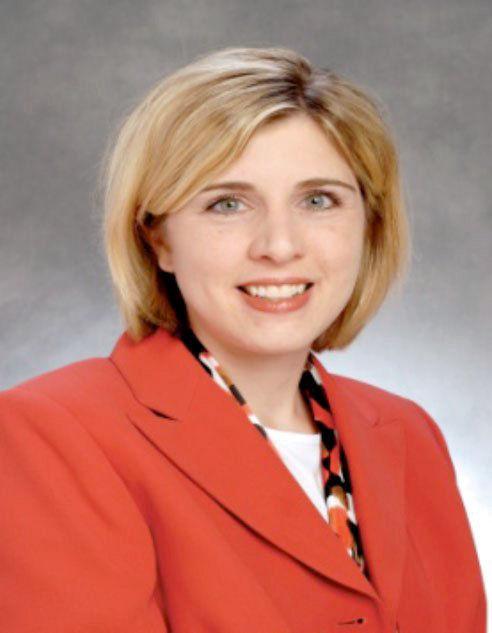 "The data is compelling," said Melissa Comine, OPS's chief academic officer. "It's a call to action."
Nebraska educators say the disparity in math and reading performance likely reflects how students learn each subject.
Heather Phipps, associate superintendent of education services in the Millard Public Schools, said reading is a system that increases in complexity, but still relies on the same basic skills.
"Whether you're 5 or 15, you have to be able to decode the text," she said. "You have to be fluent. You have to be able to read it in a way that it makes sense, when you read a sentence, and it's not just individual words. And then you have to comprehend it."
Students probably didn't grow in their ability to read and comprehend harder texts at the rate districts wanted them to, she said. But students didn't miss out on learning a crucial new skill, she said.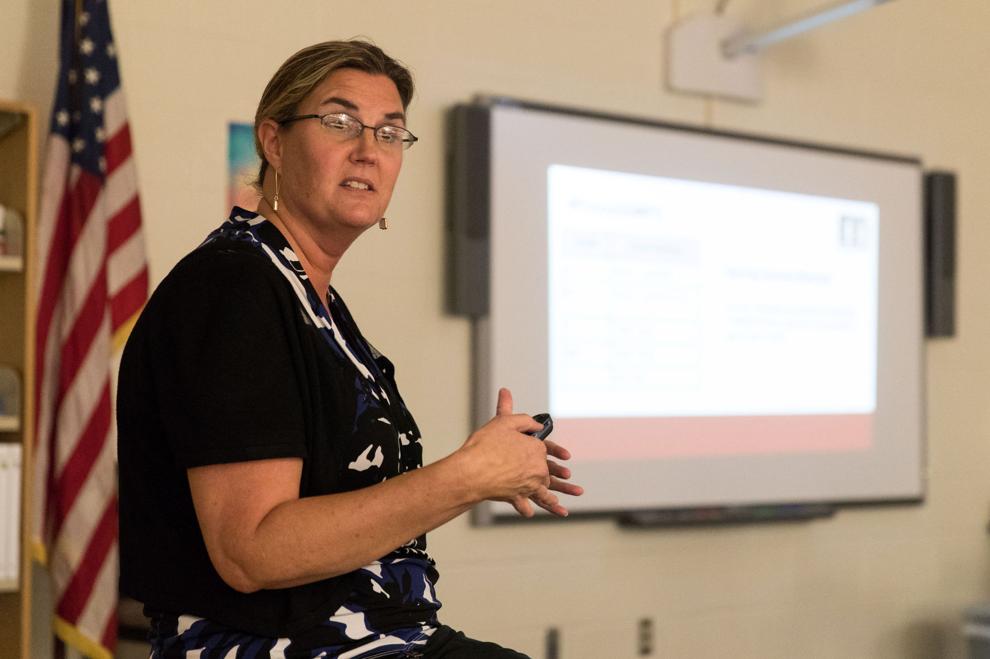 "Math is a set of discrete skills that spiral and build on each other over years," she said. "So, yeah, you know how to add and subtract. But in seventh grade, you're not adding and subtracting anymore. You're adding entirely new concepts."
Cecilia Wilken, director of teaching and learning in Ralston Public Schools, said her district is worried about reading, too.
The way students achieve mastery in reading is to practice and build stamina, she said.
"Fourth quarter, you do a lot of mastery-building, so you're really reinforcing skills to get to a high level of retaining them," she said.
While students have gained some since then, their progress is "delicate," she said.
That students struggled in remote learning will come as no surprise to teachers, who for months have raised concerns about its effectiveness.
Shureen Seery, assistant superintendent of curriculum, instruction and technology for Papillion La Vista Community Schools, said teachers have gotten good at teaching remotely, including becoming good problem solvers, but it's far different than engaging kids face to face.
"There's just so many factors there we can't control," she said. "Some students have a parent at home that can provide support. Some students have a parent at home that's engaged in work all the time. Not to mention things like internet access, how much access a neighborhood has to Wi-Fi, all those other factors we can't control."
Student attendance has been "a huge factor," she said.
It's hard to teach, or build a relationship with, or use instructional strategies on a kid who's not there, she said.
"Our data definitely says, at this point, our students do better in a face-to-face classroom," she said.
Some OPS teachers are elated that the district began its phased return of most students to five-day, in-person learning this month. Finally, they can put their skills and experience to work with those kids face to face who were hard to reach through a computer screen. Teachers will still have some students in full remote that they will have to juggle.
Other teachers are wary that the data on the performance of remote students will lead to a push to return remote learners to the classroom and crowd classrooms during the ongoing pandemic or put academics ahead of the social and emotional well-being of kids.
Jim Sutfin, superintendent of Millard Public Schools, is not surprised by the remote fail rates.
"We've said this all along, that there is nothing that can replace the classroom teacher being in front of the kids, and that's why we've worked so hard to stay open and keep school open, because we know that they perform better when they come to school every day," Sutfin said.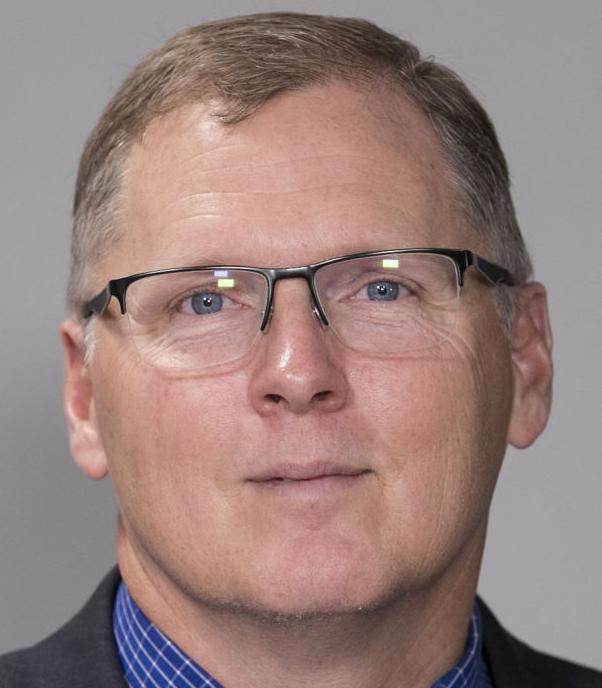 Millard started the year cautiously, reducing student numbers in some buildings, but by September had reopened to five-day in-person learning
In OPS, all students were fully remote from the start of school through Oct. 2 for middle school and Oct. 16 for high school, when the district initiated its hybrid model. Some of the districts' most vulnerable students have been attending in person 100%.
Sutfin notes that the failure rate for Millard's in-person learners went up, too: 11.4% compared with 8.9% a year earlier.
"The big reason is the disruption," he said.
The district has had 1,200 to 1,400 high school students out for quarantine, sometimes multiple times, and hundreds of teachers quarantined, he said.
That disrupts the flow of school, he said.
Some smaller districts seem to have weathered the pandemic better than big ones when it comes to remote learning.
Springfield Platteview's high school remote learners had the same fail rate as in-person learners, 3%, and that was unchanged from 2019.
"I think a lot of it has to do with the fact that we are just a smaller metro district," said Heidi Zierott, director of learning at the Springfield Platteview Community Schools. "We are very much able to develop relationships with our students and our kids."
The district has one high school with 400 students.
Students could move back and forth between in-person and remote, so that meant teachers had greater contact with students, she said. She also noted the district had a one-to-one computer policy before the pandemic, which aided the transition to remote learning.
Crete Public Schools did not offer a full-time remote learning option this school year.
Their high school course-failure rate was 7%, down from 7.7% in 2019.
Superintendent Joshua McDowell said he surveyed his staff this summer to find out how comfortable they would be about returning to in-person learning. He said all but a few teachers said they wanted to be back.
McDowell, his staff and teachers spent the summer planning how to do that safely. He presented the plan to parents this summer for review.
Students returned to in-person lessons this fall with masks and social distancing. Crete did offer remote learning when students and staff had to quarantine.
To make up for any learning lost when schools closed last spring, Crete teachers and principals identified critical content students might have missed and strategically placed it into lesson plans throughout the year, McDowell said.
This year, Crete introduced block scheduling at the high school level. The new schedule allowed students to focus on four classes a day instead of eight or nine. There's also time in the schedule for teachers and students to connect and work together if a student is struggling with a concept.
The superintendent said he's "thrilled with where our kids are at right now," but knows there's always room for improvement.
McDowell said given the circumstances, students, families and district staff reacted remarkably well.
Nebraska Education Commissioner Matt Blomstedt said he can't imagine the challenges ahead for districts like Chicago, Boston and Los Angeles that have been in remote since spring.
"We're going on a year," he said. "I think if we weren't back in (in-person learning) in Nebraska, our system would be failing. I don't think we're failing. I do think there's impacts, no doubt, but it's not a lost year."
---
Our best Omaha staff photos of February 2021