As the last days of school come and go this week around Omaha, administrators are filing piles of resignation letters from teachers leaving their districts.
Metro districts are losing fewer educators this year compared to the previous school year, but the number of people leaving is still higher than pre-pandemic levels, school officials say.
Roughly 1,200 Omaha-area educators are known to be leaving their districts, according to the districts, although that number will likely grow as additional staff members exit after resignation deadlines.
In May 2022, The World-Herald received data from Omaha-area school districts that added up to more than 1,250 educators leaving, but the final number wound up at nearly 1,400 because more staffers left after the article was published.
In May 2021, roughly 900 educators left their district jobs.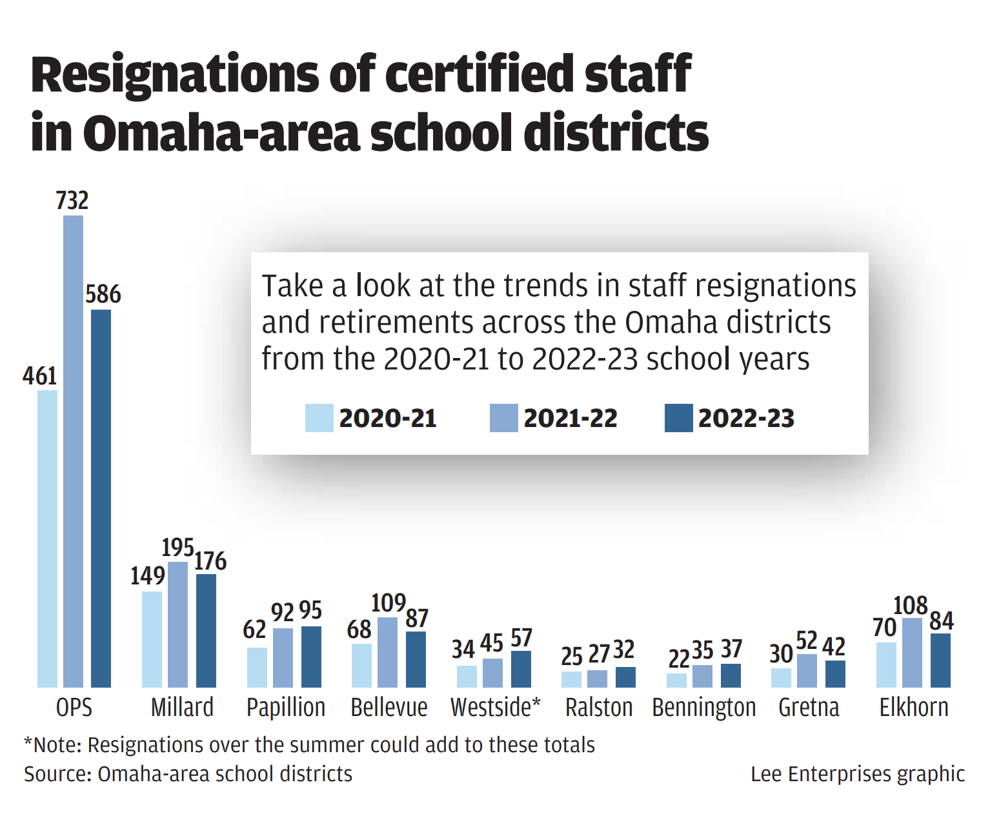 The teacher shortage is still ravaging the nation, with record-high turnover rates streaming in this month from Washington to Florida.
While the numbers are alarming, the Nebraska State Education Association, the State Board of Education and Nebraska lawmakers have made strides in creating initiatives to help alleviate the shortage. Some changes include the repeal of the basic-skills test needed for teacher certification and formation of legislative bills such as those that would give grants for teacher retention.
One Omaha Public Schools elementary teacher said she resigned and will leave the education field after two tumultuous years in her school. It was her first job out of college. She spoke on the condition that her name not be used because she still has a week remaining on her contract.
"I think everyone is saying it, but post-pandemic teaching is very, very intense," she said. "We just have very traumatized kids that we're unprepared to help."
Student misbehavior was one of her biggest challenges. In each of the past two years, she said, she had an extremely violent student — throwing chairs, or using scissors, pencils and pens to stab or throw at others. The teacher said she also was hit and punched multiple times.
"Every day we're evacuating the classroom. Every day, I have to move the entire class somewhere else and follow emergency protocols so that they don't get hit," she said. "It's pretty emotionally taxing. I just watched my entire class all year be in fight or flight mode, where they are scared of one of their peers. It's difficult to watch something like that and not really have answers on how to make it better."
OPS is losing fewer teachers than last year but more than normal. Before the pandemic began, in the 2018-19 school year, 319 teachers resigned from the district. Last year, that number was roughly 700 and this year it has dropped to 586 departures — so far.
Charles Wakefield, chief operations officer at OPS, said the district already has hired 250 to 300 educators to replace the staff members who are leaving.
"We're still actively recruiting and looking for certified staff," Wakefield said. "It does get more difficult in the summer to hire, as most of your teachers are already under contract with districts, but we never stop looking."
When school districts are unable to find enough teachers, it could mean larger class size or other adjustments. A survey last December by the NSEA found that some districts had left positions vacant while others had filled positions with teachers who were not appropriately endorsed in the content area or held a transitional permit, or by using substitute teachers.
Some suburban districts in the Omaha metro have similar resignation numbers as last year, but they are optimistic that they can hire enough teachers to replace those who are leaving.
The Millard Public Schools lost roughly 69 educators in the last month while hiring about 79, according to school board reports.
In the Papillion La Vista Community Schools, 95 teachers are leaving this year and 92 left last year. Pre-pandemic, those numbers usually hovered around 70, said Annette Eyman, a district spokeswoman.
Eyman said the district typically hires roughly 100 teachers each year.
"Some of those are newer positions," she said. "We usually have growth positions for enrollment growth and it's pretty consistent."
These days, she said, Omaha-area school administrators are less willing to let teachers out of their contracts if they decide after the deadline that they want to leave.
"We have to be careful because of the teacher shortage," Eyman said. "We have to be able to find a suitable replacement."