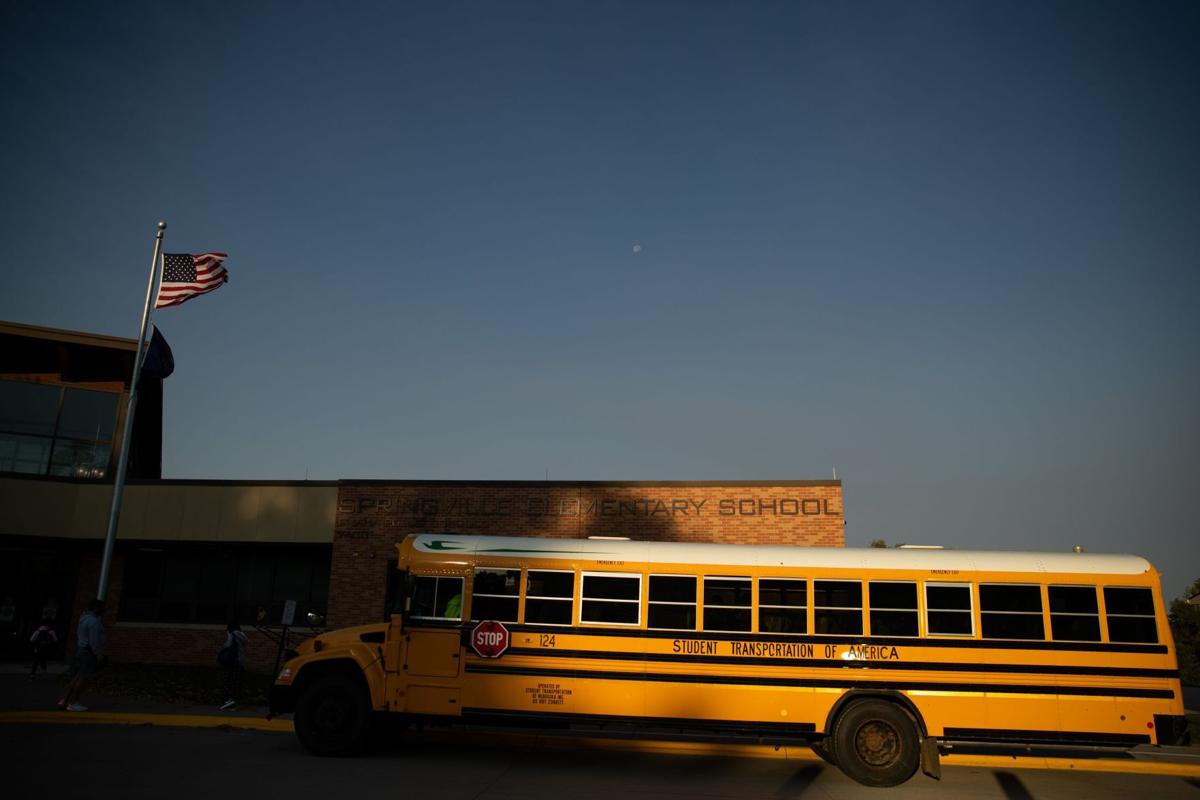 Educators in Nebraska and elsewhere are struggling against burnout, fear and exhaustion at a time when schools can ill afford to lose any staff.
"They're exhausted, and they feel abandoned," said Tim Royers, president of the Millard Education Association.
Teachers said they feel overwhelmed and overworked, especially where they have been asked to simultaneously teach both students learning remotely and those sitting in their classrooms.
Teaching both is like doing "two jobs for the price of one," one teacher said.
While school leaders praise teachers for their efforts, the teacher said it's like "high-fiving us while we're drowning."
Teachers who spoke to The World-Herald about their experiences in the classroom said they feared retribution if their names were published.
Robert Miller, president of the Omaha Education Association, told the Omaha Public Schools board earlier this month that teachers' main concern is the unsustainable workload. While teaching always has required additional work outside of school hours, the amount of extra time required to prepare for daily instruction this year has doubled or tripled.
Teachers are having to cover for fellow teachers who are out because they have COVID-19 or are quarantining. That eliminates time during the school day for teachers to get work done.
Miller told board members stories about a teacher working an additional three hours at night to keep up with the workload, a new teacher leaving school every day in tears and a teacher worrying about exposing his elderly mother to COVID-19 every time he goes home.
Cases of COVID-19 in Douglas County and Nebraska are surging, but officials have said they want to keep schools open.
At a press conference last week, Nebraska Gov. Pete Ricketts repeated his support for keeping kids in school. Ricketts said there's a broad consensus among local public health departments that, if at all possible, keeping kids in the classroom is the best course.
Royers said a lot of teachers, but not all, feel the solution is to revert to all remote teaching.
While some teachers say they feel safe in school, others think they put themselves at greater risk every time they step inside their school building.
"Teachers feel like they're under incredible pressure right now, that everything's hinging on them continuing in-person instruction," Royers said.
Meanwhile, he said, teachers are "watching everybody around them have parties, go to restaurants and basically take advantage of the sacrifices they're making."
"We're doing everything we can to try and be safe," Royers said, "but the bars are still packed."
The Douglas County Health Department has kept a tally of cases reported by the county's K-12 schools. The case count has more than doubled since mid-October, while the number of people quarantining has more than tripled:
On Oct. 29, the department said that over the previous 14 days, schools reported 149 COVID-19 cases: 90 staff and 59 students. During that period, the department reported, 174 staff and students were in quarantine and 448 were self-monitoring.
On Nov. 5, the 14-day total was up to 273 cases — 130 students and 143 staff. In addition, 453 people were quarantined and 971 were self-monitoring.
The latest report showed that as of Nov. 12, the 14-day total was 391 cases — 175 students and 216 staff. The number of people in quarantine was at 657, and 1,538 were self-monitoring.
"I'm not scared," one teacher said. "I'm angry that it doesn't seem to matter on any level that people are being put in danger every day."
An Omaha teacher spoke to The World-Herald while on leave because of COVID-19. The teacher said she has been extremely careful about staying home and doing contactless shopping because she's pregnant.
"The only place I go is work," she said.
Still, she ended up contracting the virus.
Several teachers said co-workers are getting sick, and they think more transmission is happening in schools than what is being reported. State and school district officials say spread in schools is minimal.
The pregnant teacher said she has been replaying the last few weeks in her head. Some students wouldn't keep their masks on and wouldn't maintain social distancing. Is that how she got sick? And has she gotten anyone else sick?
While the teacher's case has been mild, she said some of her co-workers are getting very sick. How hard COVID-19 hits people, she said, seems random.
"Roll of the dice," she said. "They rolled a one. I rolled a six. Pure luck."
Teachers from across the metro area said they have doubts about the effectiveness of the contact tracers in schools. Many teachers have expressed frustration since school started in August about the lack of information about cases in the schools and in their own classrooms.
"Nobody trusts them," one teacher said of the contact tracers.
The situation also has increased mistrust between staff and district administrations. And teachers say they feel as if school administrators are not listening to their concerns.
"There's no reason for them to be upfront about anything," one teacher said of school leaders.
Many teachers say they are burning out, but those who contemplate quitting feel trapped because teachers sign a contract to teach each year, and quitting without the school board's approval can put their teaching certification in jeopardy.
Nebraska Commissioner of Education Matt Blomstedt said he will approach potential abrogations, or loss of certifications, on a case-by-case basis. School leaders, he said, should work with teachers who have legitimate concerns.
If a teacher walks out on his classroom or calls in and says she's quitting, that's probably going to be treated like an abrogation, he said. If the employee has legitimate concerns and went through the proper channels to try to come to agreement with the district, Blomstedt said, he would take that into consideration.
One teacher said he expects some colleagues to retire at the semester break, taking their experience in the classroom with them.
Other teachers have taken medical leave or unpaid leave because of the stress and concerns about getting COVID-19.
No one doubts that school is the best place for kids, one teacher said. But the teacher said some of the problems arising from remote learning have been solved — for instance, ensuring that students are fed through distribution sites.
Many teachers said the in-person school environment is not the same this school year. The need for masks and social distancing, along with the simultaneous virtual lessons, make it hard for teachers to engage with students during the in-person lessons.
Several teachers said students don't engage with each other as much, either, and normally rowdy places such as cafeterias are quieter than they ever have been.
"They're a little bit broken," one teacher said of the students. "They're solemn. They are afraid to do the wrong thing, so they sit in little bubbles. They're so quiet. They're just so quiet."
---
Photos: Our best staff images from November 2020